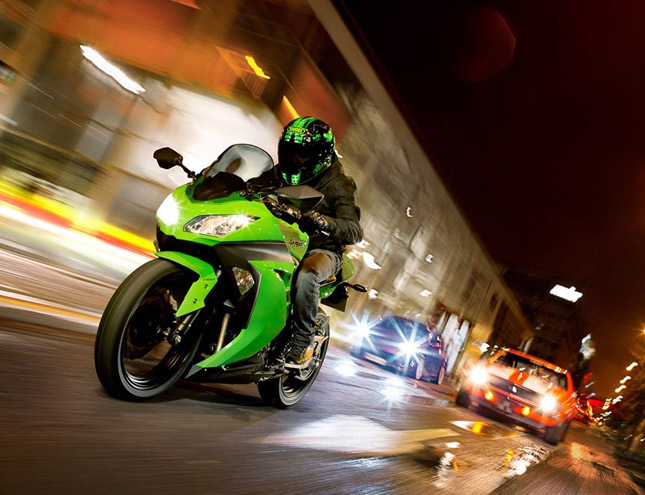 Unless you have some huge ass halogens fitted on your bike, it is really not recommended to go riding at night. There are some really valid points for that, but then again riding at night has its own fun and thrill to it. So we can't really stop anyone from going out on night rides, but we can surely inform everyone to take proper care and be safe.
Riding at night has its own share of headaches. For starters there are the erratic truck drivers who think the whole road is their property to drive as rash as possible. Add to that the bad plight of our Indian roads making it difficult to spot the potholes and bumps in the darkness of the night. Not to mention the infrastructure issues where the roads are also not properly developed with road signs and absence of street lamps by the side of the road.
Plus we being on bikes, we are the first to be blinded by the oncoming traffic using high beams as we ride higher than the cars. Also we do not have the obvious protection of cars in case of mishaps. And then there are the headlights. Nowadays with projector headlamps and high wattage bulbs being used, the plight is better, but still it is not enough compared to the ones on cars and other heavy automobiles. So we have to be extra careful when riding at the night time. So for all our enthusiastic riders, here is a small list of things to take care of and be careful about when riding at night.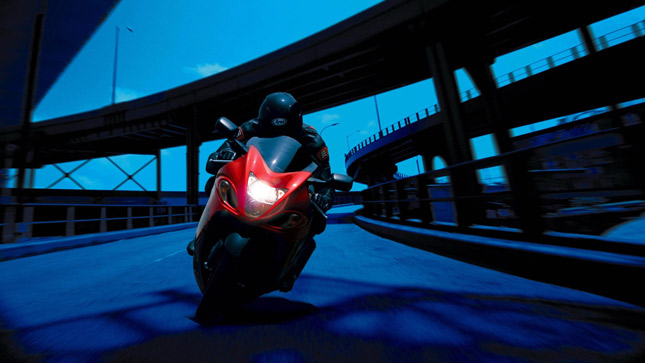 1. See and be seen:
This is "the" most important thing to worry about at night. There is darkness all around and that means it is hard to see anything. If you are into hardcore night riding, then you must have equipped your bike with strobe lights (which by the way have been deemed illegal by the RTO) or auxiliary headlamps for extra illumination of the road ahead of you. Make sure you use your headlight beams with proper judgement so as to not blind the opposite person due to that.
2. ATGATT but avoid black:
Nights are dark, so do not make it more difficult for the others on road to see you by wearing black or dark coloured gear. There are many other colour options available if you can afford that, else for everyone else without an option for black, we have the next point.
3. Use illuminating stickers or jacket:
Illuminating stickers and jackets come with reflective material coating on them. So when any kind of light shines on them, they reflect the light away in a very strong manner making it easy to spot them. This comes really handy when there is pitch black on the road and suddenly vehicles with fast speeds approach you. The illuminating stickers and jacket will be helping them spot you on the road.
4. Keep safe distance from vehicles up front:
Only judging the vehicle up ahead using their tail and brake lights is just not enough. In the night, you will be able to see their tail lights kick in but it becomes hard to judge how fast they are stopping. Hence keeping a safe distance does help out in this case.
5. Follow cars if possible/necessary:
This is generally not a smart way to go about things, but when the conditions are really dark and your bike's headlights are really giving up on you, it is a good thing to go about. Cars have a stronger headlight on them, so you can follow them until you are out of the tricky situation and once the road is clear up again, you can simply pass them and move on.
6. Do not make blink overtakes:
Especially in mountainous region with tricky corners, it is hard to see the headlights of the approaching vehicle. Hence it is better not to make a pass until you can see the opposite end of the road to make sure no vehicle is approaching.
7. Follow the road lines as much as possible:
Most of the time the roads are demarcated with white lines for lanes and borders. Make sure to stay within the ribbons so that you do not run off the road and end in a mishap. During the night it is very easy to lose track of the way the road is going and this might happen. Always better to be safe than sorry.
8. Make frequent stops to rest your eyes:
The difference between riding in the day and night is the absence of light and also sleep. So after all the adrenaline subsides and you go into cruise mode your eyes start getting heavy and your body craves rest. It is the natural cycle and there is nothing one can do about it. Caffeine can only help so much. Hence it is a good idea to take a stop, calm yourself down and rest a bit before continuing ahead.
9. Use clear visor helmets:
If your helmets have dark visors, make it a point to get them changes ASAP before setting on the ride. The dark visors will impair your vision in the dark and could be fatal. Many helmets come with interchangeable visors and that is a huge boon in such cases.
10. Plan ahead:
During the night time, availability of resources is a huge issue. That means food and fuel. So make sure you plan ahead and decide before hand where you are going to fill up and where you are going to tank up since many fuel stations are closed during the night time.
So now that we have covered all the care and precautions that need to be taken, you can now go out for a night ride without worrying much. Just always remember to juice up both yourself and the bike before heading out and carry some basic spares just in case. Ride hard, ride safe and stay tuned to BikesIndia for more.
By:
Pratik Patole