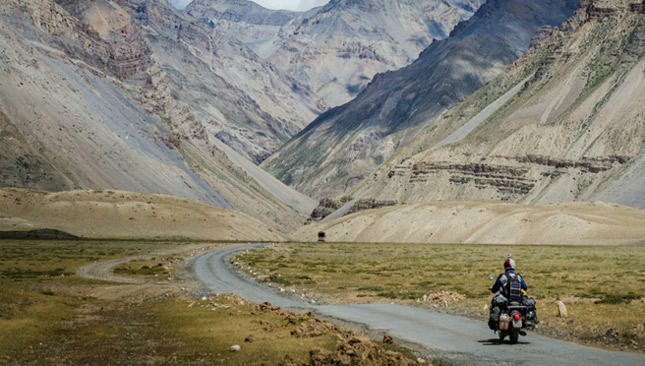 If you're planning to travel across India on a motorcycle and still wondering how, this article may become your life saver on an adventurous journey to one of the most thrill-offering places in Asia. To acquaint you with their importance first, motorbikes are one of the basic necessities of life for the Indian people. In remote areas and villages, where other vehicles can't afford to travel, off- road bikes are the only option. While on plains and in urban areas, the love for motorbikes in people can be seen when they come out on roads- The most common being Bajaj Pulsar, KTMs, Karizma and Yamaha FZs. BMWs, Ducatis and Hayabusas are still rare to the eyes.
So if you come out on road on a Ducati, no doubt all they eyes will be following you till you take the next turn. Okay, not you precisely- your motorcycle. Here are some tips for you if you plan to travel across India on a motorcycle.
1. The Most Necessary
Let's keep this short; if you're a native Indian, you need to carry your driving license and insurance papers of your bike with you throughout your journey. If you're a foreign national, you must carry your international driving license and all your necessary papers including your Identity. Well, wasn't this one pretty obvious?
2. The Unobvious
India is VAST. But your trip can't be. From the freezing cold Ladakh to the extremely hot sands of Rajasthan, there's a wide diversity of land forms, and terrains can be life-threatening sometimes. Ask yourself if you're ready to take such challenges because indeed, it's not as easy as it is to speak.
3. The Motorcycle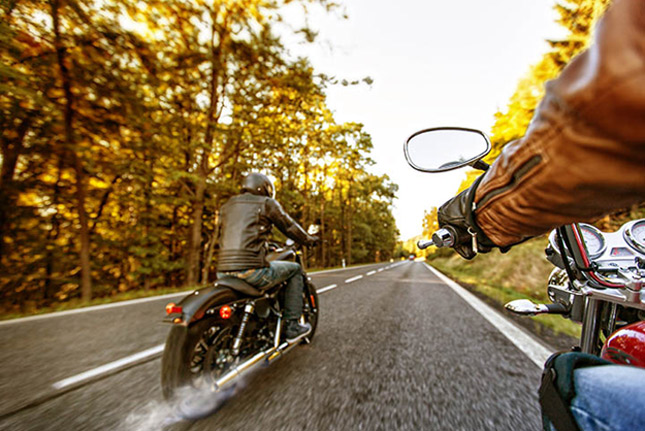 There's this funny stereotype complimentary to a really famous bike in India (or should I say, the most famous), that it is the sole bike that comes to people's mind when they first think of road trips, or adventure. It is the Royal Enfield, commonly called 'Bullet' in India. No doubt, the bike is amazing, a modern classic, beyond imagination and would fulfill your purpose of an adventurous trip or a simple ride across the city but, it is definitely not the sole option. There are always better and worse options. The DSK Benelli series is known for adventure and Ducati Multistrada is also a great alternative. Even more than Ducati Monster. But the Bullet 'Himalayan' , launched very recently in 2016, is expected to break all the previous records. It is a bike solely made for the purpose of off-road travelling, another great product of the Royal Enfield company and at a very reasonable price.
4. The Destination
You can't just start from any place and land yourself anywhere. Rather, your trip needs proper and prior planning, which is ideally started months before the actual trip. The first thing many people will advise you is to choose a theme. You know you can't see everything in one go. But if you select a specific theme for your road trip, it will be way more fun. There are a lot of themes that you can choose from. For instance, if you choose to travel to all the chief metropolitan cities of India, you can pick up the 'Golden Quadrilateral'- a 5,486 km, 4 lane highway connecting the four major cities of India- Delhi, Mumbai, Chennai and Kolkata. Believe me when I say, a trip along the GQ is a dream trip for every motorcyclist.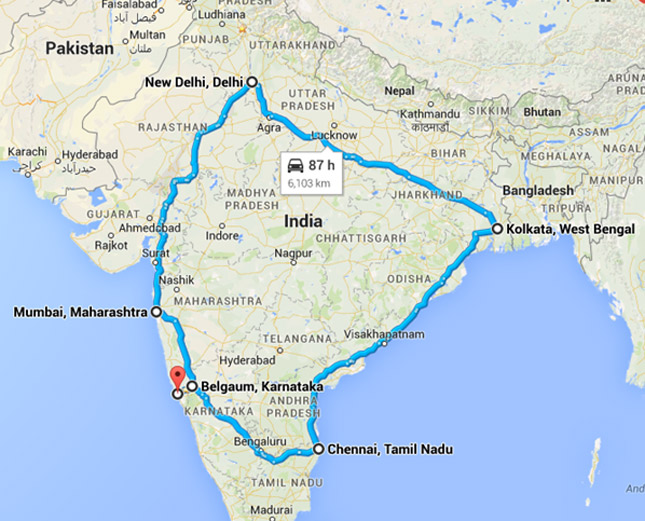 Other famous road trips include a trip to the Himalayas- a 2,400 km long and 29,000 ft high mountain range, home to the highest Mountain in the World- The Mt. Everest. People mostly travel there to see the magnificent sun rising behind the Everest, while staying at Annapurna. History obsessed people will find their best road trip in Rajastan. From Historical places to typical Indian cuisines and adventurous desert sands, Rajasthan is a place worth travelling, on a motorcycle. The trip can be started from the national capital and includes Jaipur, Udaipur, Jodhpur and Jaisalmer as stopovers.
5. The Gears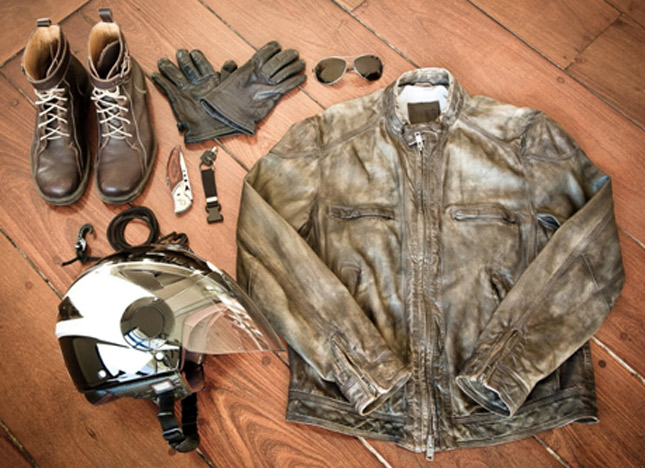 First and foremost, the weather in India can differ widely over small differences in area. If you plan a road trip across GQ, you wouldn't need warm clothes because almost whole of your trip will be to humid places. Though, you will always need your wind cheaters because of the unexpected weather. If you plan to go anywhere near Himalayas, you should stock your carrier with several types of clothes- windcheaters, extra pair of gloves and winter socks, and a pair of boots that keeps you warm.
As of gears, crash-proof helmets, a saddle for extra storage, a freezer bag of required size, rain suit, a GPS, and a basic tool bag.
6. The Miscellaneous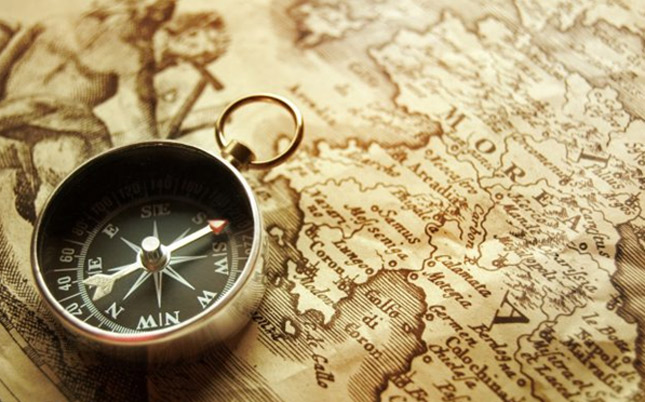 As much as it is important to carry a GPS with you to the road trip, it is obligatory that I warn you about the network and communication problems in India. Just a few kilometres out of the city, and you'll lose the signals entirely. This means, no. You can't rely on your Google maps or your phone. Carrying a physical road map with you, with the entire route chalked on it shall be a great idea.
Also, it's not always compulsory that you'll get very lavish and expected treatment at your pre-booked hotels. So, you should always foresee other alternatives and prepared to deal with such situations. The best idea would be to carry a minimum space taking sleeping bag with you and also, a cover for the beauty you're travelling on.
Stay conscious of your body and its abilities, driving straight for more time than you can afford will get you nothing but tiredness and thus inability to enjoy the proximate beauty of your journey.
Have fun exploring the Incredible India! Safe Journey.