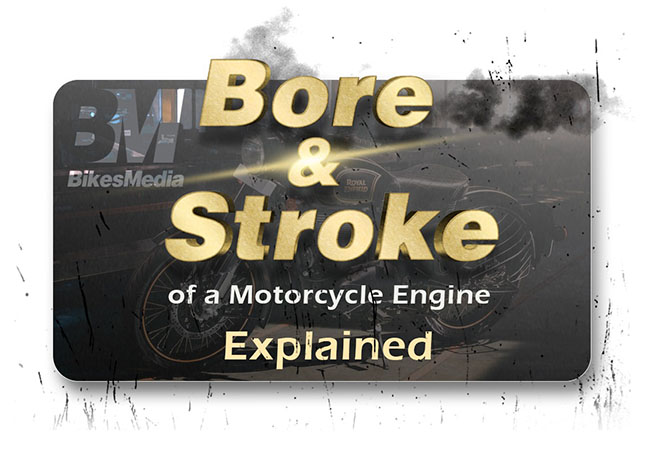 We all see, hear and ride bikes with various displacements and engine types. There is the single cylinder, V-twin, inline twin, three cylinders, and so on. The combinations are galore, and so are the displacements of the engines. 50cc, 100cc, 1000cc, the list goes on. But have you ever wondered how did the manufacturers come up with a certain engine displacement and configuration for that bike? Yes, there are many factors which I can keep listing here and the day will end, but we are talking one of the most basic and important components of the internal combustion engine –
bore and stroke
.
What is Bore and Stroke?
This is an interesting question which many might not know, even if you have heard of the terms before. Let us understand them in a simple manner. Imagine an internal combustion engine with a piston and its cylinder in which the piston is moving in its cycle.
Here, the top edge of the piston which is responsible for the pushing of air and fuel mixture, the diameter of it is known as the bore. The higher the diameter of the piston, the larger bore of the engine.
Similarly, the distance that the piston travels from the top dead centre to the bottom dead centre (the top most point to the bottom most point) in a single cycle, is the stroke.
Easy, right? Then here is the important aspect of it.
How Does it Affect the Performance of Your Bike?
The piston is responsible for the conversion of heat energy to mechanical energy by transferring the force acting upon it due to combustion into moving the parts of the engine that can move the vehicle. So, when the air-fuel mixture is ignited, the energy generated acts a force on the piston. Consider that the engine has a large bore, in which case the force will be distributed across a larger area. If the bore is small, the distribution is more packed, which means there will be greater force acting on the piston per unit of area.
Similarly, in case the stroke of the piston is small, it can run more pumping cycles and hence deliver more power to the vehicle. But if the stroke is long, the piston will hence run lower number of cycles and that will affect the power delivery.
Read Also:
Why Some Engines Are Called Oversquare, Undersquare and Square?
Vehicle manufacturers hence need to consider this effect and hence find a working bore to stroke ratio to find the sweet spot for the optimum power generation, without compromising on the efficiency too much. After all, in case of a larger bore and small stroke, the fuel consumption will be more owing to the higher number and cycles and this in-turn affects the RPM of the engine. Alternatively, the large stroke does help reduce the number of cycles and hence lower fuel consumption, but the RPM is also lower, which affects the power generation.
The magic number of the bore and stroke ratio which provides the perfect balance is something the manufacturers are constantly chasing after.
In conclusion, it is imperative to understand why these two aspects affect the engine's performance. After all, this will help understand which engine might be the best one for you to ride on. After all, the engine displacement numbers are not the only thing which affects the power generation of an engine. A high displacement engine can be less powerful, while a well configured small capacity engine can give a good run for its money, or even better it.
Ride hard, ride safe!
By:
Pratik Patole