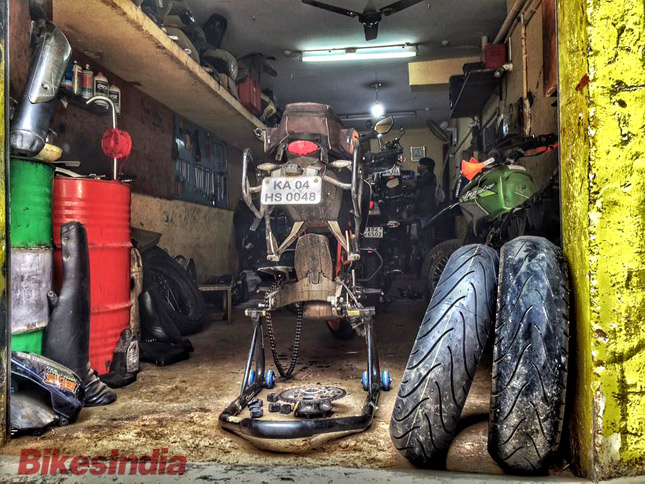 I have had my share of problems throughout the years of owning a motorcycle and often times more complex the problem is, the easier is it's solution. It doesn't matter if you don't know how to do it by yourself, you can take the bike to a mechanic only this time you will actually know what's wrong with it and what's need to be fixed. It will save your precious time and money. Let's begin with our first problem.
1: Engine not running smoothly even after refilling engine-oil
The main cause of such a problem is low oil-level. If you've just refilled your oil then check for a leak. If you're unable to find a leak then ride the bike for a few minutes, let the engine become hot. After that, park it on the side stand and check for oil droplets below the engine. Main causes of an oil leak are either a messed up engine packing or an extremely tightened screw which damaged the packing. This problem, if not addressed, acts as a catalyst for other problems like clutch assembly damage, cylinder damage etc.
2: Brakes feeling hard despite having full brake fluid
A good identifier for this problem is an absence of bite from the disc despite pressing the lever to its full potential. This indicates that the brake fluid is not reaching the calliper, in the amount it is supposed to. Your best option is to bleed your brakes. It involves draining out all the old brake fluid from the brake line in order to eliminate any previously formed air bubble. There are a lot of tutorials on YouTube which explain you the whole process. If you're not satisfied with it then you can buy a new brake line instead.
3: Screeching sound from your brakes
The screeching sound indicates that your brake pads need a replacement. This sound is originating when the inorganic shavings are being rubbed against the steel disc. Usually, this is what stops your bike during normal braking. if the screeching sound is louder than usual and the bite from disc has decreased dramatically then the above mentioned is the problem. Just change your pads and the problem will be solved.
4: Air leak after converting to tubeless tyre conversion
This happens a lot, many Royal Enfield owners suffer the plight of this issue daily. The main problem here is the inefficient procedure which local tyre shops use when installing a tubeless tyre. If you have just filled the air in your tyres and they go flat after 2-3 days then it indicates the lack of proper sealant application. Except for authorized shops, not many use a sealant when installing a tubeless tyre. This causes the air to slowly leak out from the crevices left between the rim and the tyre. A solution to this problem is to visit any authorised tyre shop and get your tyre reinstalled from them.
5: Wobbly tyres
If you feel that your bike is becoming unstable whenever a new patch of the road appears or when you try to apply brakes at a high-speed, then your wheel alignment is messed up. It means that your front tyre is not exactly in the middle of your rear tyre. You can measure it using thread and 2 scales but for an accurate measurement go to a proper service station. It's not the end of the world and can easily be fixed.
If your motorcycle is suffering from a problem which you can't figure out then let us know about it in the comments below and for everything related to motorcycles stay tuned to BikesMedia.
By:
Yetnesh Dubey