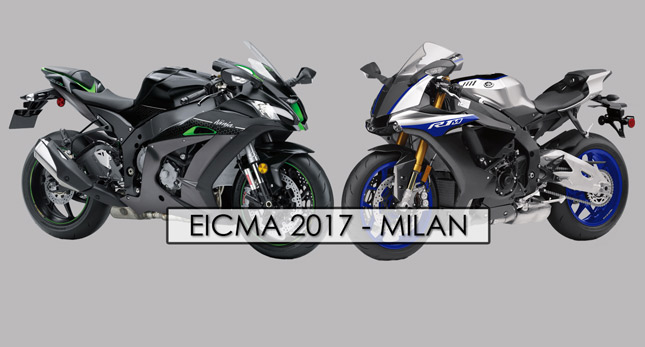 Here's all you need to know about day 3 and day 4 of EICMA 2017. There were a few motorcycles unveiled along with conventional riding gear demonstrations going on throughout the day.
Kawasaki Ninja ZX10R SE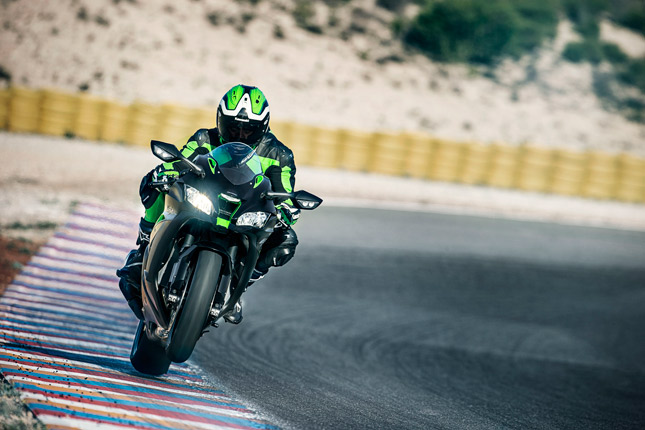 Kawasaki unveiled an all new special edition Ninja ZX10R with its very first electronic control suspension system, developed in collaboration with Showa. It can optimize the balance free front fork damping while it also helps while heavy braking. There are numerous other Electronic updates as well going into the bike. It also gets Marchesini aluminium wheels and an improved quick shifter coming straight from the ZX10RR.
Yamaha R1 and R1M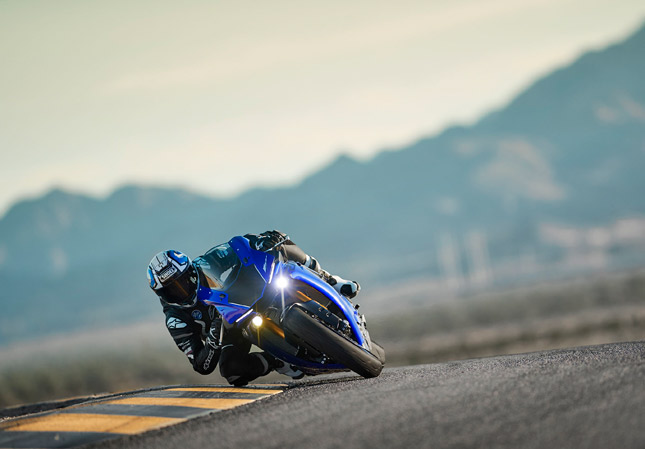 Yamaha announced some minor updates to the R1 and R1M for 2018, as they receive a new quick shifter with clutch less auto blipping down shifts and a newly updated lift control system with a better engine mapping. Tyres are upgraded to Bridgestone RS10 rubbers for better grip. R1M gets a Öhlins Electronic racing suspension adjustment setting with two track modes to adjust the suspension for 2018.
Moto Guzzi Concept V85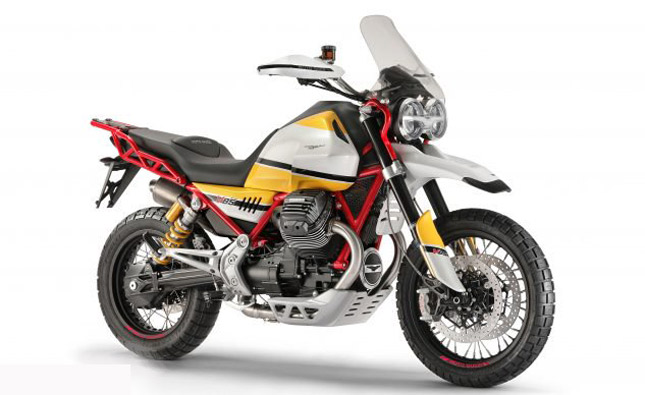 The Concept V85 is planned for 2021, the year when Moto Guzzi will see its centenary celebration. It would fall in between the V7 and V9 variants and the 1400cc cruiser line up. It has a 90° V twin engine which is completely different from the current ones. It is an adventure motorcycle with long travel suspension and spoke wheels.
Moto Guzzi V7 III Milano, Carbon, Rough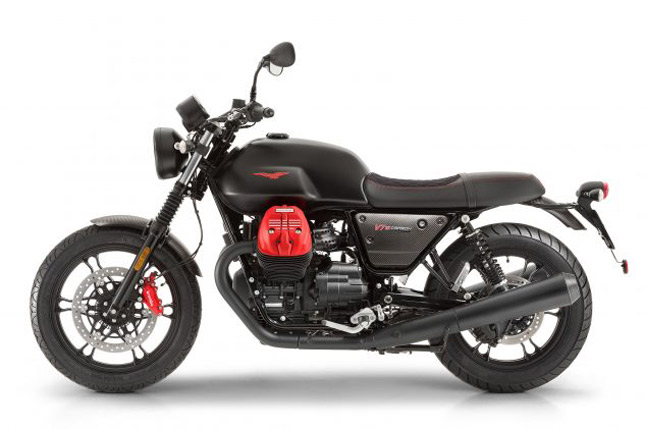 These 3 new models form the entry level V7 III range of Motorcycles which are called Carbon, Milano and Rough. It is a retro styled motorcycle with a power figure of just 48 hp. The 3 motorcycles will have slight difference between each other, while sharing most of the underpinnings.
Honda NC750X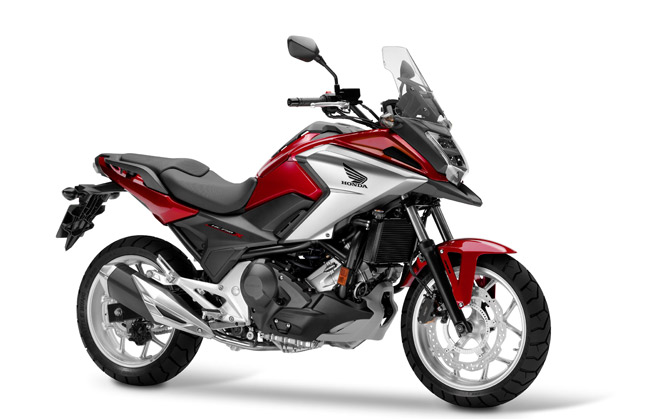 The Honda NC750X which was launched is a US specific model, as the rest of the European countries get the NC700X. The updated motorcycle has a 745cc engine which makes around 50hp along with a DCT gearbox.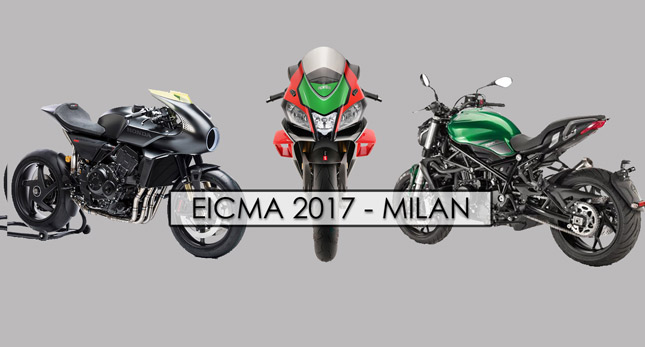 EICMA 2017 COVERAGE - DAY 2 & 3 (PART 3)
Here's all the updates from Day 2 and day 3 from the EICMA 2017 motorcycle show. There were a few selective manufacturers unveiling their concepts and production motorcycles today as the show is set to open for the public very soon.
Honda CB4 Interceptor Concept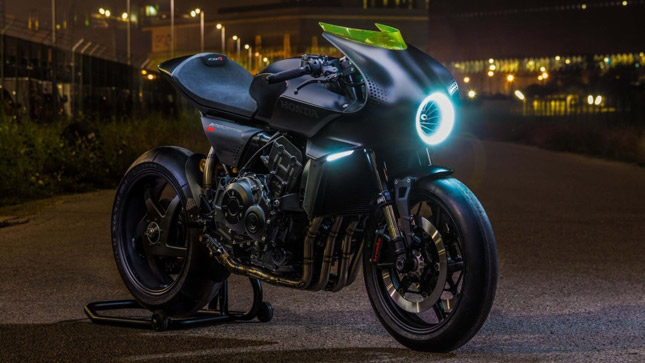 Honda has unveiled another concept in succession to the CB4 and CBsix50 concepts in the form of a retro looking modern naked motorcycle, the CB4 Interceptor. The design is catchy and attractive, and is highly possible to see in production form.
Harley Davidson FLSB Sport Glide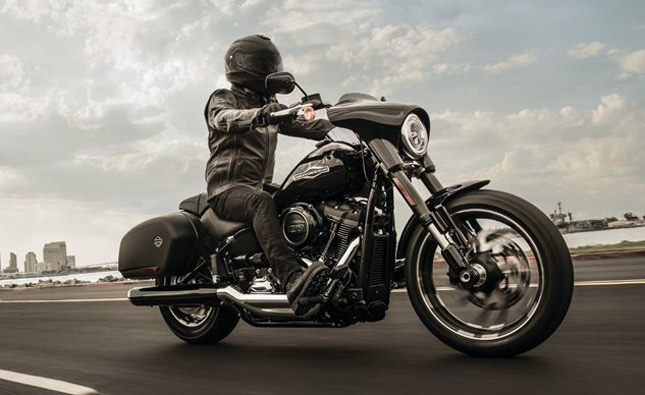 Harley Davidson launched yet another new motorcycle to its already long stable of motorcycles. The FLSB Sport Glide gets the Milwaukee 8 107 V twin like the Softail range of motorcycles.
Husqvarna Vitpilen 701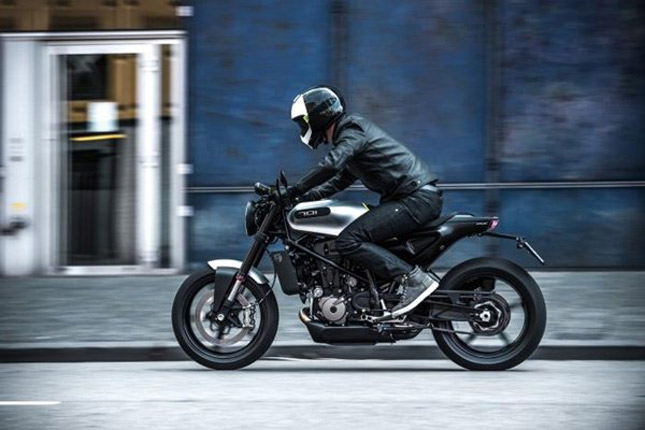 Vitpilen 701 is powered by KTM 690 Duke's single cylinder mill which makes 73.8 hp and 53 lb. ft of torque respectively. It is a unique designed retro styled naked motorcycle with usual Husqvarna cues.
Husqvarna Svartpilen 701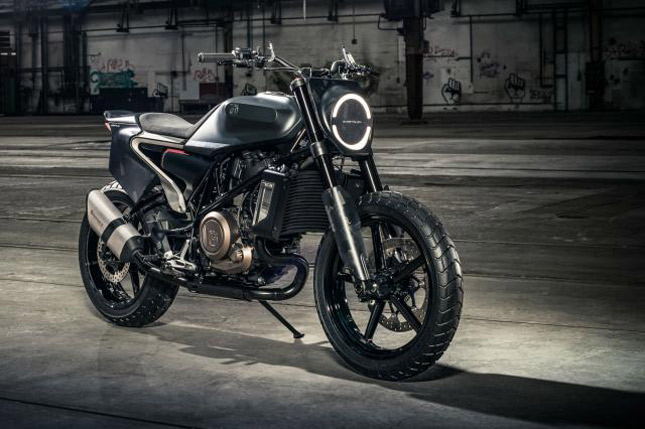 The Svartpilen 701 is a concept based on the Vitpilen, but is a Scrambler type build. It has a catchy design with simple and neat street riding dynamics, though this could also be a flat tracker. It shares the same underpinnings of the Vitpilen 701.
Aprilia RSV4 RR and RF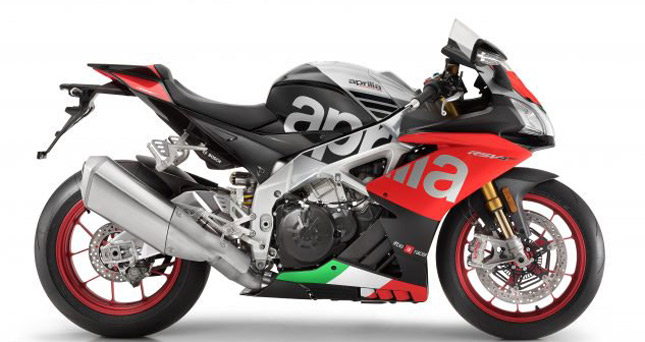 The 2018 RSV4 RR and RF were unveiled today though there aren't any significant changes when compared with the outgoing model. Just some minor tweaks in electronics, some weight reduction, better discs for the Brembo M50 calipers and a new rear progressive linkage.
Aprilia Racing RSV4 Factory Works Kit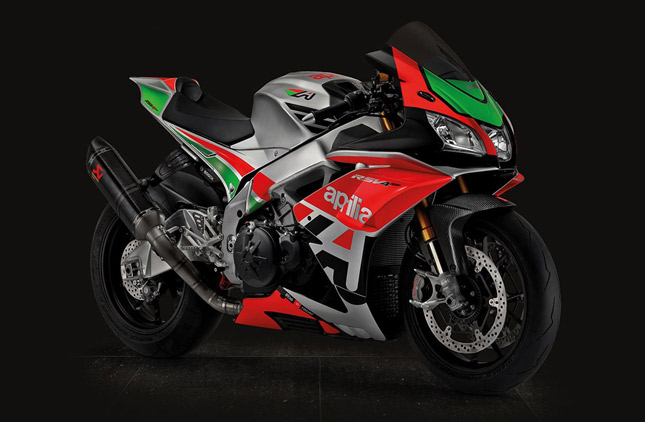 Aprilia RSV4 RR or RF users from 2017 and future buyers will now have access to one of the best factory racing kits developed by Aprilia WSBK STK1000 teams. You get a racing grade engine piston kit, new cylinder head, CNC machined exhaust tracts, improved valves, ECU mapping for the Akrapovic full racing exhaust system. There is also a FW-GP version on top of all, which gives increased bore and a pneumatic valve similar to their MotoGP machine making it a 250 hp at the rear wheel. There is also MotoGP developed winglets on the fairings made available.
Benelli TRK 251 Adventure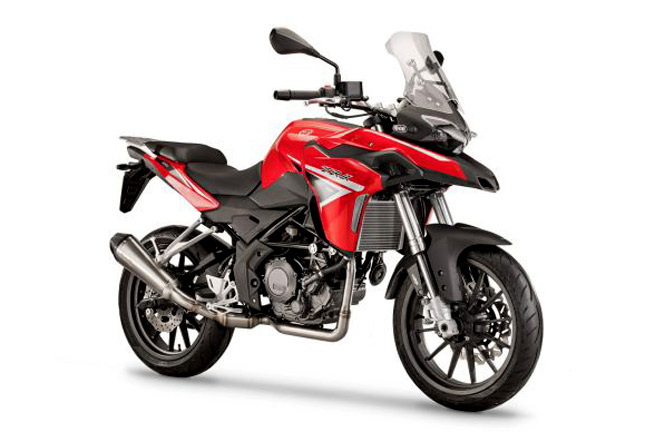 While the TRK 502 was a poor man's Multistrada, the TRK 251 looks like a baby Multistrada as the design is very similar to the 502 and only being smaller in size. It's powered by a single cylinder 250cc engine which makes 26 PS and 21 Nm. Benelli has its weapon ready to tackle the KTM 390 Adventure when launched.
Benelli Leoncino 250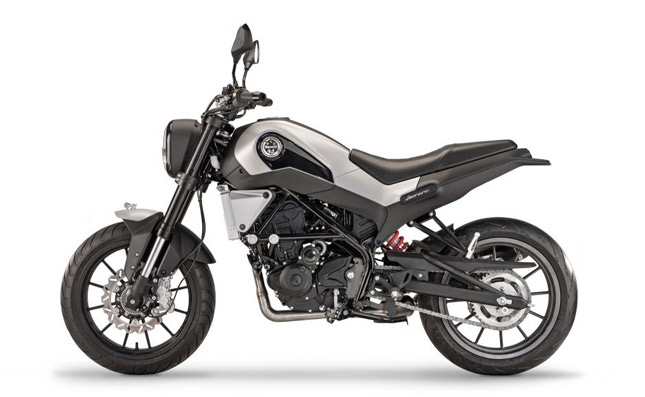 The Leoncino 250 is a Scrambler type motorcycle from Benelli which is expected to be launched by next year or early 2019. It is a pretty small motorcycle with fat rubbers, and has a single cylinder motor making 25.8 bhp and 21.2 Nm torque.
Benelli 752 S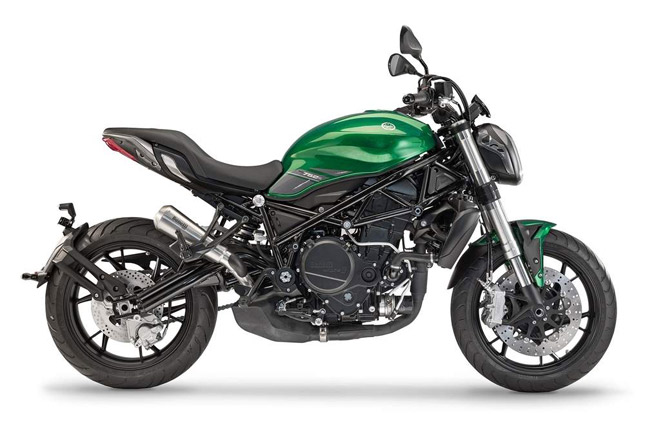 The 752S is a mid weight naked bike which takes heavy design inspiration from the Ducati Monster range. The design and equipment are modern, comes with a 750cc parallel twin mill which churns out 81.5 bhp and 49.5 lb per ft of torque.
Benelli Imperiale 400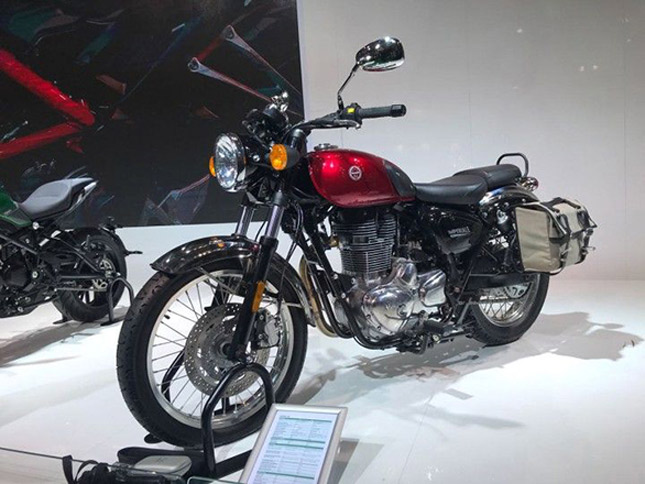 Benelli is firing shots to Royal Enfield with the launch of the Imperiale 400. It is very much similar to the old RE Bullet, and has a neat retro classic design. The engine is a single cylinder 373.5cc mill that makes 19.7 bhp and 28 Nm torque.
Updated on 9th Nov' 2017
EICMA 2017 Coverage- Day 1 & 2 (PART 2)
Here's the part 2 of EICMA 2017 coverage consisting the launches and unveiling in the second half of day 1 and day 2. The unveiling includes global manufacturers as well as a couple of indigenous Indian manufacturers.
KTM Motorcycles:
1. KTM 790 Duke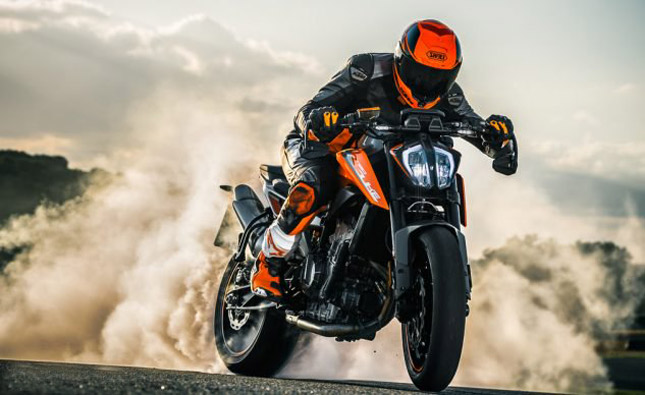 KTM stunned the show by unveiling their much awaited 790 Duke. The mid weight motorcycle was shown as a concept early last year and is now ready as a production model. KTM is extremely good in converting concepts into production bikes. The bike has a 799cc engine making 105 bhp and 86 Nm torque weighing just 169 kg.
2. KTM Super Adventure S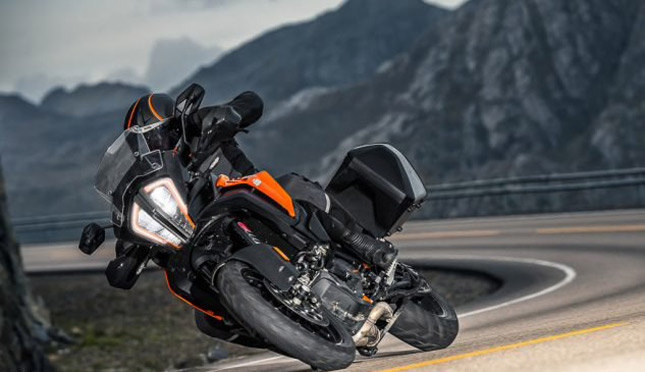 The KTM Super Adventure S which was only available for European markets, will now reach Northern America in 2018. The mammoth machine remains unchanged though.
BMW Motorcycles:
1. BMW F850GS, F750GS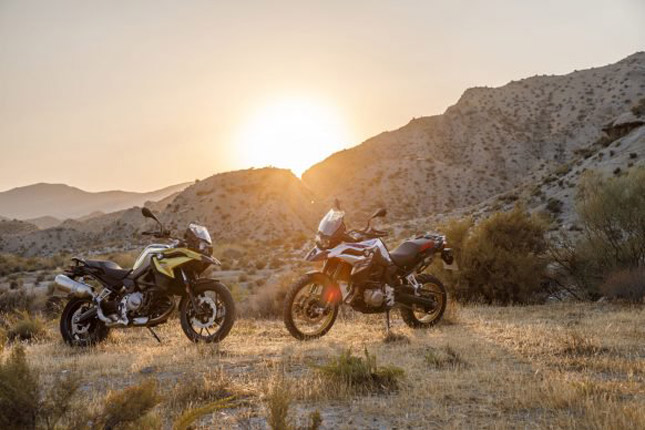 The F850GS and F750GS replaces the older 700 and 800GS to become the new mid sized ADV Motorcycles from the BMW stable. The motorcycles make 95 hp and 77 hp respectively.
2. BMW K1600 Grand America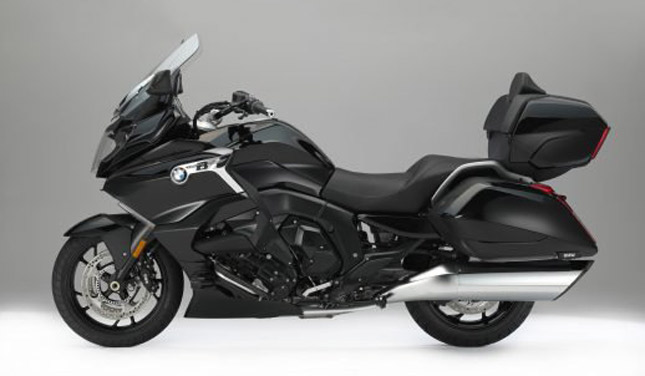 The K1600 Grand America is just a new model with the K1600B as its base. There are just a few minor updates like taller windscreen and an integrated passenger backrest.
TRIUMPH Motorcycles:
1. Tiger 800 XC, 800 XR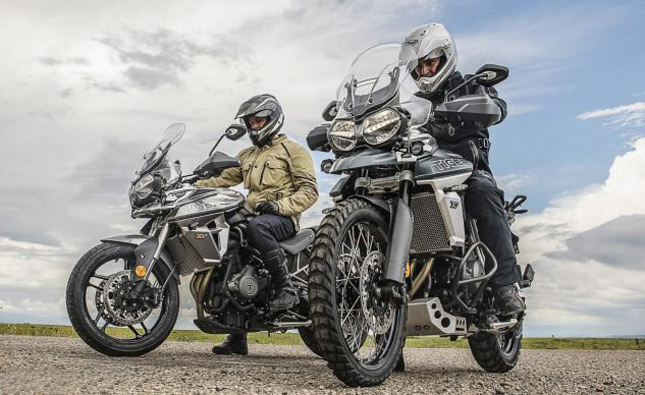 The Triumph Tiger 800 XC and XR is now entirely new bikes as they've been updated thoroughly, with the headlight shapes resembling the new Street Triple 765. The engine is optimized and Triumph claims there are 200 updates to the engine and chassis.
2. Tiger 1200 XC, 1200 XR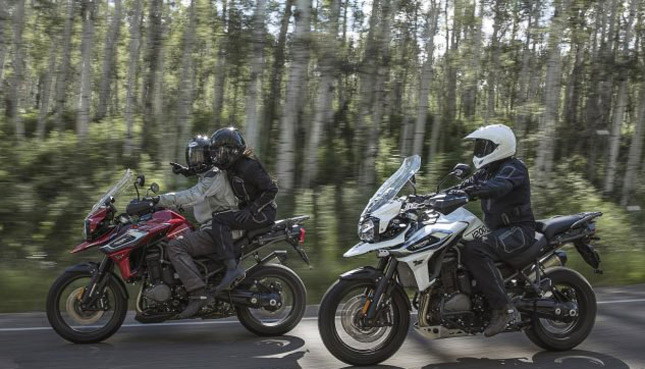 Similar to the smaller Tigers, the 1200 XC and XR gets the treatment from Triumph which has shed nearly 10 kilos. The 1200 Tiger's are said to have received nearly 100 updates throughout. Engine and power figure remains the same.
HERO MotoCorp :
1. Hero XPulse concept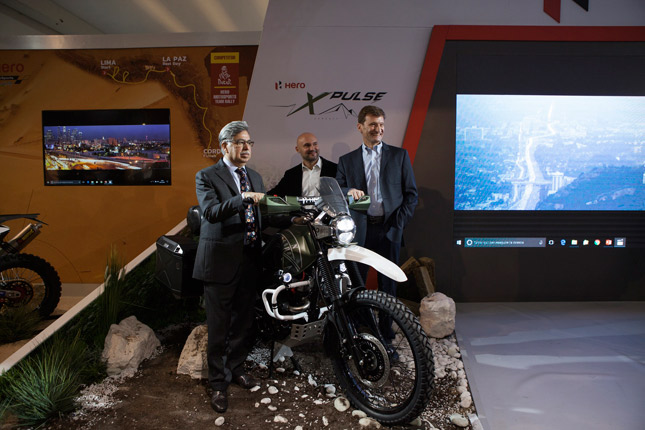 The XPulse is a concept off roading motorcycle from Hero which is based on the old Impulse. Along with the XPulse the Hero Dakar Rally team for 2018 was also announced.
ROYAL ENFIELD Motorcycles:
1. Royal Enfield Interceptor 650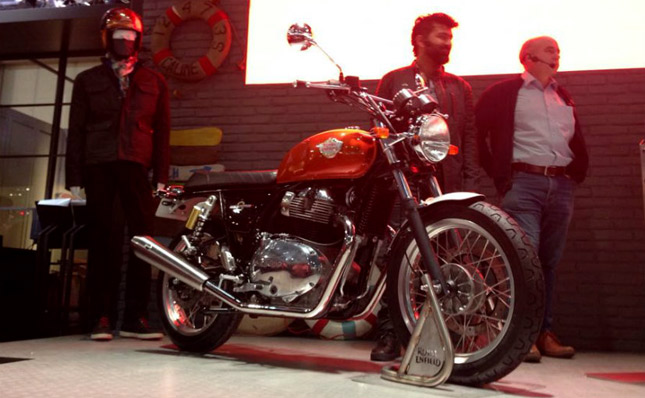 The all new 650cc parallel twin comes to use in this retro styled motorcycle. The power figures are 47 bhp and 54 Nm respectively. The engine gets 6 speed transmission and a slip assist clutch.
2. Royal Enfield Continental GT 650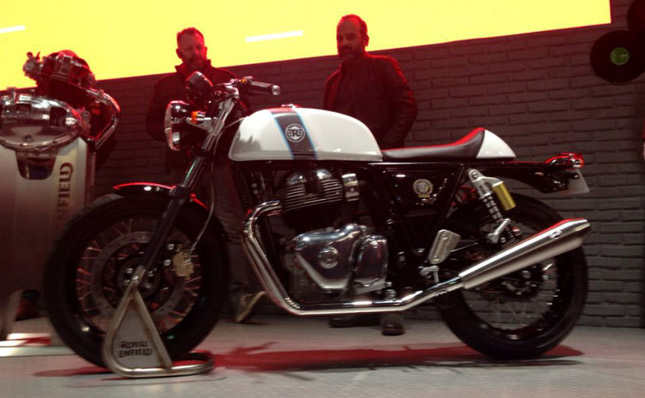 The GT 650 uses the same engine and internals as the Interceptor, but comes in a different package. The design and riding dynamics is different as a cafe racer.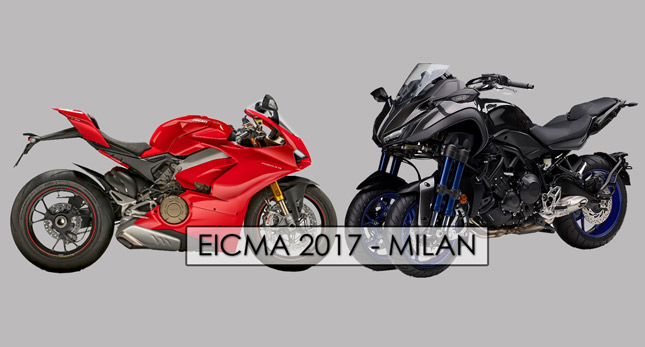 Originally posted on 8th Nov' 2017
EICMA 2017 Coverage- Day 1 (Part 1)
The best thing about November for any motorcycle aficionado must be the EICMA International motorcycle show at Milan, Italy. There were numerous unveiling by the top motorcycle manufacturers in the World, and some futuristic concepts as well. Indian manufacturers Hero and Royal Enfield also showcased a few motorcycles at the prestigious Milan show. Here's a list of motorcycles with a quick overview that were unveiled to the media today at EICMA. More details will follow soon on this space.
DUCATI Motorcycles:
1. Panigale V4, V4S and V4 Speciale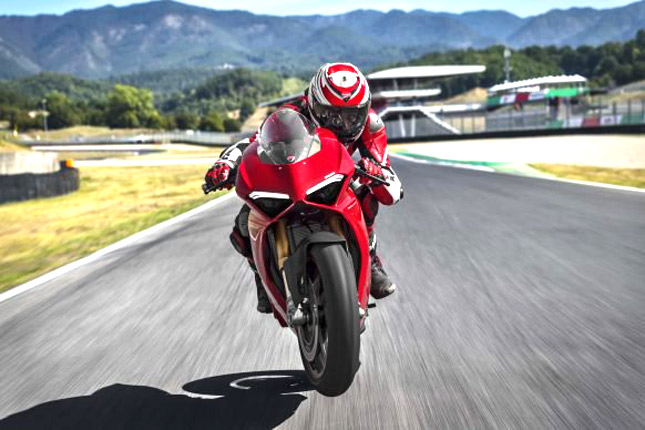 The highly anticipated and first ever V4 production motorcycle from the Bologna factory came to limelight early today, with Casey Stoner riding it to the dais. The Panigale V4 comes in 3 variants, the V4 and V4 S (Stradale) being the regular models and the V4 Speciale is a limited edition bike with unique livery on the fairings. The V4 and V4S delivers a mammoth 214 hp at 13,000 RPM while the superior V4 Speciale produces ground breaking 226 hp at the rear wheel, thanks to Akrapovic full titanium exhaust system.
2. 2018 Ducati Multistrada 1260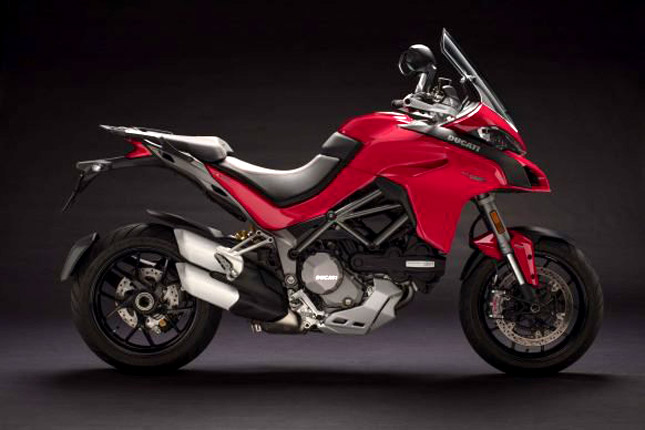 The Multistrada 1260 is an all new motorcycle, as the engine, chassis and electronics are thoroughly updated. It gets a new 1262cc engine making 158 hp at 9,750 RPM. Electronic package is now completely revamped with advancement while the DVT is now calibrated to maximize the low to mid torque delivery. Just like the Multistrada 1200, the 1260 also comes in 4 variants - the base model 1260, 1260 S, 1260 S D-Air and 1260 Pikes Peak.
3. Ducati Scrambler 1100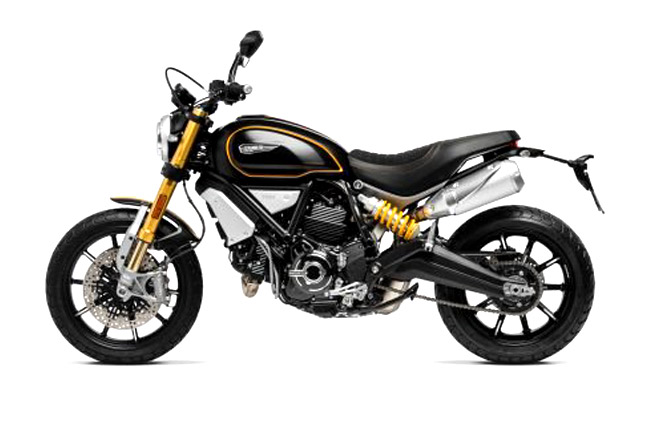 The bigger Scrambler 1100 was unveiled which came with a 1079cc air cooled twin cylinder engine from the old Monster 1100. The motorcycle makes 86 hp at 7,500 RPM and 88 Nm torque at 4,750 RPM. It comes in 3 variants- the base Scrambler 1100, 1100 Special and 1100 Sport.
4. Ducati 959 Panigale Corse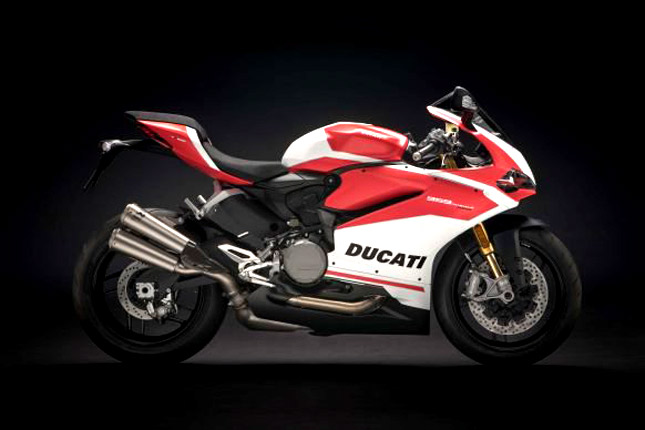 The special edition 959 Panigale Corse comes with all exquisite features like the Öhlins suspension, Akrapovic full titanium exhausts, light weight battery and a unique matte paint theme inspired from Ducati's MotoGP team. The underpinnings of the motorcycle remain the same.
KAWASAKI Motorcycles:
1. Kawasaki Ninja H2 SX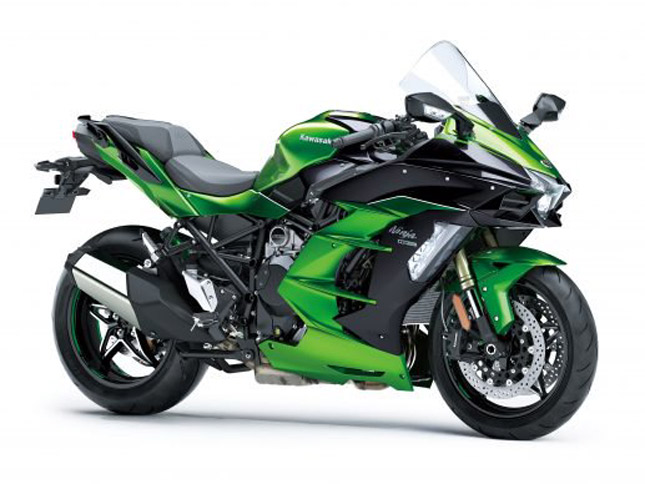 After a great success of the H2 and H2R, Kawasaki wanted a much practical H2 for day to day use. The engine internals are thoroughly changed to give the character of a sports tourer. The engine is tuned to give better fuel efficiency and is optimized for low to mid range performance. Despite that the engine still delivers 198 hp at 11,000 RPM. The H2 SX also gets loads of tourer friendly electronic rider aids.
2. Kawasaki Z900 RS Cafe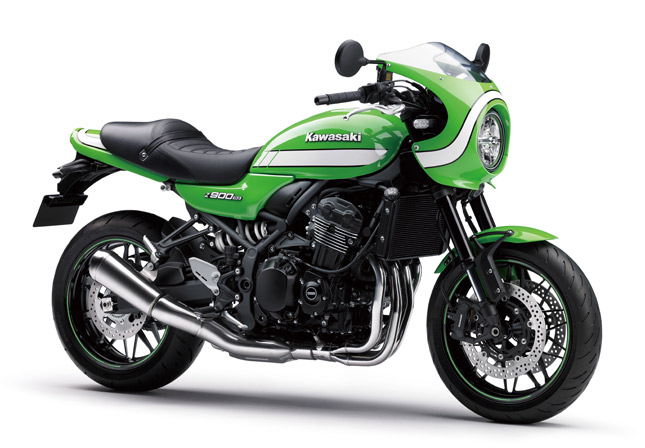 This is exactly the same as the base variant Z900RS, but with a old school cafe racer type body design.
YAMAHA Motorcycles:
1. Yamaha MT-07, MT-09, MT-10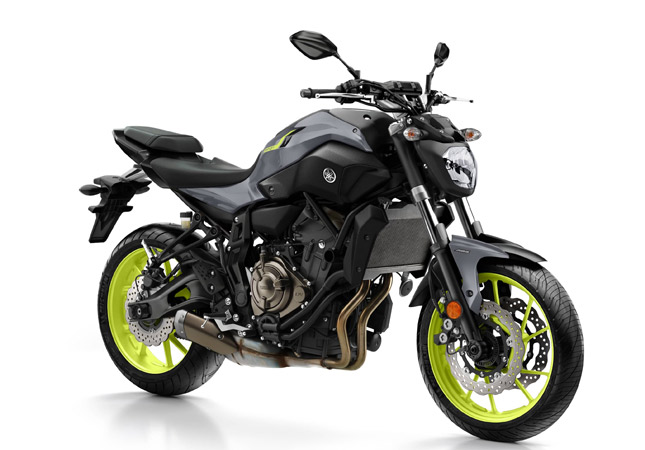 The FZ branding is now completely dead, as Yamaha has renamed every motorcycle with that name. The FZ 07 is finally renamed as the MT-07 which gets various updates mechanically and cosmetically as well. The MT-09 has a redesigned body work and a few minor mechanical updates as well. There is also a MT-09 SP version available with punchy shades. The MT-10 remains unchanged as it's a pretty new motorcycle.
2. Yamaha Niken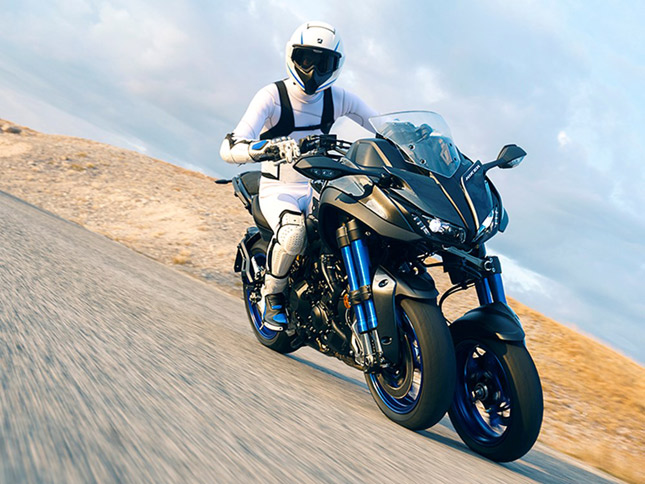 This is the most anticipated unveiling from the Yamaha camp, as they become the first manufacturer to announce a production 3 wheeled trike. Valentino Rossi rode the bike on to the stage, and gets an approval from The Doctor himself. The three wheeler is a futuristic engineering marvel in terms of design and construction. The engine is a 847cc inline triple Crossplane unit which makes 113.4 hp at 10,000 RPM and 87.5 Nm torque at 8,500 RPM.
3. Yamaha Tracer 900, Tracer 900 GT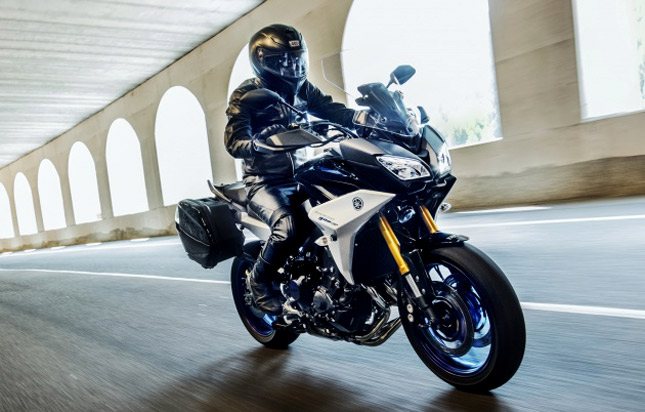 Yamaha is replacing the FJ branding with its new Tracer name, which has been used in Europe. The Tracer 900 and Tracer 900 GT is unveiled at the EICMA though it is said to be early 2019 models.
HONDA Motorcycles:
1. Honda CB1000R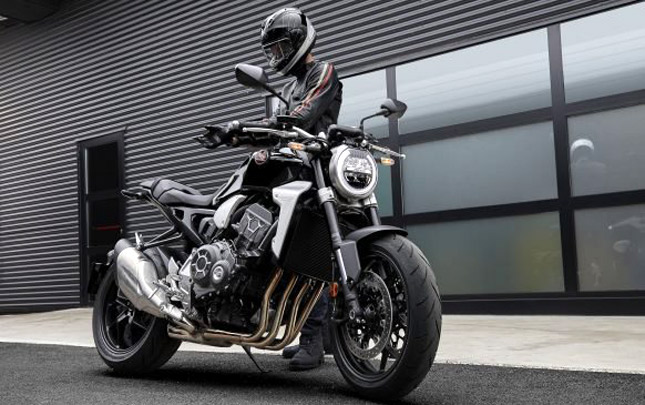 The Neo Sports cafe concept from last year makes it to production in the form of the naked CB1000R. A Fireblade without clothes looks mean and meaty, flaunting the curves. The design is very minimal with smooth cuts around the body.
2. Honda CB300R, CB125R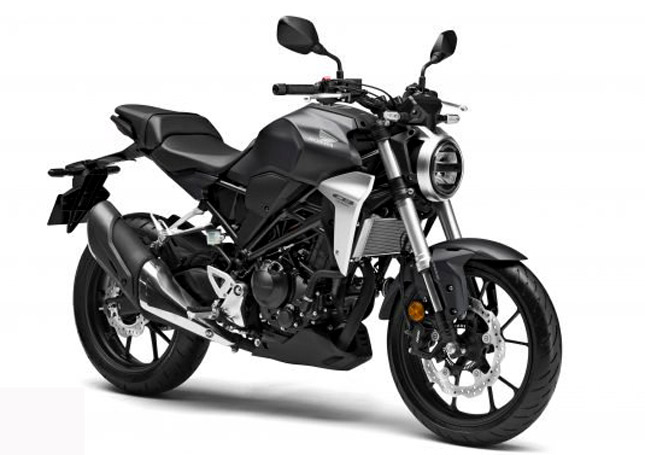 Just like the CB1000R, the 300 and 125 siblings share their design from the neo sports cafe concept. Both bikes are tall and aggressive looking naked bikes for beginners and novice riders. The lighting's are all LED and comes with good quality equipment.
3. Honda Africa Twin Adventure Sports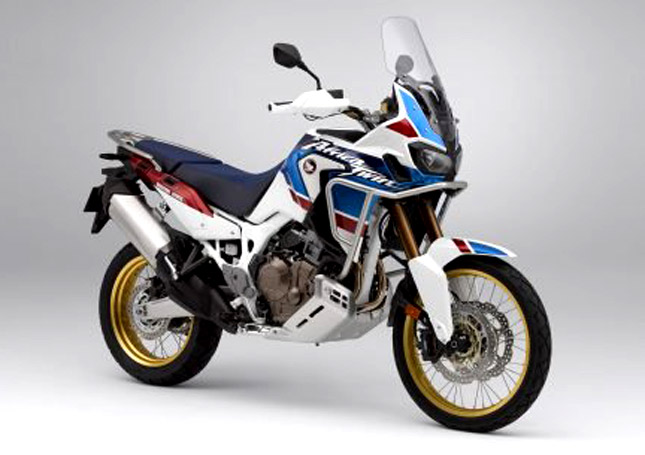 The Honda CRF1000L Africa Twin gets the required updates for 2018 and is launched as a new adventure sports version. The airbox and balancer shaft is said to be modified for better performance, and there is some weight reduction along with electronics upgrade. The Adventure Sports version comes in an unique HRC colour shade.
By:
Aravind Rb.