My friend was desperate to go on a muddy trail and I knew just the place near Bangalore but hadn't been there before. We Planned on leaving late, since it was a Sunday morning and headed towards Dodaballapur. The trails were about 40 kilometers away so we first had brunch at a hotel and then continued. We wasted quite a lot of time at the restaurant so it was warm when we started again. The motorcycles the three of us were riding on were KTM Duke 390s. The route was completely new for all of us as we were heading to this trail for the first time. When we reached the spot from where the forest began, we noticed that it had multiple entrances to it. As a result, we just chose one of them randomly and gave it the beans on our Dukes, leaving a large trail of dust behind us.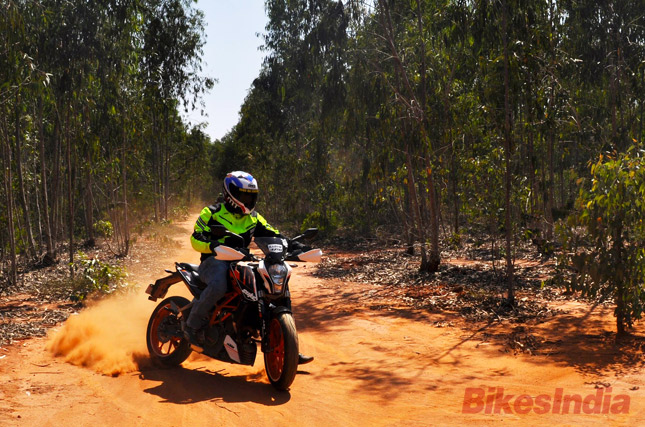 There were tall eucalyptus trees all around us and the surface was semi hard and muddy so we switched off the ABS on our 390s and had some fun sliding the motorcycles. I tried it for the first time and to tell you, it did feel a bit scary until I almost got the hang of it. My heavy riding shoes weren't helping much either as the rear brake was sensitive but I somehow managed that bit.
While we fiddled around, we went deeper into the forest-ish area. It was a deserted place as we didn't even spot a single person and all we could hear was the rustling of the trees after we had switched off our engines. Actually, that kind of peace was surprising to find in a green place that was so close to the city, especially after considering the weekend wanderlust bursts people get!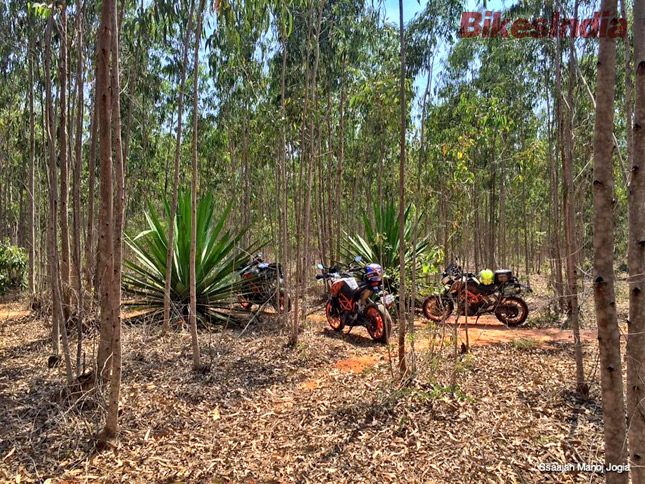 We took some pictures and moved on until we came across huge plants. When I say huge plants, they were actually larger than me and my motorcycle. They resembled a small pointed plant I had seen earlier that mostly grew in the arid region but these were so huge and hard that one can almost hide in between the leaves. I had never seen anything like it before, it seemed like it belonged to another planet. We took pictures of those and moved on until we were startled again with what we witnessed. We saw elephant dung in huge piles around us, a sign that elephants had been there before us.
What was a matter of concern was that the elephants could still be around us so we had to be extremely cautious while riding around as an encounter with the elephants could mean trouble, a lot of trouble. But if we encountered angry elephants, the trouble could be amplified by ten times. I took a chance and tapped the dung with my boots but found it to be dry, it must've been at least 3 days old so there were less chances of the elephants being around. Still, it wasn't a point we could take for granted so we decided to head out of the thickets and went back to the trails.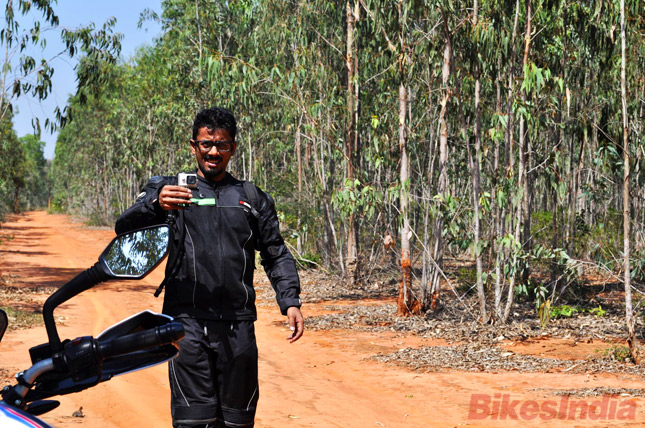 We then spent some time taking videos and photographs, especially since a friend of mine is a Vlogger. We did remain wary of the elephants while doing that but then the sun was getting intense, it was hard to believe that October was passing by because we felt like it was April. We took a few action shots and headed back to a dhabha close by where I felt the urge to have a lemon tea.
After hydrating myself with plenty of water, the lemon tea arrived and I must say, it was one of the best lemon teas I've ever had. It wasn't very sour, on the contrary it had a tinge of the best blend of sweetness and bitterness and a Tulsi leaf added wonderfully to the overall flavour. As we went on with our motorcycling conversations and imagined how other motorcycles would've performed on those trails, I ordered for a second lemon tea. We called it a day as we rode back home, looking forward to sharing the images and videos as I still wondered what those huge plants were called.
NOTE: If you are a biker from heart and also have such stories to share with us, do mail us and get featured on BikesIndia.
By:
Ssaajan Manoj Jogia