Here we are with the next iteration of the "Racing Legends" series. This time we bring you the only motorcycle racer who has a title to his name on a Ducati, the Australian "Casey Stoner". He is touted as one of the most talented racer ever to have raced a MotoGP machine.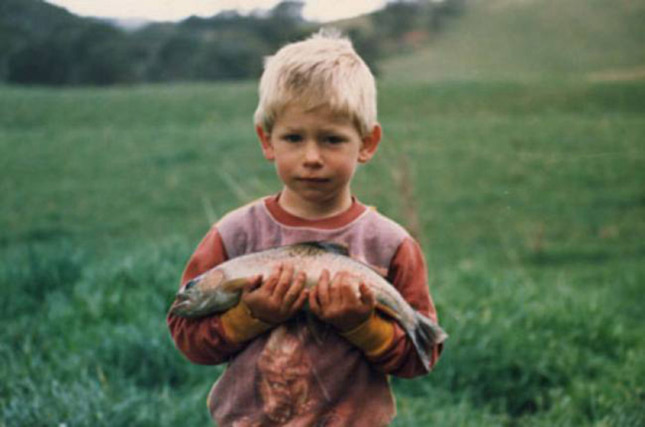 Early Days:
Casey Stoner, born on 16th October 1985 in Queensland, Australia started riding motorcycles at a very young age. Stoner started off as a Dirt racer at the age of 4 in Australia, and won his first race when he was just 6 years old. Stoner once raced 35 races in 5 different categories, all in one weekend and also bagged 32 victories to his name. Just at 14 years of age, Casey had managed to win 41 dirt races and a staggering 70 state titles.
At the age of 14, Stoner's parents gave a nod to his passion for Road racing prowess. Casey Stoner along with his parents decided to shift to the United Kingdom, where he could race legally at the age of 14. He started off on a 125cc Aprilia, competing in the Spanish and British championships from 2000 to 2002.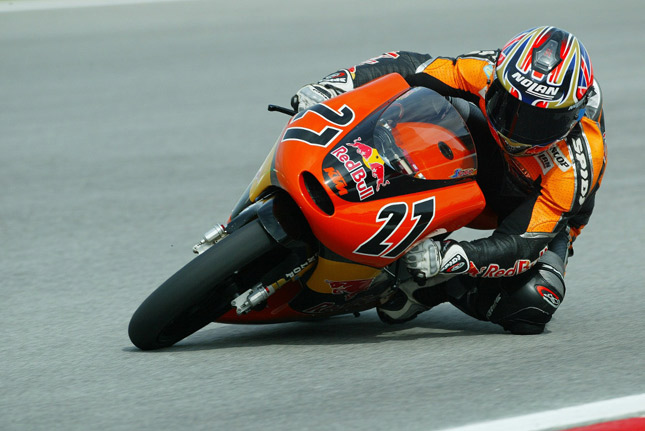 125cc and 250cc Class:
In the year 2003 Stoner finally moved to the 125cc World Championship, again on an Aprilia. He finished his rookie season in 8th position with one win and 3 second places to his name. The next year he got a ride from Redbull KTM Factory team and went on to win one more race, along with 5 podium finishes eventually finishing the Championship in 5th place.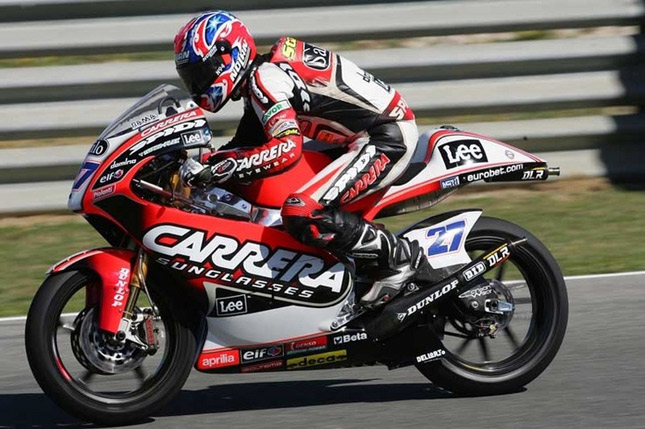 Casey Stoner moved up to the 250cc class in the year 2005, once again riding an Aprilia. Stoner found it very comfortable on the bike, as he was so competitive throughout the season becoming a threat to the then Championship contender Dani Pedrosa. Stoner though, ended the season in second place with 5 race victories and 5 podium finishes.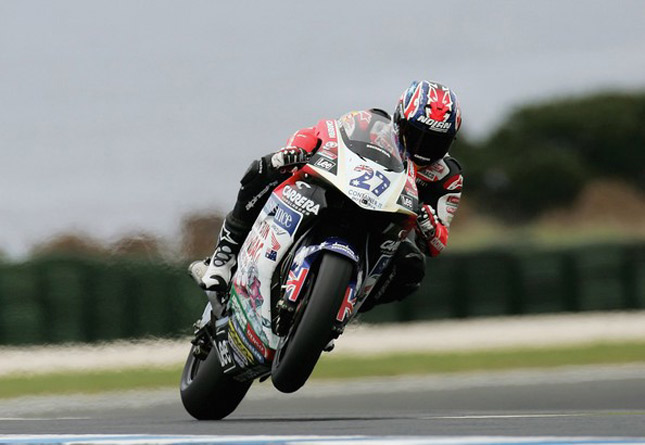 MotoGP:
A Rookie, Casey Stoner started off his rookie MotoGP career in 2006 on a Satellite Honda RC211V motorcycle. Stoner learned the tricks of riding a MotoGP motorcycle in his first outing, who also crashed several times throughout the season. Stoner took his first pole position in MotoGP class in just his second race weekend. He secured a 2nd place at the Turkish GP, which was his best in that season. Casey Stoner ended his first season at the top level in 8th place overall.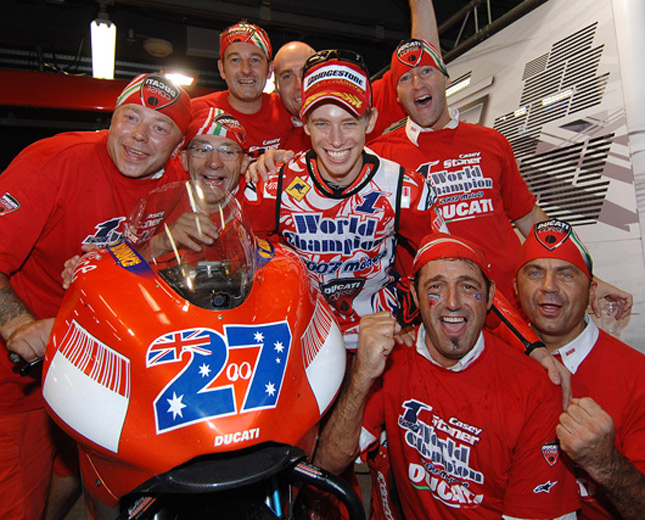 The Italian Fortune:
Casey had a very fortunate start in 2007, where he secured a deal with Ducati to ride their 800cc Ducati Desmosedici GP7 alongside Loris Capirossi. Stoner gelled with the bike very well and started producing miraculous results for Ducati, which the manufacturer never tasted before. Stoner went on to win the very first GP at Qatar, followed by 9 more victories in that season. Stoner made 6 pole positions in that progress. Casey Stoner clinched his very first World Championship in the Premier class at Motegi, Japan making him the first and only rider to win a Championship on a Ducati. Stoner outplayed every other rider in the track including the likes of Valentino Rossi and Dani Pedrosa. Stoner was named as the Young Australian of the year for 2007.
A Close Call:
The following year saw Casey winning the Qatar GP yet again in succession. Stoner made an impressive seven successive pole positions in 2008, converting 3 of them into victories. The most famous race of the decade happened at Laguna Seca, involving Casey Stoner and Valentino Rossi. Both had an intense battle with each other, putting in some brave overtaking maneuvers making it a treat to all MotoGP fans worldwide. The final corner of the last lap saw Valentino Rossi winning over Stoner, as he crashed into the gravel. Stoner however picked up the bike and finished the race in second place, as both of them were well ahead of other riders. Stoner ended up in the gravel for the next two successive races which made him lose points. At the end of the year, Rossi clinched the Championship and Stoner ended it in second place with 280 points.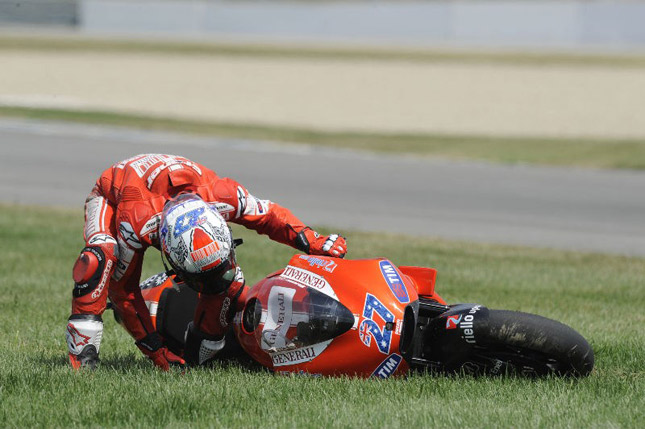 Downfall:
Stoner extended his contract with Ducati for 2009, with an option for 2010 too. But Casey Stoner suffered health issues in 2009, which made him tired before the race finishes. Stoner was diagnosed with an inflammation in his stomach and Anaemia. So he decided to take a break in order to recover from illness, and missed three consecutive rounds who was later diagnosed with lactose intolerance. Stoner returned in the later part of 2009 for the Portuguese GP, and won the next race at Australia. At the end Stoner ended the championship at fourth position with the top spot grabbed Valentino Rossi.
2010 was the last season for Casey Stoner with Ducati. Stoner qualified for the opening race on Pole position, only to crash out in the race due to a mistake. He further crashed in 4 more races in the season, and ruined his position in the points table. It was not that Casey Stoner went out of form, the Ducati became worser year by year. To prove that, his victories went decreasing year by year with 10, 6, 4 and 3 victories respectively from 2007 to 2010. The year ended with the newbie Jorge Lorenzo winning the Championship. Casey Stoner ended the year at 4th yet again.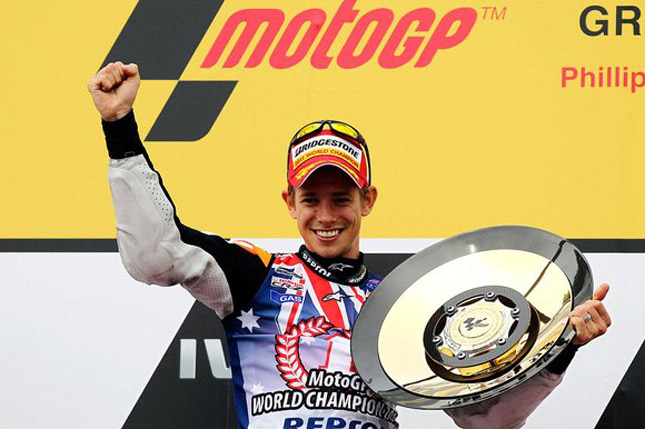 The Honda Relationship:
The end of 2010 season saw many big names switching teams, including Valentino Rossi. Rossi joined Ducati to fill in Stoner's spot while Stoner was welcomed by Repsol Honda. Stoner quickly adapted to the Honda very soon, and also won the season opener at Qatar from pole position. Stoner went on to win 9 more races tallying to a total of 10 wins in 2011. With 350 points to his name, Casey won his second World Championship in 2011.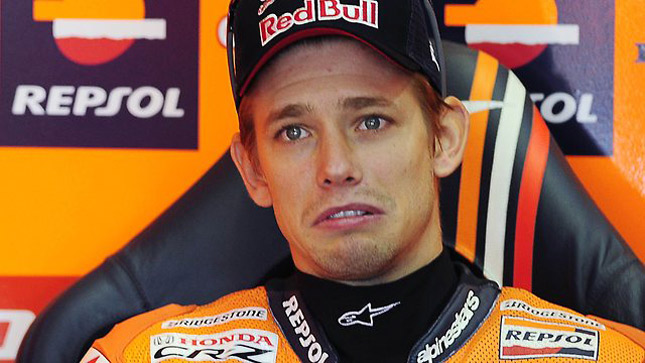 Stoner continued the 2012 championship with Repsol Honda. He went on to win 4 races from the first 10, along with 4 pole positions. Casey announced that he will retire from MotoGP at the end of the 2012 championship, as he stated that he did not enjoy competing in the series, which was one of the major reasons for his retirement. Stoner had a hard blow at the Indianapolis GP, resulting in a torn ligament in his ankle making him undergo a surgery. This made him to miss 3 races on a trot, and he lost major points for the title.
After a successful surgery, he was back at the Australian GP and won the race for the 5th time. Stoner ended the championship in fourth place, and the team had a board saying "GOING FISHING" relating to his retirement. Stoner stated that he was enjoying his life after retirement with his family, dismissing any chances of a comeback.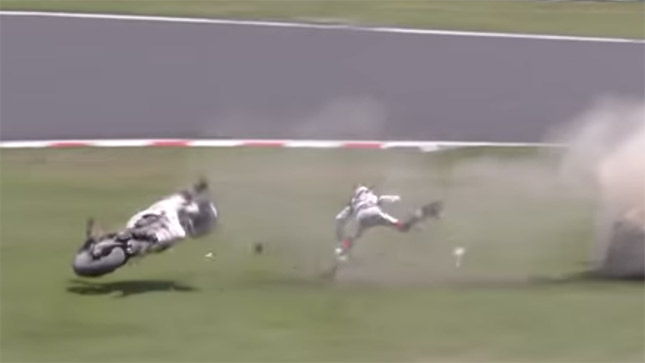 Return to Motorcycling:
Stoner returned as a test rider for Honda in 2013 to aid the development of their MotoGP machine RC213V. He tested the bike for two seasons on a limited basis. Due to a good relationship with Honda Racing Corporation (HRC), he agreed Honda's offer to ride in the Suzuka 8 hours for 2015. Stoner rode the Honda CBR 1000RR, and suffered a heavy crash due to a throttle malfunction. He eventually hit a barrier at a very high speed, fracturing his left Tibia and breaking his right Scapula. Honda found that the throttle valve was defective and was stuck open at 26 degrees. These series of events saw the relationship sour between Stoner and Honda.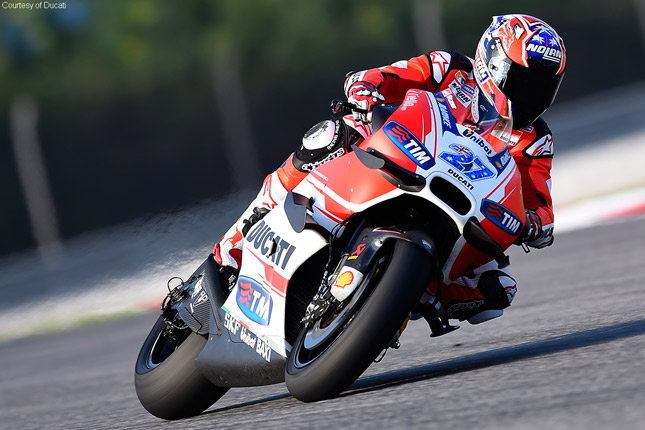 Present:
At present Casey Stoner works as a test rider for Ducati Corse team for the development of the Desmosedici GP16. There was a chance for a Wildcard entry, but Stoner denied and remained only as a test rider. Only time has to say, if Casey Stoner will revert his decision of retirement and get back to racing at 2'O clock in the afternoon.
As fans of MotoGP, we would very much like to see Casey Stoner back to racing. Till then imagine the fierce competition "(in dreams....)" and stay tuned to BikesIndia.
By:
Aravind Rb