Sunday, 23rd October 2011,
Sepang, Malaysia.
24 year old Marco Simoncelli, fresh from his second place finish at Phillip Island a week ago was totally pumped up and confident to go a step further up the podium. He was charging his way up towards the front-runners when disaster struck, which took away a rising star from the Racing world.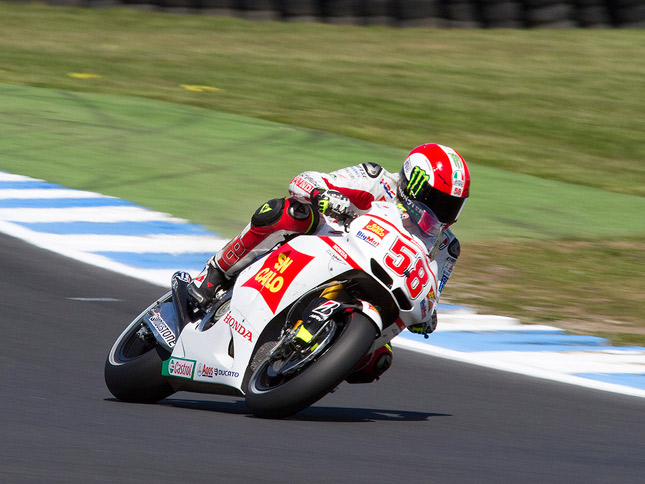 Marco Simoncelli was fond of Malaysia, and Sepang was always a special place for him. He won the 250cc championship at Sepang in 2008, and coincidentally, shares his nickname with the circuit's name. (SIC).
"He has done everything there, and decided to die there" says his father Paolo.
Marco grew up on the tracks, learning things quickly and evolving to be one of the most threatening factor ever in the racing world. He was a fighter, who always adapts to the environment quicker than a chameleon changes its color. His Rookie season in the Premier class saw him finish in points all the time and only 2 DNFs. His aggression raised many eyebrows and resulted in soured relationships with many riders, like Dani Pedrosa, Jorge Lorenzo and so on.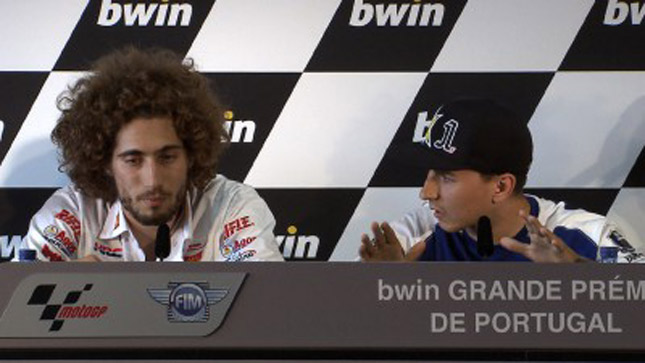 His aggression was openly criticized by Jorge Lorenzo in Portugal in 2011, where Simoncelli qualified on the front row. Simoncelli's sense of Humor lightened up a starkingly tense press conference, with Jorge Lorenzo replying in a rather serious manner.
His aggression seemed to tone down gradually after he took Dani Pedrosa out in the very next Round at Le Mans, breaking Pedrosa's collarbone and ruling him out of championship contention and Simoncelli getting a Ride-Through penalty for that overtake. Pedrosa then refused to shake hands with Marco after his comeback, a move which he regretted after his death in Malaysia.
"Life is just too short for revenge, I regret for what I've done" says Pedrosa.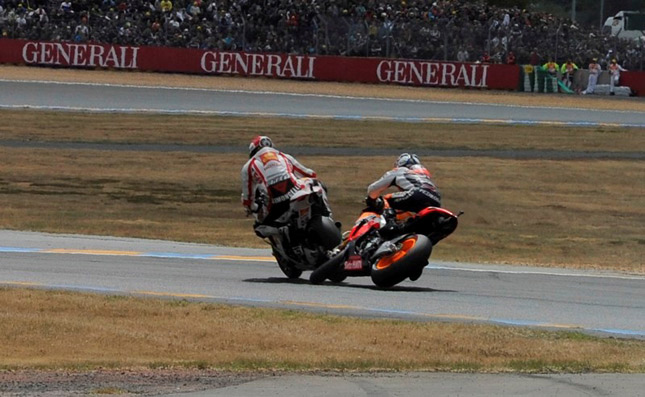 Undoubtedly the most emotionally hit person on the paddock was,Valentino Rossi. The 9 times world champion was Marco's best friend and mentor, the duo trained together all the time at his motor ranch and the gym. Post 2011, he made sure each of his AGV made helmets had Marco's #58 on them. He uses a special edition helmet for Misano, which is his home race and is conducted at a circuit named after his best pal.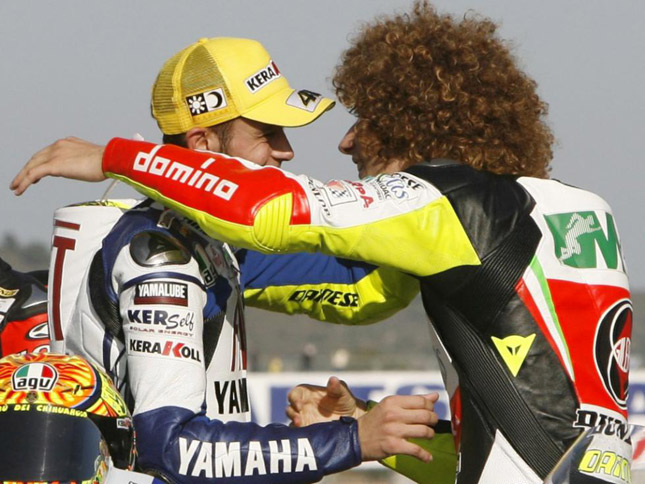 Many say, He could've been Repsol Honda's championship winning rider had he been with all of us now.The racing world will miss his aggression, his sense of humor and his uncharacteristically long curled hair. He might not have won a premier class title, but has won many hearts across the globe.
By:
Suraj