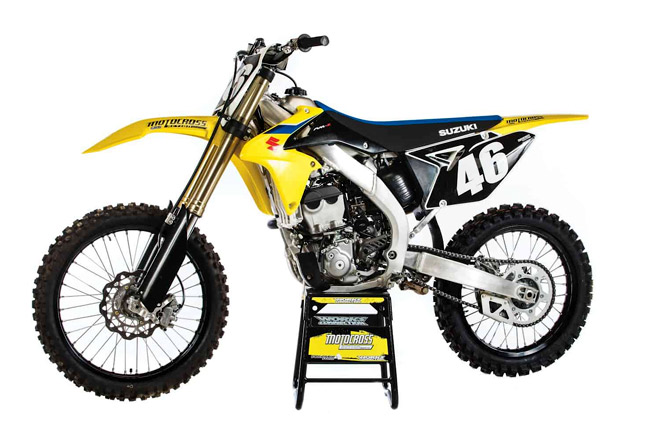 Whenever we hear about bikes which costs more than Rs 3 lakh, we immediately think of twin cylinders, big engines, 200+ km/h top speed, etc. But when Suzuki launched its RM-Z 250 and 450 cc series in India, people lost their mind. The 250 cc model has been priced at Rs 7.10 lakh and the 450 cc model was priced at a whopping Rs 8.31 lakh, both of them ex-showroom mind you and they are not road legal. The only question right now on everyone's mind is why? We all know that they are imported motorcycles but how much increase on taxes can there be, which results in a 250 cc bike to cost Rs 7 lakh. Let's answer this question.
The RM-Z series is available in America at $7749 for a base model. Converting it to Rupees results in a sum of Rs 5.7 lakh. It won't matter much if the company chooses to use either the CKD route or the CBU route to make these motorcycles available in India, as they are already off the price point of many. Now we know that these bikes are inherently expensive, let's figure out why.
First of all, the RM-Z series of bikes are proper dirt bikes. They are no compromised machines designed to travel anywhere. The weight of these bikes ranges from 110 to 120 kg while the 250 cc engine produces 38.35 horsepower. The power to weight ratio, in this case, is higher than most of the quarter-litre bikes. But that's not enough, if a bike costs Rs 7 lakh, then it must be able to do everything. Well, it sort of can. You can literally jump using this bike from a height of 50 feet and still perfectly land, provided you know the technique. The ultra lightweight chassis, the state of the art suspension and a blisteringly high power to weight ratio, makes this bike so expensive.
You can take this bike anywhere, on any dirt track, on any hill, any mountain and it will perform beautifully. Due to the Balance free cushion suspension with a long travel, the bike can fall from a height of several feet and still maintain it's balance. Several stunt shows, including various Motorcross events, use these bikes in their programs.
Notable characteristics of these kinds of bikes include:
• Blistering acceleration
• Smooth power delivery
• Ultra lightweight and super strong chassis
• Equally lightweight and strong swing arm
• State of the art Suspension setup
• Towering seat height and ground clearance
• Virtually indestructible engine
• Super treaded tyres, great for dirt, sucks on the normal road.
• Single narrow seat and tall handlebar
The power to weight ratio of some of the dirt bikes can even reach 1 in some cases. There have been some modified dirt bikes making 100 Horsepower while weighing 100 kg. I know that people will say that there are several bikes that make more than their weight. But they are not dirt bikes, on an off-road track, 40 km/h feels like 80 km/h. So 100 Horsepower on a 100 kg chassis off-road is pretty scary.
Returning to the bikes at hand, both of the RM-Z series are capable enough for all dirt worthy tasks that you'll throw at them and those people who don't like the big bulky nature of adventure bikes and want to experience nature in a lightweight chassis, should opt for RM-Z series.
By:
Yetnesh Dubey