There were queries about it from our readers and we ourselves too wanted to tell our readers as to what a CDI unit is and how it exactly works. So here we are going to enlighten you about the importance about CDI units as a whole and how they perform and what are their advantages over regular ignition systems.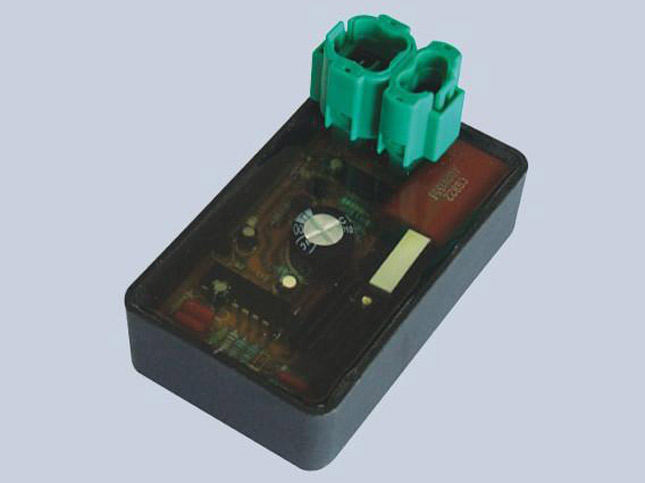 CDI units, also known as Capacitor Discharge Ignition is the same electronic ignition system, but in place of using a coil and having the coil create its own spark, here the ignition is provided by the capacitor charge. The reason this is used is because the coils take a long time to collect charge and create a spark whereas the capacitor simply charges and discharges within a very quick time making it possible to create sparks quickly. This helps when you have a higher capacity or a high revving engine where quick sparks are required.
The principle that CDI units work in is a little bit complicated as there are a lot of parts involved which work in tandem but the overall process is very simple. There is a capacitor connected to a high voltage power source. Now bike batteries hardly come in 6 or 12V supply. So there is a need of a transformer to amplify the voltage. Also the current coming is in a DC type, so an inverter is required to convert the DC into AC. Once that is then the current flowing back again requires a rectifier to convert the AC to DC and this is how the entire thing works.
READ ALSO: Motorcycle Timing Chain- All You Need To Know
The current is provided to the capacitor that holds the charge in it. The reason why a capacitor is used here is because it can easily charge and discharge in a matter of microseconds and hence it is helpful here. Also this helps because then one can create multiple charges are well in quick succession and it helps when you want to provide quick sparks. Plus unlike coiled induction, the capacitor once reached maximum charge creates a natural cut off and hence no amount of energy is wasted here while in coils the energy constantly keeps flowing and is wasted in the form of heat from the coil.
READ ALSO: Motorcycle Engine Control Unit (ECU) Explained
Also the fact that capacitors can hold charge for a longer time means once the capacitor is charged, it is good to go until being called the next time which could mean the next second or the next day or the next week and it wouldn't matter at all. This is the reason why CDI systems are more preferred these days. They are efficient, a little costly and complicated, but in the end, they are worth it.
Use Of CDI Unit:
Now this is the most important section to be covered as to where CDI are used. If you check any commuter bike these days, there is a chance that you would not find CDI there. The reason being they are low revving engines and hence the need for a spark that quickly is not really required. But if you have a bike that redlines at 12000 RPM and more and if you have a multi –cylinder engine, then in that case you need a CDI unit compulsorily because the need for creating sparks there is a lot more frequent and hence the need for CDIs.
So do remember if you are going to get a bike, though how small it may sound, do check if it comes with a CDI unit so that you can know that it is one less thing to worry about for the bike to misfire and malfunction.
By:
Pratik Patole