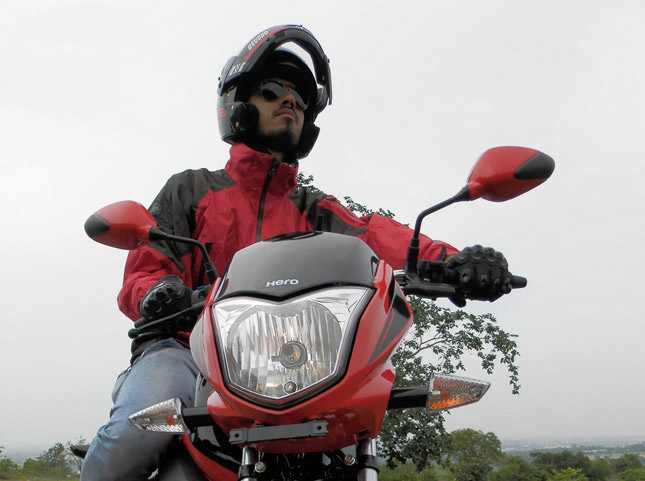 Today, where we are heading towards complete digitization in almost all walks of life; going online for our two wheeler loan requirement is not an exception. Finding a good lender/ bank for financing our dream machine has never been an option for most of us. At the time of purchasing our bike we tend to rely on the agents introduced by the showroom dealer for a two wheeler loan. But now things are changing pretty rapidly, and the market gives us options to get our dream bikes financed by different agencies well in advance. Now, we can plan our purchase beforehand as many financing companies are available in the market with different plans.
Online two-wheeler loans offered by many companies have several advantages over conventional loans, making them a preferred choice for many borrowers. Here are some reasons why online two-wheeler loans are often considered better-
Ease:
Online two-wheeler loans provide the convenience of applying for a loan from anywhere and at any time. Borrowers can complete the entire loan application process online, eliminating the need to visit physical branches or take time off work to meet with loan officers.
Time-Saving:
Online loans typically have faster processing times compared to conventional loans. The digital nature of online platforms enables instant verification, automated processes, and quicker approvals. Borrowers can receive loan disbursal within a short time frame, sometimes even on the same day.
Easy To Compare:
Online platforms allow borrowers to compare loan offers from multiple lenders in one place. They can easily compare interest rates, loan terms, processing fees, and other factors to make an informed decision. This transparency enables borrowers to choose the best loan option that suits their needs and budget.
Greater Flexibility:
Online lenders often have more flexible eligibility criteria and consider additional factors beyond credit scores. This means that individuals with varying credit scores or limited credit history have a higher chance of getting their loan application approved. Online lenders may assess factors like income stability, employment history, and repayment capacity, increasing the chances of approval.
Transparency:
Online platforms provide transparent information about loan terms, interest rates, fees, and repayment options. Borrowers can access all the necessary details upfront, ensuring transparency and allowing them to understand the cost of the loan. This transparency helps borrowers make informed decisions and avoid any hidden charges or surprises.
Less Documentation:
Online two-wheeler loans require minimal documentation compared to conventional loans. Borrowers can upload the necessary documents electronically, eliminating the need for physical paperwork. This streamlined documentation process makes the loan application faster, easier, and more convenient.
24-Hour Accessibility:
Online platforms are accessible 24/7, allowing borrowers to apply for a two-wheeler loan at any time that suits them. Borrowers are not restricted by the working hours of physical branches or the availability of loan officers. This flexibility enables borrowers to initiate the loan application process at their convenience.
Overall, online two-wheeler loans provide greater convenience, faster processing, easy comparison, and higher approval rates, making them a preferred choice for borrowers seeking quick and hassle-free financing for their two-wheeler purchase.
One such company is L&T Finance Holdings Limited, which is a leading Non-Banking Financial Company (NBFC) offering a mobile application based Two wheeler loan facility. The Application is known as "PLANET"- Personalized Lending & Assisted NETworks. We found this mobile application very user-friendly and easy to use, moreover, it is a reliable name and one can put one's trust in it. PLANET APP is designed with an aim to provide best in class customer experience by offering a convenient and efficient solution for all loan-related needs. Keeping both urban and rural customers of L&T Finance at the core, the
PLANET APP
is available in 10 Indian regional languages besides English and Hindi. The app is geo-agnostic, making the journey easier for customers regardless of their location, and has also received a 4.4-star rating on the Google Play Store and a 4.3-star rating on the App Store.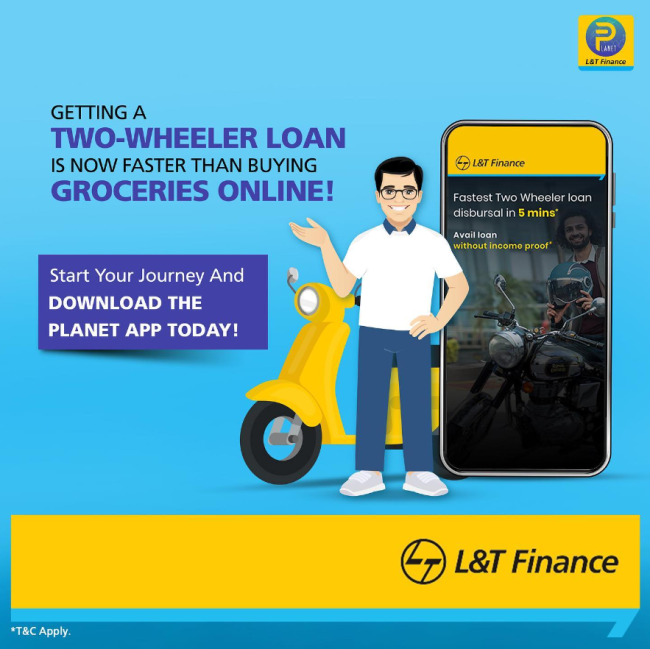 Why you should opt for Two Wheeler loan on PLANET APP by L&T Finance:
1) Two- Wheeler loan interest rate starts from as low as 7.99%.
2) You can use a two-wheeler loan EMI calculator and know whether you will be able to afford the monthly EMIs.
3) Buy a Two-Wheeler with zero down payment and pay only the processing fee.
4) Seamless and quick digital end-to-end application process from anywhere and anytime.
PLANET APP by L&T Finance gives quick approval on Two Wheeler loan if you meet their criteria and have all documents submitted as required.
5) You can choose any bike/scooter of your choice from the market. They have a broad range of Two-Wheeler selections.
6) PLANET APP provides a flexible repayment option. You can avail a Two-Wheeler Loan for a tenure extending up to 5 years and repay the loan at your convenience.
7) They also have PAN India delivery options where you can get your Two-Wheeler delivered at your doorstep by your nearest Automobile dealer.
How much loan can you avail of?
You can borrow up to 100 % of the On-Road Price of the vehicle (subject to applicable terms & conditions). The percentage also depends on your loan amount, eligibility, and credit score.
Any late payment fee for a Two-Wheeler loan?
The late payment fee is 3% on overdue EMI.
How long does it take for a two-wheeler loan approval at L&T Finance?
You can get the loan approved in 7 minutes if your all documents are in place.
Is there any scheme for Two-Wheeler Loan?
Special schemes keep changing from time to time. You need to check the app and connect with L&T Finance representatives to know about their ongoing schemes and offers.
If you are planning to take a Two-Wheeler loan soon, just download the
PLANET APP
by L&T Finance. If you are a self-employed or salaried person, you can enjoy tax benefits by taking a Two-Wheeler loan in their business name. It will also help you to improve your credit score and balance your secured and unsecured loans. Download the PLANET APP by L&T Finance by scanning the QR code Below: