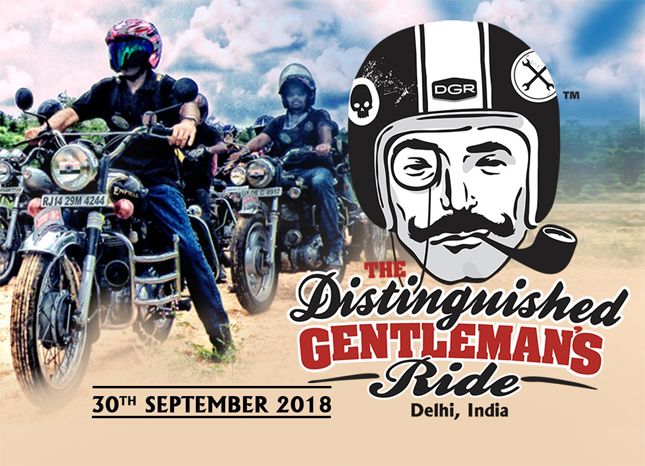 The 2018 Distinguished Gentleman's Ride (DGR) is going to take place on 30th September across various prominent cities of the country. The same "Men Health Awareness" bike rally will be organized and managed by Royal Mavericks for Delhi. The DGR is a global motorcycle fund-raiser or raise awareness of prostate cancer and male suicide prevention founded in 2012 by Mark Hawwa in Sydney, Australia. Over 120,000 distinguished gentlefolk in over 650 cities worldwide Despite the title, "Distinguished Ladies" are of course most welcome.
Highlights of the Rally:
• Witness classic era vintage and restored motorcycles and scooters.
• There will be a MANDATORY dress code for the event. The code is: formal / retro / vintage formal / Indian Ethnic clothing.
• Global event across 101 countries once a year.
• Participation of approx 300 to 400 bikes (classic, Vintage)
The rally will kick off at 6:30 AM Sunday, 30th Sep. at Bikers Cafe', Gurgaon and it will end at Pullman, Aerocity at 10 AM Asset No 02, GMR Hospitality District, New Delhi.
Prominent guests of honor:
• Daler Mehendi, Punjabi Pop Singer.
• Maj. Gen. R.K.Jain. who did solo ride from Delhi to London and Delhi to Sydney in 1980 on Kinetic Honda Scooter after his retirement.
• Diljeet Titus (world-renowned lawyer and secretary HMCI) Internationally acclaimed vintage collector.
By:
Yetnesh Dubey