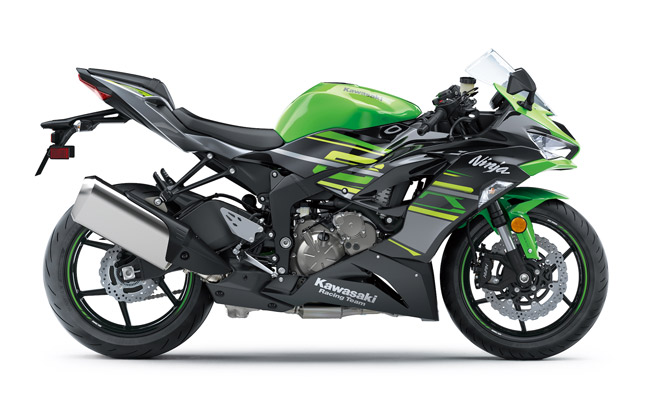 Kawasaki is killing it with its sports series bikes. They just won the World Superbike Championship with Jonathan Rea. Ana Carrasco, another Kawasaki Ninja 400 Woman Rider won 300 cc sports bike class championship. They have successfully updated their prized motorcycle, the ZX-10R, so it only makes sense that the company updates its another bike, the Kawasaki ZX-6R to bring the game to a full circle and that's exactly what they did. The company unveiled the 2019 Version of the Ninja ZX-6R with a host of new updates. Let's quickly gloss over them.
The updated model has a Ninja H2 inspired design, similar to the New Ninja 400. It looks fresh and brings the ZX-6R under the new Ninja series styling. The Engine remains the same 636 cc power plant with a few internal changes but it delivers the same 129 HP @ 13,500 RPM and 71 Nm of torque @ 11,500 RPM.
The bike now features Kawasaki Quick Shifter (KQS), New Bridgestone Battlax tyres, New Adjustable clutch lever, Kawasaki Traction Control (KTC) with 3 Modes, Kawasaki Intelligent Anti Lock Braking system, twin LED head and tail lights along with a redesigned front and back end, and a New Instrument console which is Part digital part analogue.
Considering the upgrades above, one wouldn't be wrong in thinking that the bike will now be more expensive than before, well I am happy to report that the reality is the exact opposite. The 2018 Non-ABS variant of the bike retailed around $11,699 in the USA but the 2019 version starts from $9,999. In the base variant, only the ABS and the traction control is not present, while all the other upgrades are constant across all the models.
This might be the best chance for the company to bring the ZX-6R in India, as the bike is now cheaper, better equipped and future proof.
By:
Yetnesh Dubey