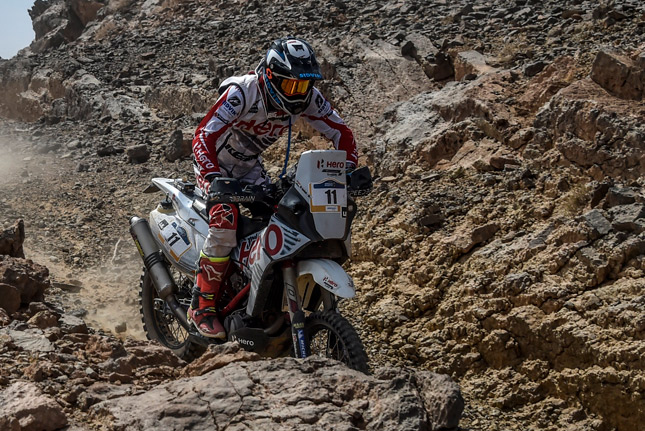 Hero MotoSports Team Rally riders- Joaquim Rodrigues and C S Santosh have overcome the toughest stage of the Afriquia Merzouga Rally in Morocco. Testing the potential of the riders the dangerous zones of the two day Marathon stage were proving quite challenging for the riders.
The riders had to stay on their own overnight at the Moroccan desert amidst another phase of cruel sand storm. The riders had to start early in the morning to complete the second last stage of the race. The second day of the Marathon stage consisting 206 Km was pretty tough and challenging for the riders especially due to the absence of any support team and mechanics. Riders had to face many sand dunes, big stone fields and difficult navigation throughout the race without any support from their ground staff.
Joaquim Rodrigues, finished the stage acquiring 4th place and missed the stage victory by only 1:07 min. His 4th place is the best personal stage finish after winning him the prologue. On the other hand C S Santosh crashed his bike leading him losing his progress in the stage massively. Because of the nasty crash Santosh lost valuable time and could only finish the stage at 36th position.
Joaquim Rodrigues, Hero MotoSports Team Rally
said,
I lost a bit of time yesterday in the Marathon stage, looking for a secret waypoint but today I started off really well and got myself to the end in a very good position. For now, we just wait for the last stage tomorrow and bring my bike home for Hero MotoSports Team Rally
With only the last stage remaining to be conquered, Hero MotoSports Team Rally will be looking to make a last impact in the short 50 km special of Grand Prix Dunes and bring home a good result for the team. We wish the Team Hero MotoSports best of luck.
By:
Farhan Kashif