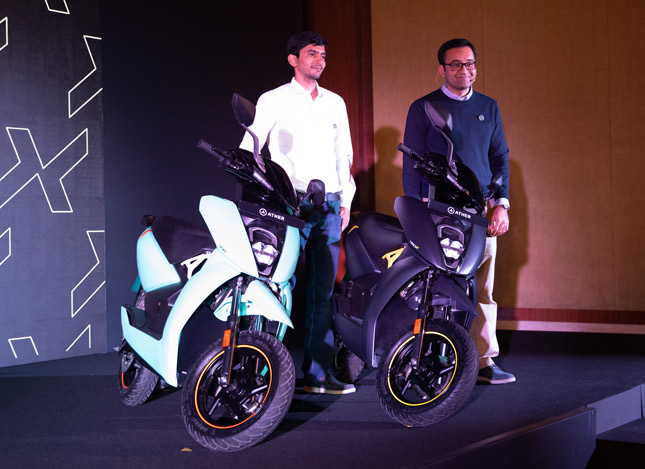 Ather Energy has launched the advanced performance model of Ather 450 Electric Scooter- Ather 450X. The new Ather 450X is touted to be the 'Super Scooter' comes with new features, advanced 4G connectivity and a company claimed brand new ownership model.
The all new Ather 450X comes equipped with 6KW PMSM electric motor, a brand new 2.9 Kwh Li-ion battery and four different riding modes. The new Ather 450X in addition to the Eco, Ride and Sport modes now also comes with new high performance mode- Warp. The new 450X can go from 0-40 Kmp in just 3.3 Sec in Warp mode making it one of the quickest E-scooter in its segment.
Commenting on the launch event,
Tarun Mehta, CEO and co-founder, Ather Energy
said:
With Ather 450, we wanted to build a vehicle that breaks the mould of what an EV can do in India. Over the last year and a half, the scooters on the road have provided tremendous data and our online community is active with thousands of members. With over 6 million KM of on-road data from our existing riders and the invaluable feedback from our community, we have built Ather 450X which raises the bar on almost every key metric.
The new battery in Ather 450X is claimed to have projected Indian Drive Cycle range of 116Km. However the real life range of 85 Km is claimed in city riding condition. The new battery also enables Ather 450X to get charged 50% faster than before and now it gets charged at 1.5 Km per min. The fast charging pace of Ather 450X makes it fastest charging E-scooter.
The company has introduced the Ather 450X in three color options- Grey, Green and White. The Ather 450X will be available across ten major cities of India starting from Delhi NCR, Mumbai, Pune, Hyderabad along with Bengaluru and Chennai. The Ather 450X is priced at Rs. 99,000/- (Ex-Showroom).
By:
Farhan Kashif