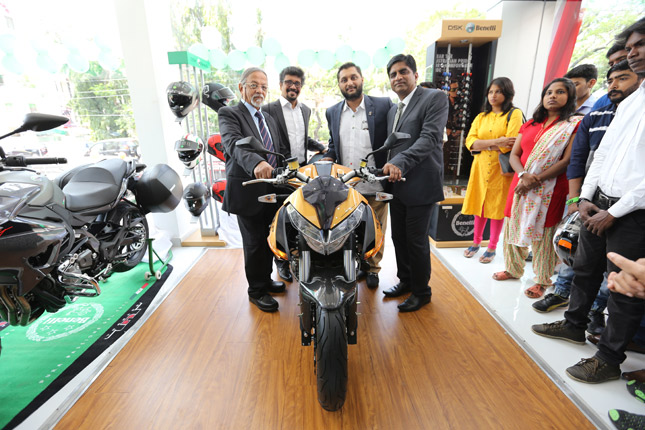 DSK Motowheels announces the launch of its second showroom for the legendary Italian superbiking brand Benelli in Chennai city. DSK has come up with the second Benelli showroom in Chennai after witnessing good response in the city. The state-of-the-art showroom is situated in a plush locale at V– Block, 5th Avenue, Old No. 86 / New No. 74, Anna Nagar; showcasing the entire range of DSK Benelli superbikes available in India. Booking and deliveries are now open at the showroom. The new outlet along with the existing showroom in Chennai is also under the dealership of 'Power Super Bikes' which is located at Anna Salai, near Gemini Flyover.
Located in one of the liveliest areas of the city, the outlet will be in complete consonance with the premium luxury that the DSK Benelli brand stands for. As per company well-trained staff is available in order to assist the patrons in sales as well as service. The second showroom also houses the sporty-looking Tornado Naked Tre, or TNT superbikes that encompass the TNT 25 – Single Cylinder 250cc engine, TNT 300 – In-line two-cylinder 300cc engine, TNT 600i - In-line four-cylinder 600cc engine, TNT 600 GT - In-line four-cylinder 600cc engine, TNT 899 - In-line, three-cylinder 898cc engine and TNT R - In-line, three-cylinder 1131cc engine.
Speaking on the occasion,
Shirish Kulkarni, Chairman, DSK Motowheels
said,
DSK Benelli has received an overwhelming response in the city of Chennai for its best-in-breed superbikes. Backed by this demand, it gives us immense pleasure to launch our second showroom for superbiking aficionados in Chennai in association with 'Power Super Bikes'. The philosophy with which we operate is in tandem with the ethos of our Chennai dealer. The employees at DSK Benelli – Anna Nagar have been provided with specialised training in management of sales, service, spare parts and customer service, to ensure that customers can enjoy the best-in-class ownership experience that our brand stands for. Keeping in mind the global standards, we are also glad to announce that all the DSK Benelli showrooms across India including the new DSK Benelli showroom in Chennai, meet the International CI standards of Benelli global showrooms.
By:
Farhan Kashif