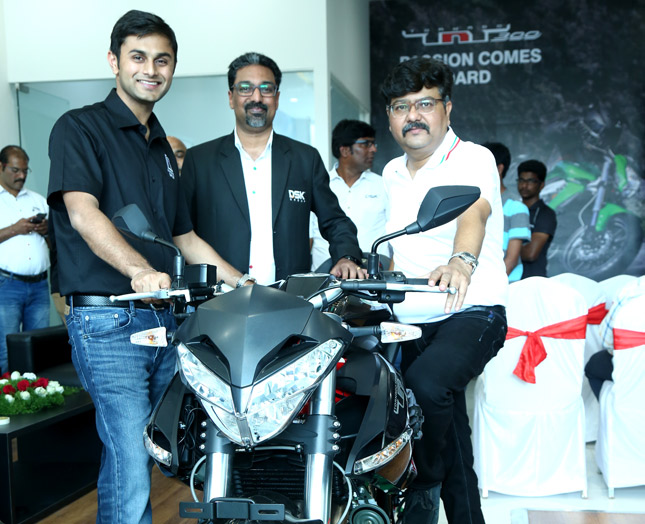 DSK Motowheels announces the launch of first exclusive showroom of their Italian brand- Benelli Motorcycles in Vijayawada, Andhra Pradesh. The new Benelli showroom opens under the dealership of "Jhabakh Auto Pvt. Ltd", Vijayawada. With the launch of new dealership the total number of Benelli dealerships has gone up to 23 throughout Pan India.
Under the dealership of Jhabakh Auto Pvt. Ltd, the state of the art Benelli showroom is situated in a posh locality at National Highway-5, Prasadampadu village, Vijayawada. The entire range of DSK Benelli superbikes are made available at the showroom, including-
TNT 25– Single Cylinder 250cc engine, Rs. 1,83,000
TNT 300– In-line two-cylinder 300cc engine, Rs. 3,08,000
TNT 600i- In-line four-cylinder 600cc engine, Rs. 5,83,000
TNT 600 GT- In-line four-cylinder 600cc engine, Rs. 6,11,000
TNT 899- In-line, three-cylinder 898cc engine Rs. 9,70,000
TNT R- In-line, three-cylinder 1131cc engine Rs. 12,07,000

*** All Prices are Ex-Showroom, Vijayawada.
On the launch occasion,
Krishna Malge, AVP Sales and Dealer Development, DSK Benelli
said,
It gives us immense pleasure to be associated with 'Jhabakh Auto Pvt. Ltd'. The philosophy with which we operate is in tandem with the ethos of our Vijayawada dealer. The employees at DSK Benelli –Vijayawada have been provided with specialised training in management of sales, service, spare parts and customer service, to ensure that customers can enjoy best-in-class ownership experience. Keeping in mind the global standards, we are also glad to announce that all the DSK Benelli showrooms across India including DSK Benelli –Vijayawada, meet the International CI standards of Benelli global showrooms. Our main focus is to align DSK Benelli's presence across all strategic locations in order to generate strong brand eminence and Vijayawada in that respect, is one of those key markets.
By:
Farhan Kashif