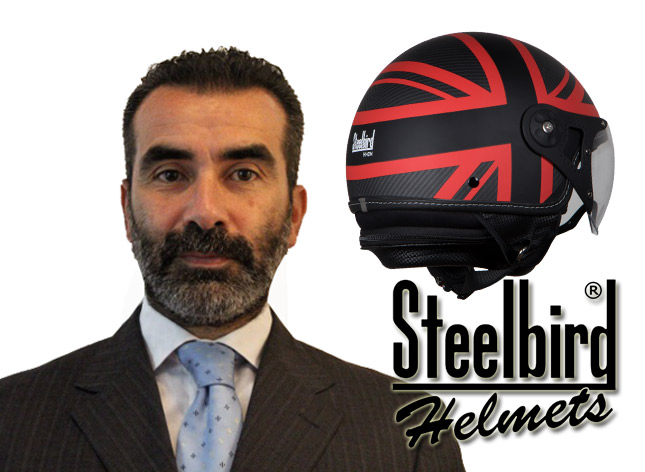 New Helmet laws are incoming and in that storm Helmets manufacturers are rushing to have their products ready. The new laws indicate that the Helmet's weight shouldn't exceed 1.2 Kg and they must be in accordance with the revised ISI norms. Among such development, Steelbird, an Indian helmet manufacturing company has hired Ex-Dianese R&D Director,
Massimo Varese
, who is a Veteran in the field of design. With an experience of 25 years by working in companies like OMEGA, NAVA, Mavet SRL and many more.
Commenting on the new development,
Rajeev Kapur, MD, Steelbird Group
said,
I am delighted to welcome Mr Massimo Varese in Steelbird Family. The appointment of Massimo Varese who comes with such a rich experience will be responsible for the expansion of Steelbird helmet's portfolio including design, development and production for domestic as well as global market. The appointment of Massimo Varese will open up new vistas for the Indian helmet brand to take off for the global journey with his strong and fresh ideas.
He has also worked with racing helmet brands like AGV, a work experience which will surely come in handy once he takes charge of the Steelbird's research and development team. There is also a good chance that we will also see riding jackets and other motorcycle related gears, being offered by the Steelbird in the coming years. The company would surely not miss the chance of harnessing the rich knowledge of Mr Massimo Varese.
On this occasion,
Massimo Varese expressed his thoughts by saying
:
This is a great opportunity for me to apply my talent and expertise in the industry which is close to my heart. I am extremely excited to join Steelbird Helmet and to serve Asia's largest helmet industry i.e. India.
Steelbird is currently producing 4 million helmets per year and they plan to increase this production to 10 million helmets annually.
By:
Yetnesh Dubey