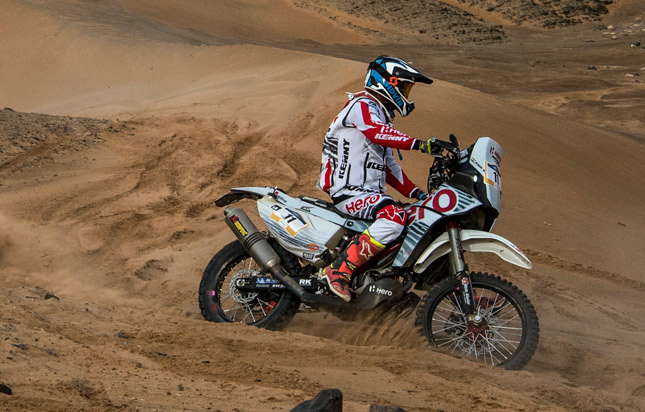 The two days Afriquia Merzouga Rally starts with the commencement of the Marathon Stage at Morocco. Joaquim Rodrigues rode for Hero MotoSports with great temperament and managed to finish the stage at an impressive 5th position. The result JRod obtained thrive him to reach into the top 10 in the overall general rankings.
The Erg Rissani region of Morocco is known for its soft sands, which the competitors have not crossed since 2014, was the primary test for the riders before they actually hit the tracks again amidst the sandy mountains including a few steep stony uphill climbs. There was a sand storm which hit the region recently; it is because of that the scheduled 274 Km special stage had to cut by 80 Km. Both Hero MotoSports Rally riders rode really well at the marathon stage to compensate their respective positions which they have lost due to the sand storm.
The Indian rider of Team Hero MotoSports, C S Santosh, also had a good run maintaining a steady performance to finish the stage at 17th position, and thus retaining his 15th position in the overall rankings at the end of the stage 4. The good performance of Team Hero MotoSports Rally with both their riders back in top 15 brings in the right momentum required to place them in a good stead for the second half of the rally. Stay tuned to BikesMedia for updates on the ongoing Rally.
By:
Farhan Kashif