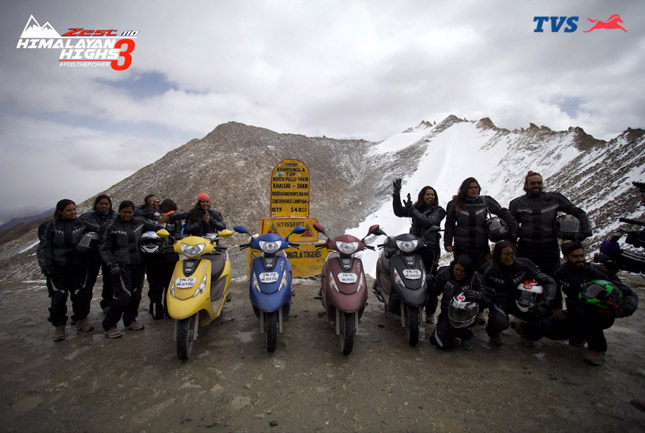 Today TVS Motor Company announced the successful completion of 'Himalayan Highs Season 3' which witnessed twelve riders riding to the mighty Himalayas on their TVS Zest 110. The adventure on two wheels, in its third edition, saw 10 women and 2 men riders participating from different parts of the country. The riders on the TVS Zest 110 have gone through some of the world's most treacherous roads peaking over 18,000 feet. The riders covered a total distance of over 970 km in a span of 11 days.
The entourage started on September 1, 2017 from Mandi, in Himachal Pradesh, the group of young men and women successfully concluded the ride on September 11, 2017 after scaling the Khardung La pass as the final summit. The 12 riders, which were selected through multiple rounds of evaluation, which included physical test and psychological resilience, were
Ashwini Pawar (Mumbai), Anjali Chaudhary (Uttar Pradesh), Aashraya Suresh (Karnataka), Shagufta Khan (Mumbai), Vineeta Lohchab (Delhi), Riya Roy (West Bengal), Baishali Nath (Assam), Devaki P (Telangana), Milam Shah (Uttar Pradesh), Mohit Bhardwaj (Delhi), Andre Camara (Goa) and Anjali Manoharan (Kerala)
.
Commenting on the occasion,
Aniruddha Haldar, Vice President (Marketing) Commuter Motorcycles, Scooters and Corporate Brand, TVS Motor Company
said,
TVS Zest 110 Himalayan Highs has completed its 3rd season which has been unequivocally a resounding success. #FEELTHEPOWER has been its credo and we have seen this in the way that the 12 riders have performed and how the TVS Zest 110 has responded yet again to the challenges of the Himalayas. It has celebrated the human spirit and prowess of the TVS Zest 110. We thank the vast numbers of the brand lovers who encouraged us through their support on social media. TVS Zest 110 has clearly shown that it has what it takes to take on any challenge, even a Himalayan challenge.
By:
Farhan Kashif