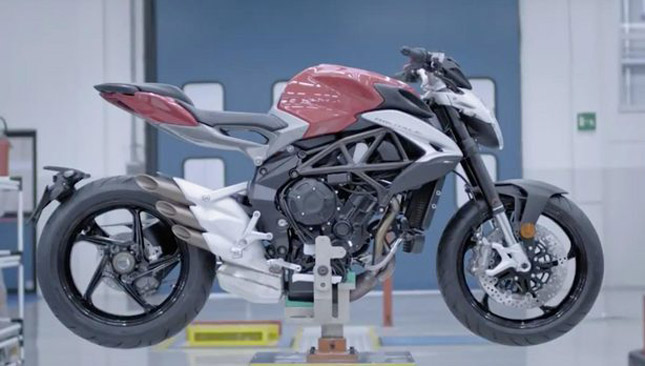 From the 2016 lineup, MV Agusta Brutale 800 has been revealed in a teaser video ahead of its official launch at the upcoming 2015 EICMA show in Milan. The updated 2016 Brutale 800 seems to have received full body update except the heart of the bike. MV Agusta is going to debut in India with its Indian partner Kinetic Motors later this year and we can expect all of the models from MV Agusta's stable to be officially launched in India.
The all new 2016 MV Brutale 800 received overall makeover with updated body panels, fuel tank, exhaust pipes, seat and new aluminum sub frame. There are new vents featured on the front of the bike for more aerodynamics. The inclusion of aluminum sub frame will surely contribute to the further weight loss of the new Brutale 800. The headlamps and the taillights are also contributing to the more streamlined and aerodynamic body of the new roadster.
There is big gap between the rear wheel and the taillight assembly, which further enhances the sporty image of the Brutale. The footpegs are also repositioned in the new Brutale 800 to complement the revamped ergonomics of the bike. However, there are remote chances of any alterations at the engine's front. The new Brutale 800 would be featured with 798cc 3-cylinder engine, producing 123 Hp of power and 81 Nm of torque.
As the MV Agusta is all set to debut in India sooner than later, the new 2016 Brutale 800 is more likely to be seen on Indian roads rather than the 2015 model. Let's see how MV Agusta is going to price the new Brutale 800 in the international as well as in the Indian market.
By:
Farhan Kashif