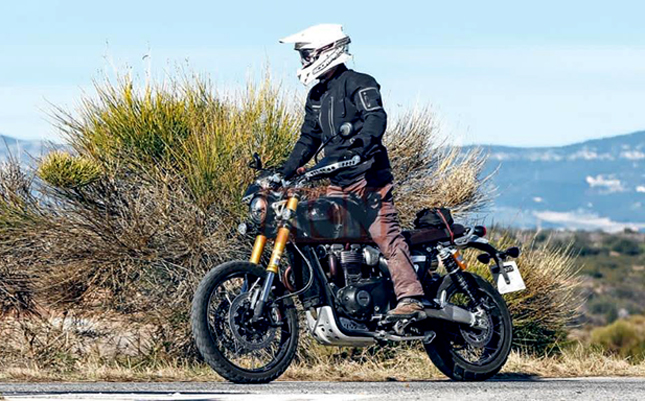 A new Triumph Scrambler 1200 motorcycle is going to hit the market soon. The bike looks capable of doing some serious off-roading. When launched it will lock horns with the likes of Ducati Desert Sled.
What exactly is so special about it? Well, it's unlike modern-day scramblers which are barely capable off-road, with the exception of Ducati Desert Sled, the new Triumph Scrambler 1200 will be a more than competent off-roader. I am saying this because of how the bike looks, in a recently teased picture.
You can easily see the off-road elements at play here. One can notice the high ground clearance and the long travel suspension on both ends. When looked at closely, the rear suspension also reveals an unusually large shock because it's a combination of two springs which will add 2 or 3 inches more to the suspension travel. Such a spring also has an advantage, that the grip is offered to the tyres is significantly increased, because the secondary spring is only activated when the bike goes through a really rough patch or jumps from a good height. Which causes minimal swingarm movement in normal situations and thus more grip goes to the tyres. Ducati Desert Sled also uses the same mechanism.
Next up is the skid plate, which covers the engine but not the fenders, as they are re-routed above to the other side. The rider is standing comfortably upright, which means that the bars are nice and tall. The tank also looks scooped in, while the seat is a long single one.
Talking about the engine, it seems to be using the same 1200 cc high torque engine found in the Bobber, the Speedmaster and the T120. It is expected to be tuned to make more power as it already makes a decent amount of torque.
Wheels are spoked and the tyres are knobby, probably will be tubeless. The final Drive is a chain which is good and far better than the Belt drive on Yamaha SCR 950.
By:
Yetnesh Dubey