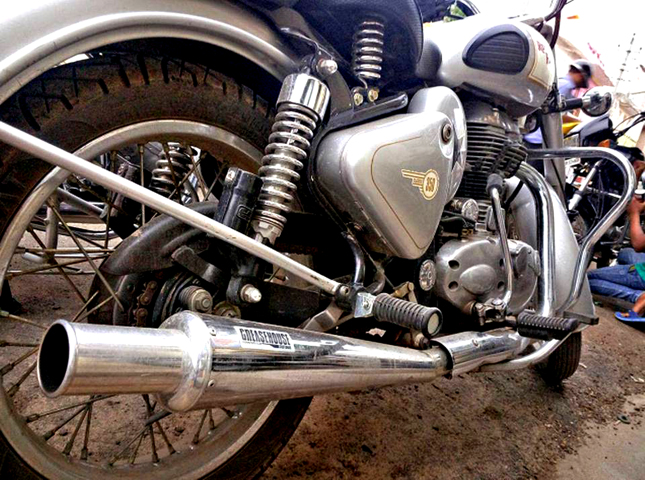 Someone finally stood up against the illegal sound pollution in India. All of us here are petrol heads and we all know what kind of noise pollution is being tackled here. The Royal Enfield motorcycles have had a reputation for causing sound pollution in the past, due to illegally modified silencers. In the BS4 version of the Royal Enfield bikes, the exhaust sound is very much reduced. It is on the modified exhaust, where the sound crosses 100 dB barrier.
An NGO by the name of 'Justice For Rights Foundation', headed by
Prateek Sharma
, a law student, has filed a PIL claiming that the modified Royal Enfield exhausts, makes a lot of sounds. Let's talk about it for a second.
I get the point that modified Royal Enfield exhaust makes a lot of noise but so does the Arrow exhaust on a Triumph Street Triple RS. The difference is that it doesn't break the recommended sound limit. It becomes annoying when it does and most of the time it is found on a Royal Enfield motorcycle.
Now the question is, "should Modified Royal Enfield exhausts get banned?" I say the answer is Yes. But "should all of them be banned?" Well obviously No. If a Royal Enfield owner decides to upgrade to an Akrapovic exhaust, then it is more than good enough. Such practices should be encouraged and even incentivized.
Tackling the other aspect of the statement "Biggest noise polluters?". "Horns" are the biggest noise polluters in our country. Especially those ones which play a whole song when you press them just for a little bit. Besides Royal Enfield motorcycles, such horns are also found on SUVs, these horns become more dreadful when someone in the traffic is blowing it at the back of your head.
The PIL is against the use of both modified horns as well as exhausts. Those people who use such equipment rarely have a regard for the law and are more focused on showing off on the road instead of actually riding the bike. They obviously have bad riding skills and no road etiquette and they top it all of by causing public unrest and breaking the law. We at BikesMedia urge you to show your support to Prateek Sharma in making our roads more safer for all.
Picture Credit:
The Hindu
By:
Yetnesh Dubey