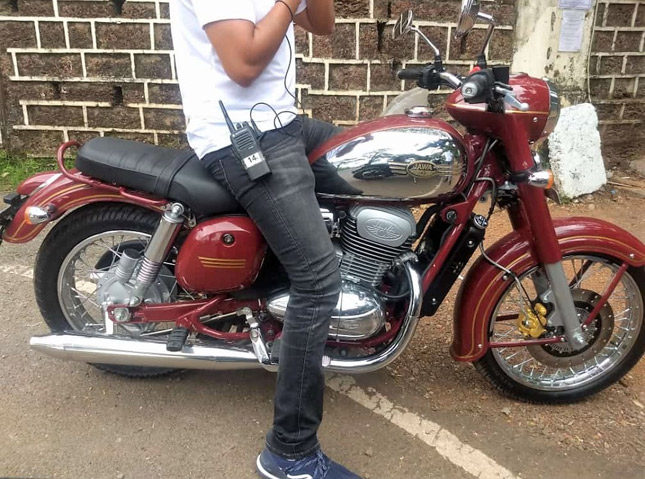 The production-ready version of Jawa 300 motorcycle has been leaked before launch. The bike was spotted during a TV commercial shoot and since then it has gone viral over the internet. The production-ready model reveals almost everything about the upcoming Jawa motorcycle.
First off the thing to notice is the iconic classic styling. The bike features a chrome/paint theme which looks retro and is a nostalgia trip for every true Jawa motorcycle fan. The engine has also been made to look very authentic and old-school. The addition of fake air vents, despite it being an liquid-cooled unit reminds us of Triumph Bonneville series. Also, the radiator gives away the liquid cooling nature of the motor.
We can also see that the engine is not a stressed member of the frame but rather sits inside it. The frame is connected all the way down to the rear set foot pegs.
Next thing to notice is the lack of a rear disc brake. The rear brake is composed of a drum brake despite the front of the bike being equipped with ABS ring. It is not clear why, but it is not likely that Mahindra would cheap out on a dual channel ABS. However, the drum brake is a fairly big unit.
The third interesting point is of the suspension setup. The bike features beafy forks at the front and twin Nitrox charged suspension at the rear. Judging by the entire chassis setup, we can expect the suspension to be on the softer side and offer a comfortable ride.
The other things noticeable in the pic include a single long seat, old school handlebar, spoke wheels, rubber footpegs, and a chrome tank. The bike remains very attached to its original style just like the Royal Enfield. However, unlike the Royal Enfield, it performs just like any modern machine. The bike will be launched on 15 November 2018.
By:
Yetnesh Dubey