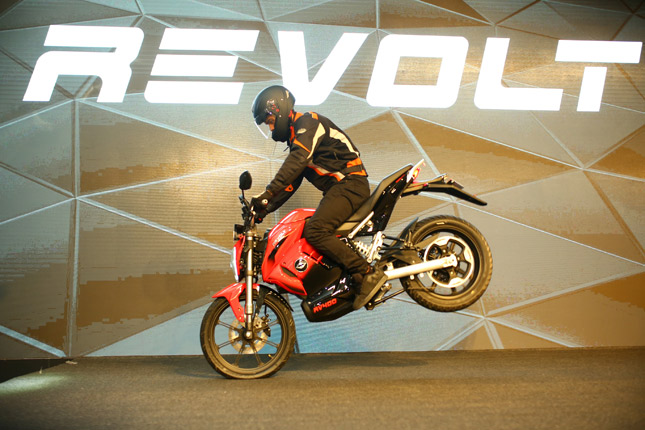 Revolt Intellicorp Pvt Ltd. a Gurgaon based company has unveiled its first Electric motorcycle- RV400. The bike is also claimed to be the first Artificial Intelligence (AI) enabled motorbike of the country. Pre bookings of the Revolt RV400 will commence from June 25, 2019 for Rs. 1000/- Bookings can be made either on the official website of the company RevoltMotors.com or through Amazon.com. The bike will hit the roads across seven metro cities of the country in the next four months.
Commenting at the occasion,
Rahul Sharma, Founder & Chief Revolutionary Officer, Revolt Intellicorp Pvt. Ltd
, said,
I have always been a believer in challenging the conventions, and today truly changes the game for the Indian two-wheeler industry. The RV 400 is the first step towards providing sustainable, affordable mobility to every Indian home. RV 400 challenges every convention that riders have pertaining to the EV's – Power, Styling and Aesthetics, Range, Battery charging infrastructure, Security, Sound and Service.

RV 400, is our first product from the Revolt Intellicorp stable comes with a promise to bring cool, smart mobility solutions that are high on performance and aesthetics. The product is not only a stunner but also challenges the general convention that all electric vehicles need to be silent or sound the same every day. With our technological expertise, we are also betting big on developing a connected ecosystem which will be an integral part of all our products, and I can only assure you that the revolution has just begun.
The Revolt RV 400 will come with interchangeable battery with ARAI certified range of 156 Kms. The price of the bike is not revealed but it is expected to be launched at competitive price as it is going to face competition from other manufacturers in the coming time ahead. The RV400 will be available in two color options- Rebel Red and Cosmic Black.
By:
Farhan Kashif