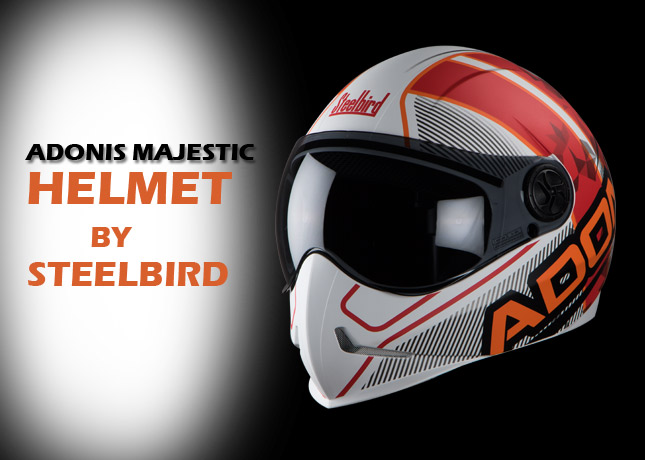 Steelbird Hi-Tech India limited, which is Asia's largest Helmet manufacturer has introduced a new chapter to its helmet stories with "Adonis Majestic" designed especially for the young riders. The new range of helmet from the house of Steelbird is featured with superior quality, effective performance and advanced design. As per company the "Adonis Majestic" helmets boasts of modern characteristics and unmatched safety standards.
Commenting on the launch occasion,
Shailendra Jain, Global Group Head - Sales & Marketing, Steelbird Helmets
, said.
Adonis Majestic is sure to be a hit with the youth riders as it is high on style and also offers world class safety standards. This new range offers the riders a wide option to choose from as it is available in 8 base colours and 22 designs. It will be extremely popular among youth.
The new Adonis Majestic helmets incorporate a number of features focusing on designer interiors and compact design. Interiors utilize air-mesh fabric to keep cool during the long rides and hot weather. Additionally the anti fog design makes it ideal for all weather and rides!
The new range of Adonis Majestic helmets comes featured with polycarbonate anti-scratch coated visor to protect the rider from pollution, dust and smoke, without hampering the view. It also allows the riders to enjoy the ride with maximum comfort. Furthermore, to allow added comfort to the riders, Adonis Majestic offers neck padding and extra comfort padding to help them ride at ease!
The new full face Steelbird "Adonis Majestic" helmet model offers the riders a wide option as it is available in eight base colours and twenty two (22) designs. It is prices at Rs. 1399/- and available in 580MM & 600MM sizes. The Adonis Majestic helmets can be bought at all Steelbird outlets across the country and you can also purchase it online from Steelbird Helmet's
official website
.
By:
Farhan Kashif