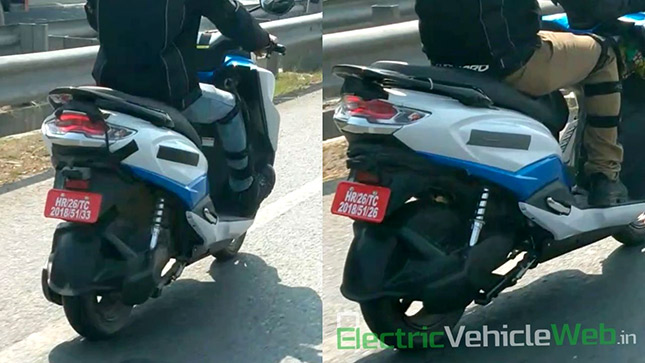 The Suzuki Burgman Electric might well be the first Suzuki electric scooter in the Indian market. Close-up spy photos published on ElectricVehicleWeb, courtesy of its reader Amit, show the electric vehicle cruising on the NH8 in Haryana.
The spy video has two Suzuki Burgman electric prototypes on what appears to be a regular road test. This marks the first instance of the Suzuki Burgman Electric on film. Since 2018, it has been reported by the Indian press that Suzuki was developing an electric vehicle for the Indian market, but nothing else was known until this clip hit the web.
The electric scooter is identified by the lack of an exhaust canister seen on the Suzuki Burgman Street. There is a high probability of a hub-mounted electric motor propelling the scooter as it is noticeable that the rear suspension system is redesigned and the hydraulic shock absorber is relocated to the right of the rider. The tyre hugger features a wider design to provide better protection and the rear reflector is now above the registration plate enclosure.
The body of the Suzuki electric scooter comes with a unique white & blue two-tone colour. Note that the Burgman Street is unavailable in dual-tone colours. Finally a grey sleeve fitted on the footboard offers extra visual distinction.
Guided by what is available in the market, the Suzuki electric scooter should have a new instrument console with Bluetooth connectivity and perhaps 4G LTE and offer connected vehicle functions. An advanced version of the Suzuki Ride Connect could help riders know the remaining charge, charging status, ride statistics and the nearest charging station.
As battery costs are on the higher side, Suzuki India would need a donor vehicle with the looks, presence and brand that convinces the audience to pay the price premium. The maxi scooter is an excellent choice to convert into an EV and it can go up against the Ather 450 Plus and the Bajaj Chetak with confidence.
Expect more info on the Suzuki Burgman electric early next year.
Source:
ElectricVehicleWeb.in
By:
Farhan Kashif