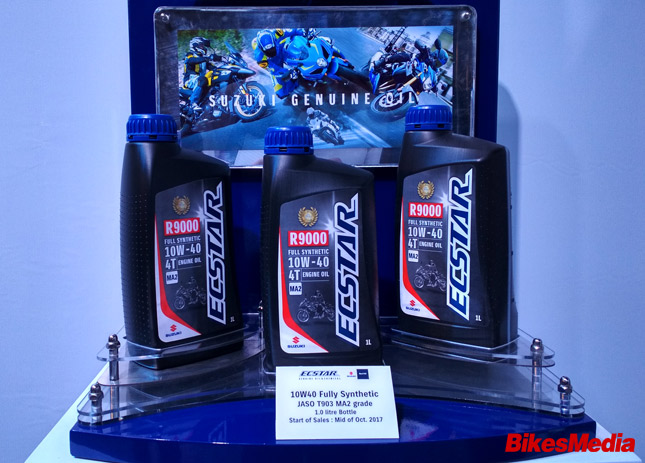 In an event organized today at the Capital city, Suzuki Motor Corporation, Japan has launched their high performance engine oil and chemical brand- ECSTAR. The brand is developed in Japan and has already marked its presence in Europe, America, Mexico, Australia and South East Asia.
The ECSTAR engine oil has been exclusively designed for Suzuki motorcycles' engines, The oil is said to be provided a blend of high-quality synthetic base oil additives that offer an improvement on the normal engine oil in friction characteristics, engine detergency and thermo stability. As per the company the ECSTAR engine oil brand has passed rigorous tests that contribute to a superior performance by upto 2.8%, fuel economy by upto 3.5%; and a clean, longer engine life by preventing sludge and deposits. (As per tests conducted by International Centre for Automotive Technology).
Speaking at the launch occasion,
Satoshi Uchida, Managing Director, SMIPL
said,
It is our constant effort to offer customers innovative and evolved products that allow them to derive superior experiences from their Suzuki motorcycles. ECSTAR oil from Suzuki is a powerful lubricant that not only enhances the enactment of its vehicles, but with its optimal lubricant formulation, will offer customers outstanding engine protection, a longer life-cycle for their two-wheeler as well as lower maintenance and fuel costs. ECSTAR oil ensures durability and better performance even in unfavourable riding conditions like uneven roads, extreme weather conditions, combustion contaminants etc.
The ECSTAR R9000 (10W40) can be used for all Gixxer models as well as the big motorbikes like Hayabusa, GSX-R1000 and GSX-R1000R. The fully synthetic oil will be available at the authorized Suzuki Two-wheeler dealerships with subsequent plans to expand the reach and portfolio. The price of the product is not been disclosed yet and it is said that it will priced competitively. The oil will be available at all the leading Suzuki dealerships from mid of the October 2017.
Reported By:
Yetnesh Dubey