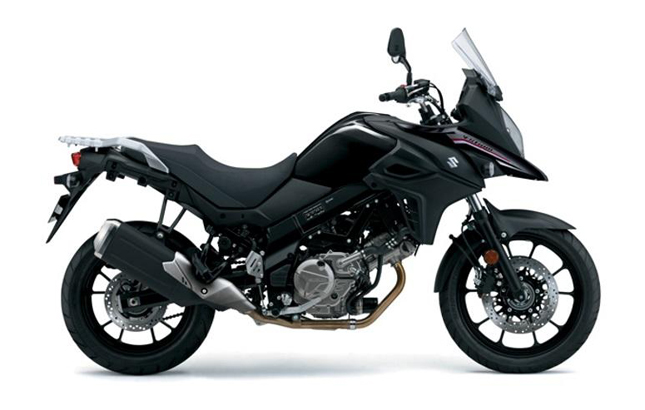 Suzuki V-Strom 650 is going to be launched in India this month as the dealers have started accepting the booking amount for the bike. They are taking a token money of about Rs 50,000 to confirm a booking. Now, the bike is expected to have a price tag of around Rs 7.5 lakh and knowing Suzuki, it will launch the V-Strom 650 in several variants.
The V-Strom 650 is road focused adventure bike with alloy wheels and long travel suspension. The engine is a liquid cooled 90 degrees V-twin 650cc, which is mated to a 6-speed gearbox. The bike makes around 63 BHP and possesses a 20-litre fuel tank with a 1560 mm wheelbase.
As mentioned above the bike is a road-focused ADV, its off-road ability is limited to minor trails with a few rough patches. The aluminum wheels on the bike are a big set back as it hinders the bike from going everywhere. The plus side to such wheels is reliability as they employ tubeless tyres which are hassle-free. There is also another model which features spoked wheels, which is the recommended model for true off-road enthusiasts.
The main competitor of the Suzuki V-Strom 650 is the Kawasaki Versys-650, although the smaller Versys X-300 can run circles around both of those bikes on an off-road track, the V-Strom and Versys are superior in terms of outright engine performance. The Versys-650 is quite a famous bike in India and has a special place among touring communities. Its tall windscreen and the Smooth engine makes it ideal for touring. The high seat height, however, makes it a little bit difficult for short riders, to manage.
Suzuki V-Strom 650 along with several other ADV bikes coming to India, will hopefully usher in the new segment of off-road riding in India. There is also a V-Strom 250, a twin cylinder entry level adventure tourer which utilizes the engine from the Suzuki GSX-R250. The release date of the Suzuki V-Strom 650 however, is a total mystery.
By:
Yetnesh Dubey