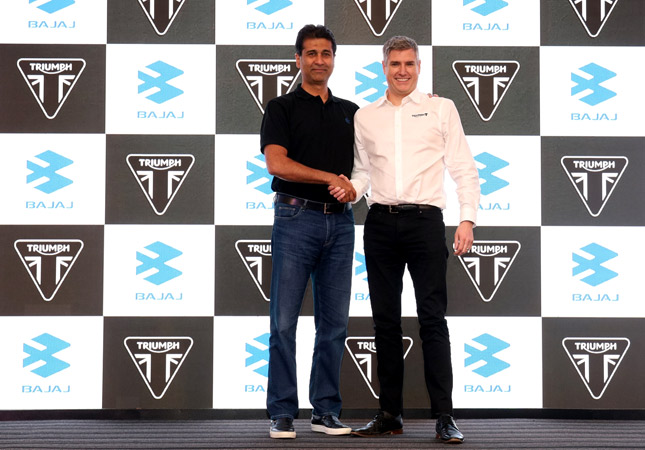 Triumph Motorcycles and Bajaj Auto Ltd. have officially commenced their global partnership. The announcement of the formal commencement of the partnership was made at the Akurdi plant of Bajaj Auto, Pune. The partnership is said to be the long term Non-Equity based partnership and the focus of the two world class motorcycle manufacturers is to develop a brand new range of mid-size motorcycles.
Commenting on the occasion,
Rajiv Bajaj, Managing Director of Bajaj Auto India
, said:
The Triumph brand is an iconic one the world over. So, we are confident that there will be a huge appetite in India and other emerging markets for these new products. We look forward to working alongside such a famous motorcycle company and to leveraging each other's strengths and expertise to make the relationship a success for everyone.
Bajaj Auto has recently re-entered into scooter market with the launch of electric scooter "Chetak", the partnership between the two global giants will further reinsure the commitment of Bajaj Auto towards the production of quality motorcycles. After KTM, the Triumph Motorcycles will be the second international brand with which Bajaj Auto have been associated with.
Speaking on the occasion,
Triumph Motorcycles CEO, Nick Bloor, said
:
This is an important partnership for Triumph and I am delighted that it has now formally commenced. As well as taking our brand into crucial new territories, the products that will come out of the partnership will also help attract a younger, but still discerning, customer audience and is another step in our ambitions to expand globally, particularly in the fast-growing markets of South East Asia, but also driving growth in more mature territories like Europe.
By:
Farhan Kashif