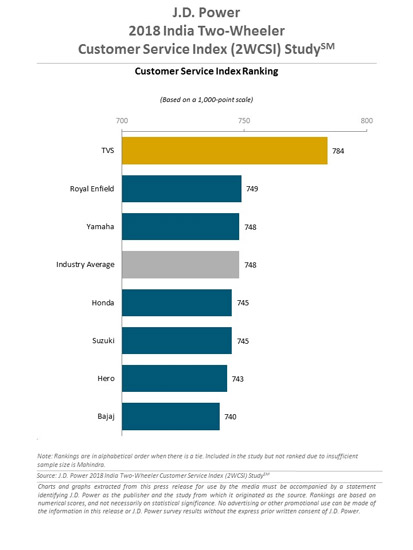 JD power, an international survey company, revealed that customer service is more important then Vehicle service. The company revealed a number of parameters which were almost equally important in overall Customer Satisfaction.
The sample size of the study was 7,436 owners. It included scooter and motorcycle owners alike. All of these owners had purchased a two-wheeler between November 2015 and March 2017. They also had a service done on their vehicle within three months of evaluation.
JD Power used a 1000 point scale to measure the overall customer satisfaction. The name of the scale is the Customer Satisfaction Index. In this Scale, TVS Motors received the highest number of points at 784 while Bajaj received the lowest at 740. The index consisted of 5 main points:
1- Vehicle Pick up (22%)
2- Service Advisor (21%)
3- Service Quality (20%)
4- Service Facility (19%)
5- Service Initiation (18%)
The percentage denotes the amount importance of said point compared with the rest. Vehicle pickup and Service advisor ranks at the top meaning the customer looks for them in a service experience more often as compared to a service facility and service initiation. Although there is just a minor difference between all the points, as a result, all of them are declared important in the survey.
The study also revealed some other important results. It suggested that customers who "Scheduled their service" were most likely to be satisfied with the overall result. It also revealed that the availability of a comfortable waiting room with AC and Wifi increased customer satisfaction.
The study also cemented the dissatisfaction of customers with every brand as truth. 1 in every 5 customers (18%) visits a non-authorized service network before completing 24 months as an owner. This could drop to 12% if the overall satisfaction score was 855 or higher.
It is not a surprise that Bajaj is ranked lowest in customer satisfaction index. Several reports of Bajaj dealership employees misbehaving with customers keep emerging from time to time. It has driven several loyal fans of the brand away from the company. Maybe the company will take some strict decisions to improve their image, or maybe not. Only time will tell.
By:
Yetnesh Dubey