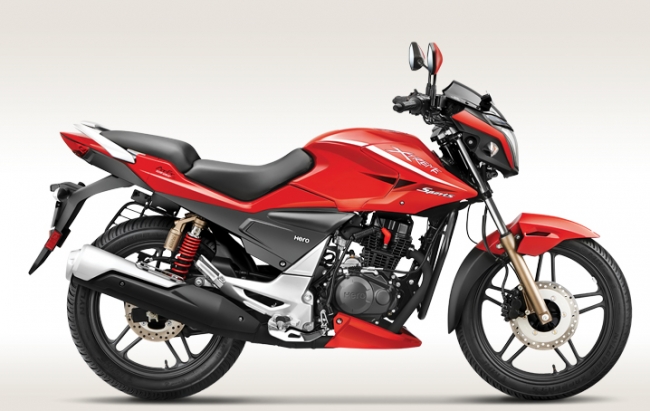 The Xtreme Sports finally got featured on the official website of Hero MotoCorp, the updated Xtreme was first displayed at the Auto expo last year. Amidst the hide n seek played, the company silently updated the website with the latest offering. The Xtreme Sports is awaited since its first glimpse seen at the last Auto expo but due to reasons best known by the Hero MotoCorp the bike got delayed.
The new Xtreme Sports is the best bid of Hero MotoCorp in their 150cc segment. The segment which is growing with rapid pace and where every manufacturer is bidding their best. Recently we have seen the launch of Honda Unicorn 160 which has the best in class Torque figure, where as Suzuki's flagship product Gixxer is also doing wonders for the company.
The Xtreme Sports is featured with same 149.2cc 4-stroke engine used in "Xtreme" but Hero has tweaked the engine to churn out class leading 15.4 Ps of Power. The new Xtreme Sports also featured with new revamped design and comes with new headlamp assembly, new fuel tank with bold shrouds. The Xtreme Sports also has split seat and Tubeless tyres. The bike comes in 5 different shades;
Black & Red, Pyro Orange, Mercuric Silver, Panther Black and Fiery Red.
However the pricing is not been disclosed by the company, neither the dealers got the delivery of the bike. It seems that Hero MotoCorp is busy doing mathematics to price the Xtreme Sports prudently well within the range of its competition.
One thing is sure that the new Xtreme Sports will further aggravate the already fierce competition in the 150cc motorcycle segment. I am confident that you must be equally excited as I am to see how the new Xtreme Sports perform against its competition.
Stay tuned, as BikesIndia will bring to you soon a comprehensive Test Ride Review of Xtreme Sports to let you know where does it stand up against competitors like Gixxer, FZ-V2.0 and Unicorn 160.
See Technical Specifications Of Hero MotoCorp Xtreme Sports
By:
Farhan Kashif