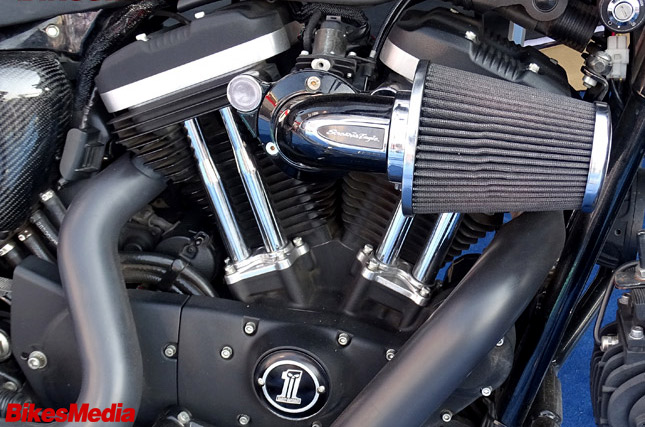 I would be wrong if I said that Pushrod engines are just a piece of history. These engines were extensively used in the early 70's and 80's by BMW, Moto Guzzi and Honda. These Engines define the classic nature of motorcycles and many Café racers are also built around it. You can imagine motorcycles with a classic look and a low revving engine with massive torque, that's the work of a Pushrod engine.
What is a Pushrod engine?
In a Pushrod or OHV type engine the
Camshaft
is placed in the center which is connected to the rocker arm via a Pushrod, and the rocker arm pushes or lifts the valve. If the engine shape is in "V" format and when the camshaft rotates, it pushes against the Pushrod, the movement of the Pushrod is transferred to the rocker arm, which pivots at its original position and pushes the valve inside, thus closing the inlet valve and opening the outlet valve.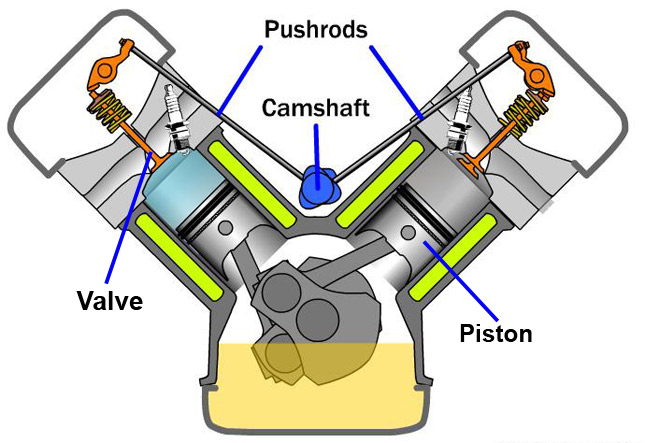 With the reciprocating motion of the camshaft, the Pushrod on the outer valve rotates; its motion pivots the outer rocker arm and pushes the outlet valve inside, thus closing it and opening the inlet valve. Usually, this configuration is present with 2 valves per cylinder. This is inefficient because of restricted airflow but modern engineering allows the installation of 4 valves per cylinder. This type of setup precedes Overhead Cam setup, as in that case the Camshaft was placed above the valves directly, thus making
Valvetrain
much simpler.
Advantages of Pushrod engines:
One of the main advantages of a Pushrod engine is its compactness. The Pushrods connected to the Camshaft lie in the free space present between cylinder banks. This saves up space while designing an engine and also gives designer lots of room to improve on other aspects of the bike, for example, its height.
Another factor for the engine's popularity is its simple design. In a V type engine Harleys for example, Pushrods are popular, as you can just use a single set of timing drive and Cams, but with
Overhead Cam (OHC) setup
you need 2 sets of them. This makes Pushrod engines fairly cheap. All of this also translates to less weight. Pushrod engines aren't high revving engines, but the low-end torque in them is superb. That's the main reason, why many neo-retro Café racers use them in their build.
Disadvantages of Pushrod engines:
They are a piece of technology and don't come without its set of problems. The restricted air flow is a major issue; a whole lot of these engines came with a "2 valve per cylinder" setup. This made these engines really hard to rev high.
The reciprocating mass in the case of Pushrod is more, which further decreases the maximum revs. Though 4 valves per cylinder can be added to the head they still wouldn't rev past a standard limit.
Final thoughts:
Pushrod engines though still being used by some car manufacturers and drag racers, they are hardly present in any modern motorcycle which wants a balance of performance and efficiency. Sure, these engines have that good bottom end torque for a zippy ride across town but in the long run, they just don't make any sense. Less performance and reliability, high maintenance and a follower of the old saying of "There is no replacement for displacement"; Pushrod engines in a modern time are remembered for their contribution to the world of automotive industry but they aren't good enough to be used by the modern-day riders. As he will not only be beaten by a bike with half the engine capacity but will also have to face a lot of "Ancient Jokes".
By:
Yatnesh Dubey