All of us have seen Motorcycle stunt shows at least once in our lifetime. If you're among those people who haven't ever seen a guy rip a big fat wheelie, then you're missing out on one of the most exhilarating experiences of your life. Motorcycle stunting an action-packed sport which requires you to take decisions in the fraction of a second. We have had a number of manufacturers taking part and organizing these stunt shows.
From Bajaj to TVS, almost every performance motorcycle manufacturer has had his share of experience in the world of stunt riding. Regardless of the manufacturer competing in these events, they all seem to use specially designed stunt bikes which have different equipment from their everyday counterpart. In this article, we are going to dissect all those components and learn what makes a good stunt bike.
Bigger Rear sprocket: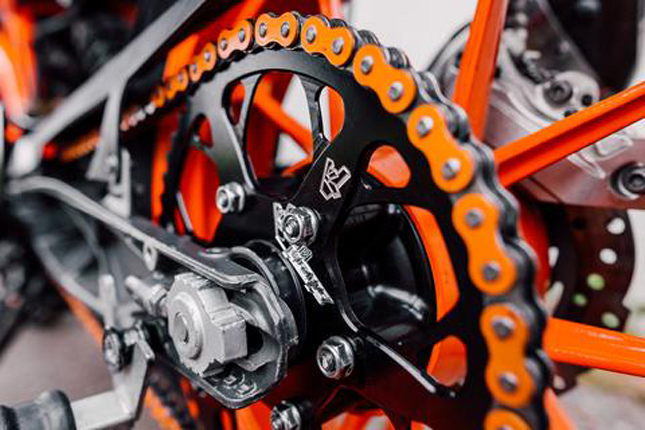 Stunt bikes hardly ever see a highway in their lifetime. Their only function is to jump, slide and glide. So it makes sense that all of the power in their engine is used as early as possible. A bigger sprocket helps stunters to achieve just that, with more number of teeth added at the rear, the wheelie becomes much more easy to pull off. That's one of the reasons why these bikes have such an instantaneous torque.
Steel braided lines and Multiple piston calipers: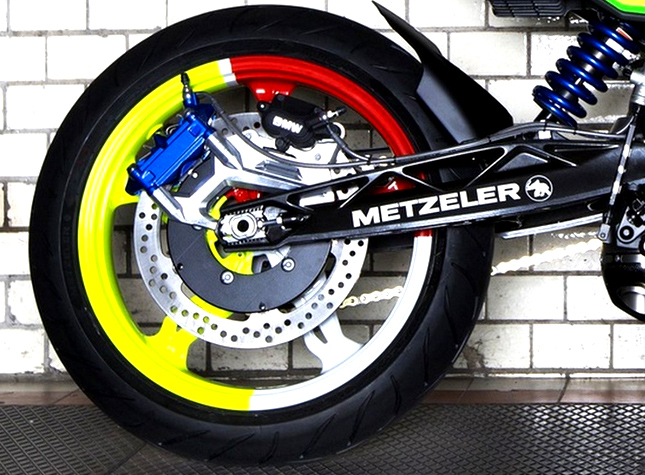 The brakes on a stunt bike need to give a lively feedback and an instantaneous bite from the steel discs. While the steel braided lines take care of the pressure feel and the feedback, a new calliper, preferably a multipiston one, gives you the required bite. The pressure by default is kept quite high in these lines to facilitate stoppies even at the lowest of speeds.
Heavy duty frame sliders: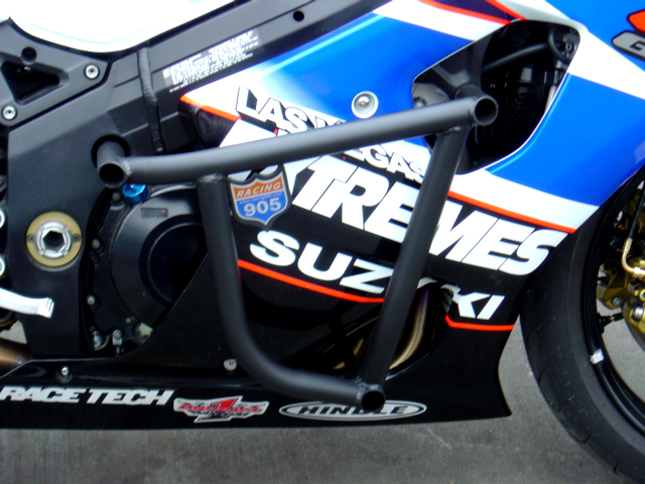 A stunt bike falls a million times more than any normal bike, it's a fact written in the bible. Without a heavy-duty crash guard, engine components are susceptible to fall damage. Even the rider's leg is prone to injury if the bike falls on it during a bad accident. Many stunt riders who use super-sport bikes like ZX6R and Street triple R for stunting prefer to use crash guard for a more well-rounded protection. These guards also keep the overall cost of stunting down by keeping equipment safe from physical damage.
Additional rear brake calipers: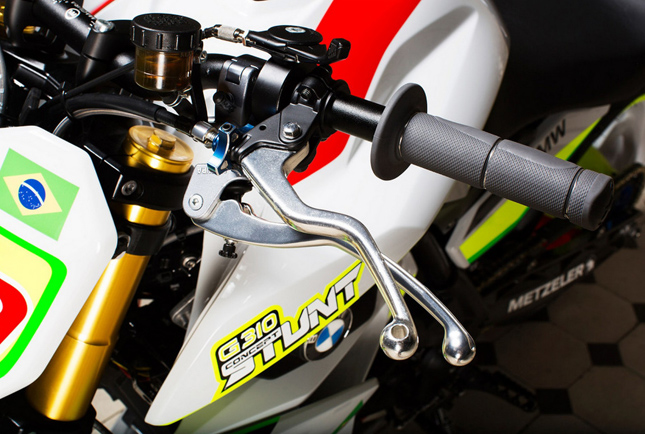 While performing rotating wheelies, quick-slides, or any other stunt which requires the rider to stand on the rear seats, a handbrake lever is used. Its job is to provide the option of braking from the rear wheel, without using the foot lever. In this setup, an additional caliper is installed beside the stock one on the rear disc and an adjustable hand-brake lever is connected to it on the handlebar.
Adjustable Rear sets and raised handlebars: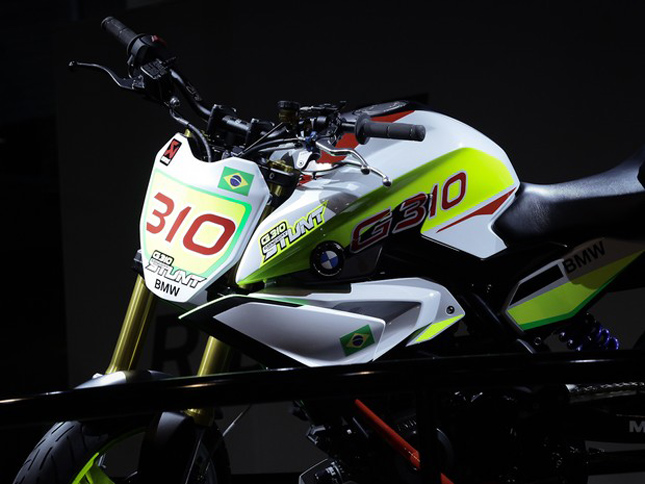 A lot of standing is required while stunting, to support it, adjustable rear sets are used. These replace pillion footpegs and stay rigid in their place. The plate connected to these rear sets include a lot of holes in which the footpeg can be installed. To supplement the standing position, a raised handlebar is also used. It gives the rider a support as well as a better control when the bike is on a single. Some people use straight clipons, which does the job just as well.
An Insane rider: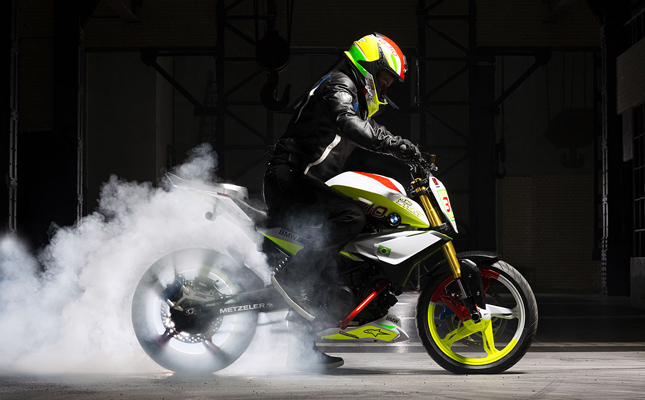 Stunt riding, just like any other motor-sport, is dangerous to its core. Just because the stunts are performed at a slow speed, doesn't make them any less threatening. The rider performing these stunts has a job dancing with a 160 kg bike while maintaining focus and filtering out all the raging of the crowd. In short, it's one hell of a sport.
RELATED ARTICLE: Top 5 Used Motorcycles Which Make Great Stunt Bike
What do you think about stunting? Do anyone of you ever think about becoming a stunt rider? Let us know in the comments and until then stay tuned to BikesMedia.
By:
Yetnesh Dubey