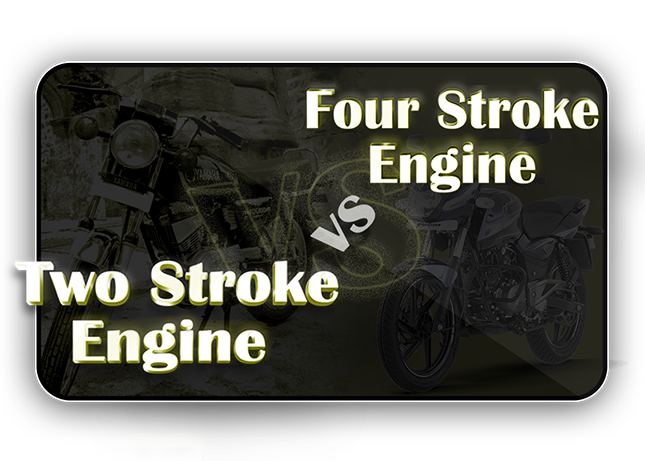 Do you remember the old motorcycles which used to putter around and make that rowdy sound that made bikers seem like bad boys? That happens only in thumpers now since motorcycle engines have evolved substantially over the years. Those quick accelerating fast machines have been replaced by silent, smooth and sophisticated machines which have lives as long your pet dog, or maybe more. But do you know what is the difference between those two engines? It is the strokes in their hearts. Those old two stroke beauties were really something! Let's get to know the difference between the two kinds of engines.
What is a Two Stroke Engine?
A stroke in an engine refers to the movement of the piston from the top dead center or the top-most part to the bottom-dead center or the bottom most part and vice versa. In a two stroke engine, the piston moves twice to complete a combustion cycle. Which means, one stroke is a combustion stroke to generate power and the next stroke also acts as the exhaust stroke to prepare for a new combustion stroke.
What is a Four Stroke Engine?
A four stroke engine is similar, except to complete one cycle, the piston has to go through four strokes. One being the intake stroke, second being the combustion stroke for power generation, third the exhaust valve opening stroke, and fourth being the exhaust stroke to remove the combusted gases.
Which One is Better?
On the onset, it does seem like the two stroke engine looks more powerful with each alternate stroke being a power stroke, whereas in a four stroke engine the power stroke comes every 4th stroke. It is true to some extent, but today's engines are much more sophisticated and developed that with the four stroke technology, engines can produce the same or even more power with the same cubic capacity.
Read Also:
Why 2-Stroke Engines Are More Fun Than 4-Stroke Engines?
Yet, from a pure power generation point of view, two stroke engines are better since they produce more power in each stroke and hence help in the initial acceleration of the bike. But they have their limitations. Four stroke bikes on the other hand have less power generation capacity, but they are able to produce enough power in the power stroke to keep the piston moving and completing three more strokes with the same intensity.
Moreover, from an efficiency point of view, two stroke engines are less efficient since they burn more fuel for the same amount of stroke as a four stroke engine. Moreover, they do not have an external lubrication capability and the engine oil needs to be mixed along with the fuel and is burnt during the combustion. This further adds to the polluting capacity of the engine.
Read Also:
Why 2-Stroke Engines Are More Prone To Seize?
Four stroke engines have an external lubrication system and also less burn fuel, thus being more efficient and environment friendly. This is one of the major reasons why four stroke engines are being widely adopted over two stroke engines and are preferred.
Therefore it is easy to conclude that in terms of pure power and performance, two stroke engines might have an edge over four stroke engines, but four stroke engines are more efficient and better to ride in terms of comfort and power delivery. So for a quick adrenaline rush, a two stroke engine might meet your needs, but for a pleasant ride and long lasting ride, four stroke engines are the way to go.
By:
Pratik Patole