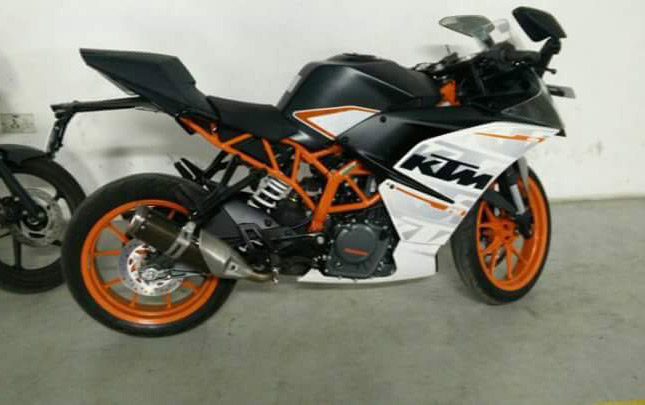 The 2016 KTM RC390 is recently spotted at what is believed as KTM's facility at Pune. At the recently concluded EICMA show Ktm have showcased the 2016 RC 390, the bike is actually going to be manufactured at the KTM facility in India. It is this reason we should not be surprised to see the production ready bike in our country first.
The pictures of the production ready 2016 RC390 are surfaced on the Facebook, it is clearly seen that the new RC 390 has received major updates. The 2016 RC 390 is featured with side upswept aluminum exhaust instead of the underbelly exhaust. Those who have problems with the high pitched exhaust notes of the current breed of KTM bikes sold in India can now rejoice as the upswept exhaust on the 2016 model will surely get different and more soothing sound. There have been few modifications made in the lower fairing to accommodate the long upswept exhaust pipe.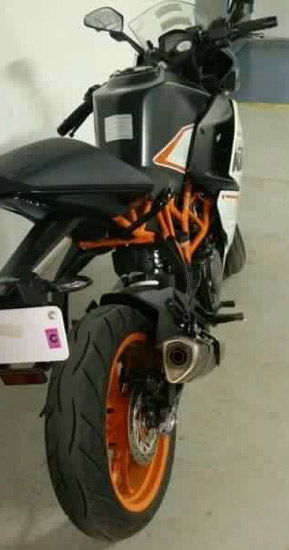 It is believed that the new upcoming RC390 would carry the same underpinnings with almost identical performance figures as well as dimensions. However, there would be slight increase in the kerb weight of the bike due to additional parts including exhaust and many more things.
The 2016 Ktm RC 390 will also get features like bigger front disc brakes, ride by wire technology, Slipper Clutch and new adjustable front brake and clutch levers. Of course there would be extra cost added due to these additional features, you can expect the hike of around Rs 15,000- 20,000 to the current model sold when the 2016 RC 390 will be launched here in India early next year.
By:
Farhan Kashif