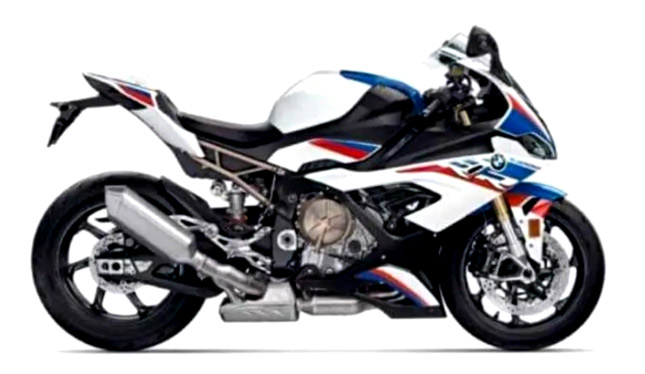 The specs of the 2019 BMW S1000RR has been leaked on the Internet. This news comes in just days before EICMA, where the bike will be officially unveiled. However, with the help of these specs, we now know almost everything about the bike except its price.
The leaked information about the BMW S1000RR includes a picture of the bike along with its technical specification, standard equipment and optional accessories.
First up, the ShiftCam technology will now also be available in the 2019 BMW S1000RR. This new technology allows the motorcycle to deliver increased power across the entire rev range. It also increases fuel economy and makes the riding experience a lot smoother.
The powertrain on the bike comprises of a 999cc inline 4-cylinder engine which makes 207 HP at 13500 RPM and 113 Nm of torque at 11000 RPM. The weight of the bike is a mere 197 kg, which is pretty impressive. The seat height of the bike is 824 mm while its fuel tank has a usable tank volume of 16.5 litres with a 4-litre reserve fuel tank.
The 2019 BMW S1000RR is equipped with a number of rider aids as standard features. The high tech equipment includes BMW Motorrad Race ABS, ABS pro, Digital Traction Control (DTC), Hill Start Control (HSC) and Shift assist pro. Only a pair of electronically adjustable suspension is missing from this roster, otherwise, the electronic package on this bike is phenomenal. Finally, the bike is also equipped with a TFT-screen and LED shift lights and indicators.
The bike also comes with a list of optional accessories if you wish to customise your bike. You can check out the entire list below to get a glimpse of what the company is offering.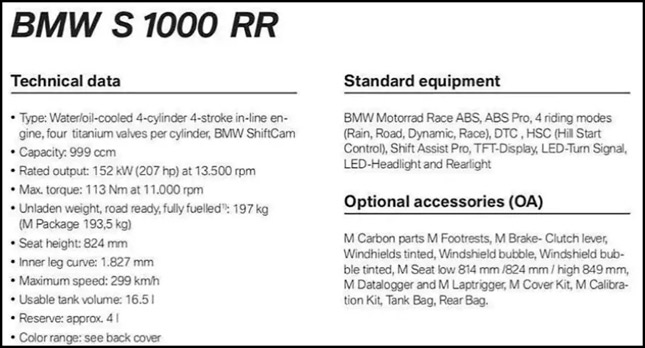 In the end, the 2019 BMW S1000RR definitely looks great on the paper. If the company can manage a decent price tag for this bike, then they have a sure shot winner on their hands.
By:
Yetnesh Dubey