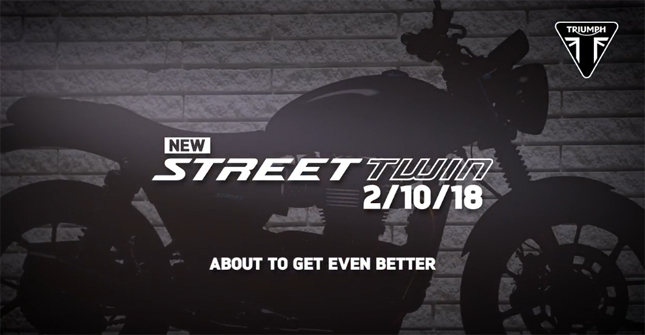 Triumph really did surprise everyone this evening when their UK handle, uploaded two video teasers. One was of the 2019 Triumph Street Scrambler and the other one is of the 2019 Triumph Street Twin. For a British company to focus on so much right when the issue of Brexit is on the boil, is really impressive. Moving away from world politics and into the world of motorcycles, the Video teaser reveals that the bike is going to launch on 2nd October 2018.
The video says "More fun" "More performance" "More Style", personally I just need performance and I'll have fun easily. Talking about the potential upgrades, we can expect more power out of the old engine. The torque is expected to remain the same as it's already good enough. Another thing to note would be the emission norms with which it is launched, there is a good chance that EURO 4 might see its appearance on these new models.
Talking about the "Style", the bike will see new paint scheme and colour options. The Street Twin was the only Classic Bonneville-type motorcycle in Triumph's line up with an urban look and it'd be amplified in this year's model as far as I can tell. LED lights, new instrument cluster and new vinyl are some other expected changes.
Street-twin hold its position as the most affordable Triumph in India and hopefully, the new model will bring the price down a decent amount.
By:
Yetnesh Dubey