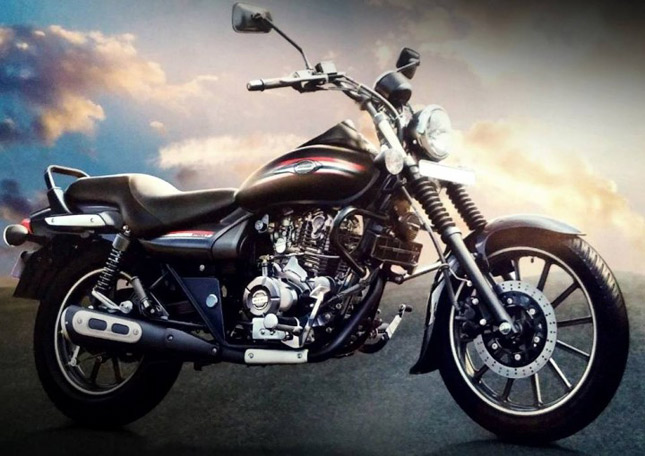 The long awaited updated Avenger is launched today, as we have already seen through spy shots floating on the net that there are two variants of Avenger- Cruise and Street, both with 220cc engine. But to everyone's surprise today Bajaj has launched not only Cruise and Street with 220cc engine but also a new Avenger Street with 150cc engine.
All and all today Bajaj has launched 3 motorcycles, the Avenger Cruise with same 220cc engine and few cosmetic changes, the Avenger Street with different styling and same 220cc engine and the Avenger Street 150 with 150cc engine of the Pulsar 150 (not Pulsar AAS150). The new Avenger Cruise is been updated in a minimalistic way, with new paint scheme, sticker work and new exhaust along with big windscreen are the few features which are quite apparent on the new model.
On the other hand the new Avenger Street which Bajaj has launched in two variants (220cc and 150cc) has received the maximum changes in the age old and only cruiser model from the house of Bajaj. The new Avenger Street (220/250) is now come with all black theme, 12 spoke black alloy wheel, minimal chrome work, new grab rail and all new exhaust.
The surprise element of today's launch- Avenger Street 150 brings more surprise when we got to know that the bike has received the mill of the regular Pulsar 150 and not the new powerful engine of Pulsar AS 150. However, it is also true that the new high revving engine of Pulsar AS150 is not apt for a comparatively sedate Cruiser and that it does not gel with the persona of a cruiser bike. On the flip side the torquey engine of the Pulsar 150 would definitely suite the cruiser image of the Avenger.
The new Bajaj Avenger Cruise and Street both are priced at Rs 84,000 (Ex-Showroom, Delhi) and the new Avenger Street 150 will be available with the price tag of Rs 75,000 (Ex-Showroom, Delhi).
By:
Farhan Kashif