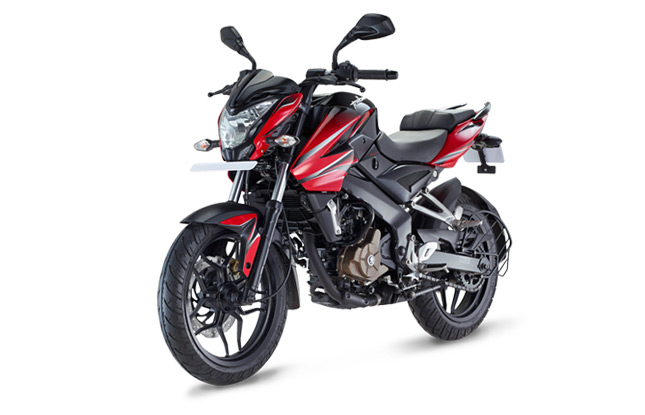 In recent days, there have been rumors about the discontinuation of the Pulsar NS 200, as people claimed that the model is not available at the authorized Bajaj dealerships and that some of the dealerships are denying the availability of Pulsar NS200. Further stating that the model is being discontinued and now, they have the only option left is new Pulsar AS200. However, it is not at all true, Bajaj has not discontinued the naked Pulsar 200NS and it is still under production. The non availability of the 200 NS might be caused at some places because of the production of new Pulsar AS200/150 and RS200. The focus of the company is to make available the latest models to all the dealerships across the country.
One of the leading 2-wheeler manufacturers of country- Bajaj Auto Ltd, has been continuously launching a new model every month, starts from the beginning of this calendar year. The first product from this spree was Bajaj Platina 100 ES which was launched in the month of January'15. Followed by some radical models like Pulsar RS200 and AS200/150 along side the relaunch of once used to be the best seller of Bajaj- CT-100. However, almost all the launches from the house of Bajaj got extremely good response from their respective target markets but the backlash of the latest launches on the existing product lineup was also inevitable.
Models like Pulsar AS200 and AS150 are now sharing the same assembly line which was established for the ace performing Pulsar NS200, the result is but natural and goes on both sides. Bajaj took the advantage of the existing production facility of Pulsar NS200 for the production of Pulsar AS200/150, the advantage was cost effective for the company but it also hampered the production of the current line up of Pulsar NS200. However, the company had cleared this thing at the time of Pulsar AS200/150 launch that they are not gonna discontinue the naked NS200 and that they are treating both NS and AS200 as products belonging to two different target segments. Hence, they even put the price tag of new Pulsar AS200 same as of NS200.
By:
Farhan Kashif