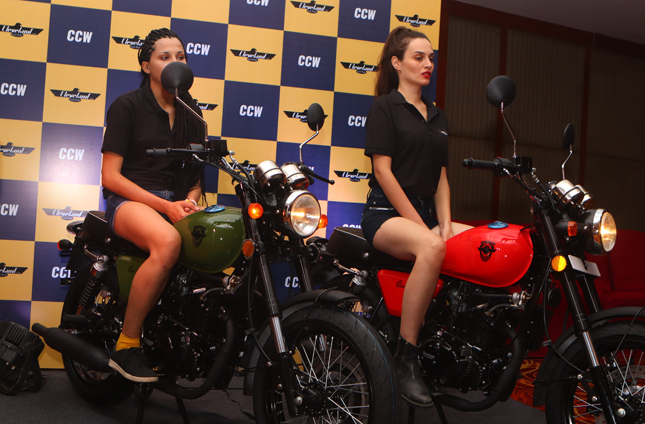 The American motorcycle company Cleveland CycleWerks, inaugurated their first showroom at Vashi, Navi Mumbai, Maharashtra. This is the company's first showroom in the country and it will showcase two new motorcycles, The Ace-Misfit and the Ace-Deluxe. Both bikes are retro styled naked bikes with modern equipment like USD forks, tubeless spoked wheels and an air cooled engine.
The engine used on both bikes is from a Honda CMX 250, basically the older version of the Honda Rebel. People say that it is a reliable engine and they're quite right because the UJM trend left us with quite a good numbers of heavy-duty engines. The Ace Misfit is a cafe' racer with Forward riding stance, on the other hand Ace Deluxe is a classic bike which kind of looks like a small version of Triumph Scrambler.
The company's new showroom will feature a service center, a lounge and all the standard things which you expect from a rider focused motorcycle dealership. According to
Sangram Patil, Chairman & Managing Director (CMD), Cleveland CycleWerks India
,
Cleveland CycleWerks motorcycles provide a complete biking lifestyle experience to enthusiasts all over the world and in order to serve the ever-growing clientele with the same enthusiasm and passion, we are proud to announce launch of Cleveland CycleWerks showroom in Vashi
Commenting on the occasion,
Pranav Desai, Director and Chief Executive Officer (CEO), Cleveland CycleWerks India
said,
I hope that the dealership will help riders feel unrestricted in their daily routine and help them enjoy the true spirit of biking. We're inviting like-minded, passionate business people to join us as we drive this change across India.
Currently, the Cleveland CycleWerks have a presence in the US, Canada and 23 other countries. The brand also has a fully operational CKD assembly plant in Pune, as the company will be importing the bike via the same route.
By:
Yetnesh Dubey