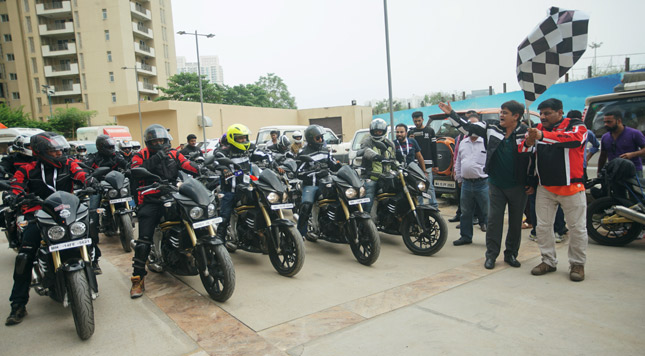 28 Mojo riders from 8 different cities across the nation join the "Mountain Trail", a ride from Delhi to Chandigarh via Leh. The 15 day ride starts from Delhi as many biking aficionados seen riding on their Mojos to Biker's Café to cheer their fellow riders before the epic trail. Youth icon Rannvijay Singh and film maker Nagesh Kukunoor was also joined the trail riding on Mahindra Mojo for Chandigarh to Leh.
On the occasion,
Naveen Malhotra, Senior General Manager, Marketing & Product Planning, Mahindra Two Wheelers
said,
Mahindra MOJO has always stood for Joy of Riding & Brotherhood, keeping this in mind we launched The MOJO Tribe — a club for MOJO owners providing them a platform to engage with their fellow bikers and the company. It gives me immense pleasure to see The MOJO Tribe spread itself across 15 cities with owners actively participating, all this within a year from launch. Topping every bikers' bucket list is a ride to Leh and with the 'MOJO Mountain Trail', we are providing bike enthusiasts an opportunity to undertake a ride of a lifetime with multiple experiences planned along the trail to provide a memorable experience. What makes this even more exciting is the association with youth icon and avid biker Ranvijay Singh and ace filmmaker Nagesh Kuknoor, who will be joining this trail for the Chandigarh to Leh leg.
The riders are all set to undergo the most satisfying ride of their lifetime while riding through the majestic north. The tribe will go through challenging routes across valleys and mountains with their Mahindra Mojos. The trail will make enjoyable stops for the camel safari in Nubra to riding along the Pangong lake which is popularly known as the lake of changing colors. The trail will also visit to Drass War memorial in Kargil which will make this trail one wholesome experience. The 'Mountain Trail' certainly promises to leave a long-lasting memory in the minds of the MOJO tribesmen.
By:
Farhan Kashif