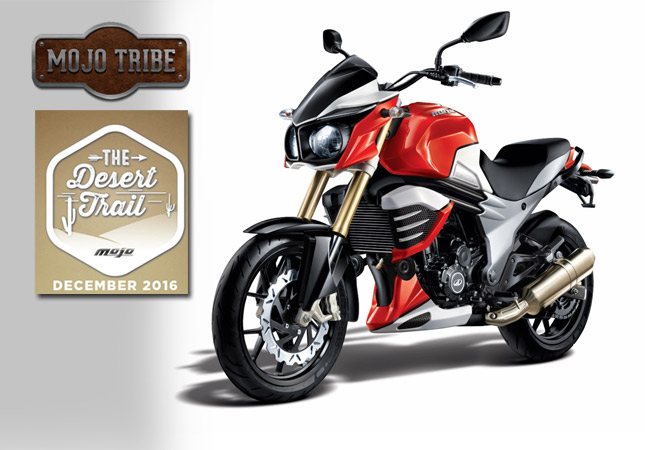 Mahindra Two Wheelers and "Mojo Tribe" have opened registrations for the exotic "Desert Trail", which is targeted at motorcycle owners and biking enthusiasts across the country. The total span of the Desert Trail is spread over 9 days; the ride will begin from Jaipur city, Rajasthan on December 17 and shall end in Ahmadabad, Gujarat on December 25. The ride for 'Mojo Tribe' will cover a distance of around 2300kms, traversing some of the most exotic locations and experiencing some of the most spectacular cultural activities of India.
Salient Features-
• Owners of the Mahindra MOJO motorcycle can register for the 'Desert Trail' by visiting the official website of Mahindra MOJO. Mahindra Two Wheelers also provides biking enthusiasts who want to experience the touring capabilities of the MOJO with the chance to participate in this trail. Participants from South and West & East will have an option of "TEST–EXPERIENCE–A–MOJO".
• Riding through the sand dunes, the 'Mojo Tribe' will conquer the deserts across Jaipur, Sam Sand Dunes & Rann of Kutch, Gujarat. Challenging their riding skills and testing the will power of the participants, the 'Desert Trail' will distinguish the men from boys. Touring through sand dunes in colder climes, the 'Mojo Tribe' will discover the sandy terrains that will challenge their riding skills in tough conditions.
By:
Farhan Kashif