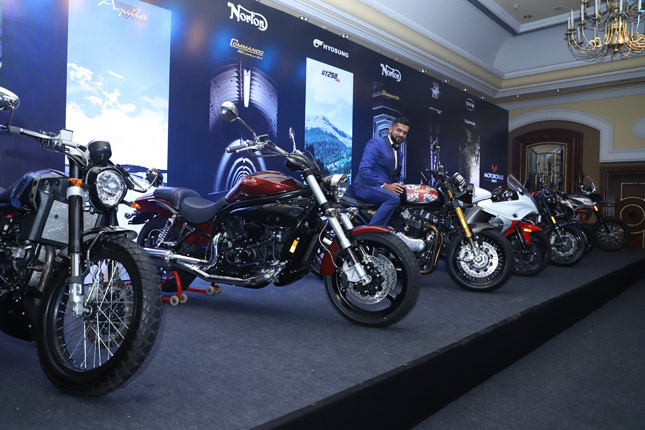 Kinetic has revealed its plan to dominate the 250-1000 cc segment using its new Multi-Brand superbike Brand venture, the MotoRoyale. It is the biggest conglomerate of foreign motorcycle brands under an Indian manufacturer which will satisfy the needs of Motorcycle enthusiasts from every segment. Recently the MotoRoyale unveiled 7 new bikes from different manufacturers which will be launched in India, under its brand. The company's first association was with MV Agusta in 2016 followed by Norton in 2017. The company has also tied up with 3 additional brands including SWM, FB Mondial and Hyosung. The 7 Motorcycles unveiled by MotoRoyale include:
1: MV Agusta Brutale RR:
Power: 140 HP
Engine: Inline 3 798 cc
Torque: 86 Nm
Type: Street Naked
2: Norton Commando & Dominator:
Power: 80 HP
Engine: Oil cooled Parallel twin 961 cc
Torque: 90 Nm
Type: Neo-Retro Cafe Racers
3: SWM Superdual:
Power: 57 HP
Engine: Single Cylinder 600 cc liquid cooled
Torque: 53.5 Nm
Type: Mid Size Adventure bike
4: FB Mondial HPS 300:
Power: 25.15 PS
Engine: Single Cylinder 4-Valve 249 cc Liquid cooled
Torque: 22 Nm @7000 RPM
Type: Mini Scrambler/Sport standard
5: Hyosung Aquila 650:
Power: 74 HP
Engine: 90 degrees 647 CC V-Twin.
Torque: 62.1 NM
Type: Cruiser
6: Hyosung GT 250R:
Power: 28 BHP
Engine: 75 degrees 249 cc V-twin oil cooled
Torque: 22.07 Nm
Type: Entry-level Supersport
These brands will now be available through MotorRoyale. On this occasion
Ajinkya Firodia, Managing Director, MotoRoyale
commented,
A two-wheeler is an extension of you, it defines you, and all of us are unique with different tastes, then why should our motorcycle be the same? Hence taking my legacy forward, I envisaged giving motorcycling its real due by not restricting it as a commuter but as a passion.
The bikes under MotoRoyale will be manufactured in Kinetic's Ahemadnagar plant, situated in Maharashtra. The manufacturing facility covers a massive 52 acres of land and will serve as home to all of the above mentioned foreign brands. According to the officials, the plant has a capacity to deliver 30,000 Motorcycles annually.
The MotoRoyale will initially open its dealerships in Thane - Mumbai, Hyderabad, Chennai, Delhi with a plan to open 12 more showrooms across Pune, Indore, Chandigarh, Ahmedabad, Jaipur, Kolkata and other important markets.
By:
Yetnesh Dubey