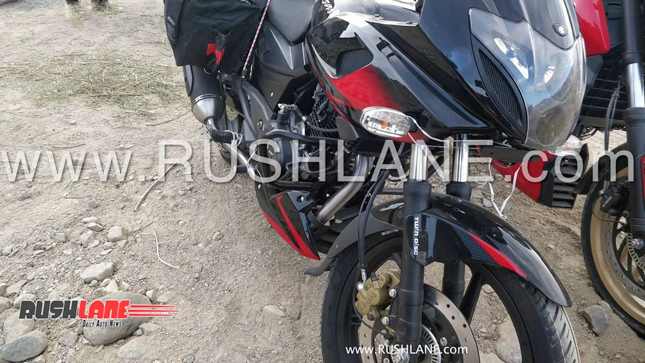 Ladakh seems to be a great place for discovery. People go there to discover themselves and often times they find something really unusual and interesting about either themselves or the environment. This particular gentlemen (Photographer) found some motorcycles which happen to be the 2019 version of the street Pulsar series (150, 180, 220).
The Pulsar 150 in the pic looks like the twin disc variant which is currently on sale. Apart from that the bike also has a rear and front wheel sensor. Indicating the presence of an ABS; it'd be a single channel unit because dual channel ABS is only available in a top range bike like Dominar 400. There seems to be no other change in the bike. There is a good chance that the 150 cc engine would be producing the same amount of power and torque. The number of CDI maps and catalytic converters, however, would see an increase considering the BS6 regulations.
Pulsar 220, on the other hand, seems to be showing a few design changes along with the single channel ABS unit in the pic. There is a new belly pan which has a body design paint scheme. The front fairing to looks a little "Carved" in several places. The new paint scheme seems to get rid of decals altogether and there is just a paint all over the motorcycle's body now.
What's weird is that there haven't been images of the Pulsar 180. When its design was given to the smaller Pulsar 150, there was a prediction that the Pulsar 180 would soon see an exit door and stop production. This could very well be true if leaked images of Pulsar 180 don't surface in the coming weeks.
Bajaj has the most number of 200 cc bikes available in the country and it's obvious that they also want to be the first to push the BS6 norms at full speed. It'd be interesting to see how other manufacturers respond to this.
Picture Credit:
Rushlane.com
By:
Yetnesh Dubey