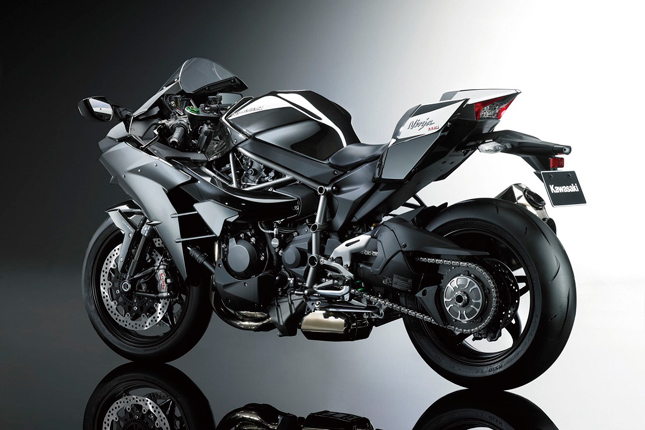 Not to be confused with Ninja H2 Carbon or Ninja H2R, the base model in the Kawasaki's H2 range trumps the top spec model of every other manufacturer out there. To simply put, its got everything more than we can actually use, more horsepower, more torque. The only thing it lacks is good fuel economy but if a bike can make you fly then it's just a cheap bargain. So without further ado, here is everything you need to know about the Supercharged monster.
Engine and performance: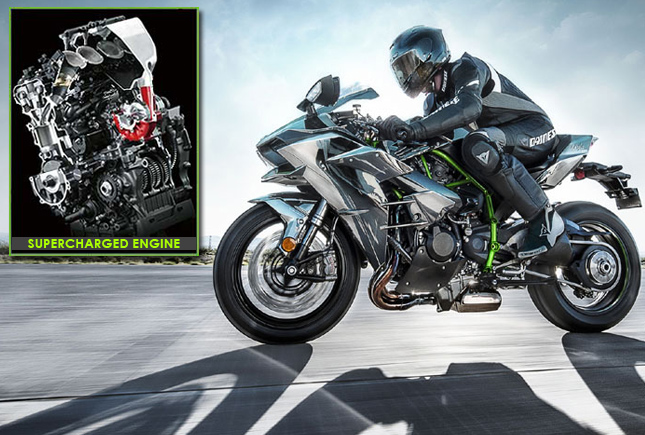 We can sing the greatness of this bike's engine all day but to keep it short, its got a 998 cc 4-stroke inline-4 liquid cooled fuel injected supercharged engine. That one more description in the bike's specification makes all the difference. Kawasaki's full name is "Kawasaki heavy industries limited", so a carryover of one of those industrial focused part was inevitable. The engine, because of all the high tech wizardry, produces an insane 200 PS of power @11,000 RPM and 133.5 NM of torque @10,500 RPM. With RAM air-intake the power increases by 10 PS more.
Design and style: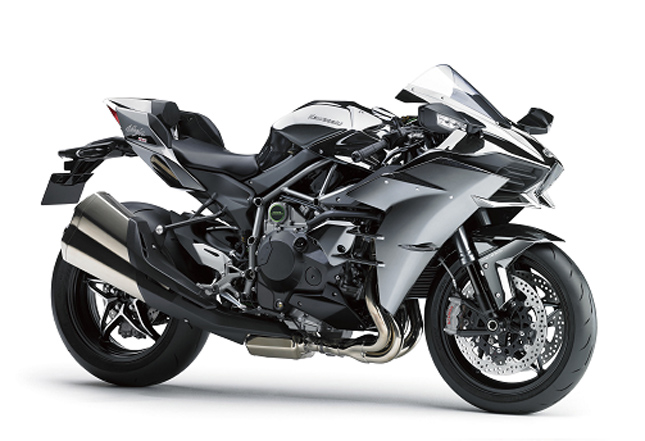 The design of the bike is in compliance with aerodynamics. Every curve, every cut is placed in a certain place because it serves a certain purpose. There are high-performance parts present which mimics the illusion of a normal component. For example, the front gaps are not for headlights but act as two massive intakes for the 1000cc engine. Kawasaki say's that the stance of the bike, instead of being aggressive, is neutral. They believe that an aggressive riding position aids in turning corners on a super-sport but at the speeds which the Ninja H2 maneuvers, it'd just create a hindrance.
The bike has a single seat with a lumbar support. The handlebars are obviously clipons with a steering damper to avoid
Tank Slapping
at 300 km/h and all of this was actually designed by the "assistance from Kawasaki Aerospace Company".
Chassis and brakes: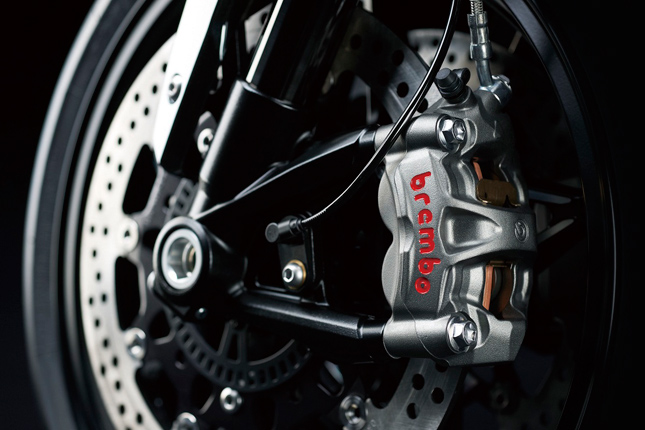 A normal Trellis Frame couldn't have handle disturbances at 300 km/h, so Kawasaki absolutely made sure that their frame was totally flex-free. Usually, a longer wheelbase, like the one found a sport-tourer or cruiser can easily grant the benefit of high-speed stability but Kawasaki opted for a shorter wheelbase on an ultra stiff reinforced steel
Trellis Frame
which was able to absorb external flex. In order to maintain the agility of the bike in the corners and even at high speeds.
At the front we have, 43 mm Inverted forks with rebound and compression damping along with spring load adjustability and top out springs. At the rear, there is a Uni-Trak with a gas charged shock which has compression and rebound damping, preload adjustability and more functions than my feeble brain can comprehend. All we know is while dipping into corners, the suspension won't wobble, even if we are at the pegs and our ride will also remain comfortable on bumpy roads. The bike uses a massive 200/55 tyre at the rear and a 120/70 tyre at the front. They are stopped by a twin radially mounted-4 piston semi-floating calipers which acts on two 330 mm Brembo steel disc from the front and a 250 mm rear disc from the back.
Electronics and Rider aids: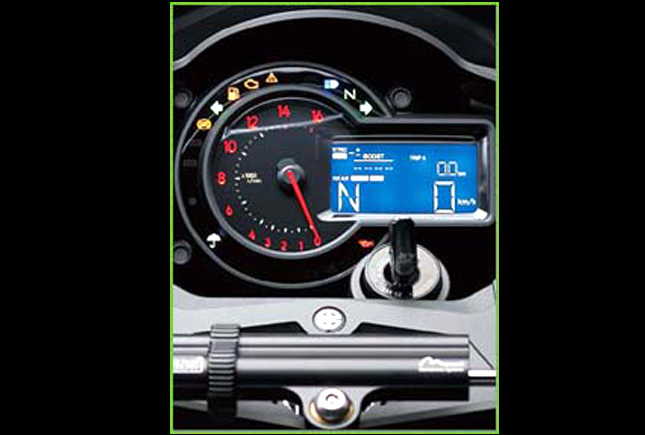 This is where the things get interesting. If you have never had the joy of flying a fighter-jet then you can experience the same launch sequence on the Kawasaki Ninja H2. The bike comes with Kawasaki Launch Control Management, Kawasaki Engine Braking Control, Kawasaki Intelligent Braking System and Kawasaki Traction Control, which are just fancy names for launch control, Slipper clutch, ABS and Traction Control. The console is part-digital and part analogue which displays everything from Ambient Temperature to low oil flasher.
There isn't much to say about Kawasaki H2 besides that it's loaded. Kawasaki has thrown every new piece of technology that they have, at the bike and somehow it just worked. The whole idea of bringing MotoGP "Power to weight ratios" on the street was officially started by Ninja H2 but it seems to be taken forward by the Ducati Panigale V4. Which uses a race spec Desmosedici engine.