The recent sightings of the BMW G 310 R tourer version has already caught a ton of attention, especially in India. The adventure touring market has been left wide open as riders eagerly wait for manufacturers to launch motorcycles that they could tour on through different kinds of conditions and terrains, with different kinds of luggage. No wonder you see people riding to Ladakh on either city cruisers like Royal Enfield Bullet or street motorcycles like the KTM Duke 200 and the Duke 390.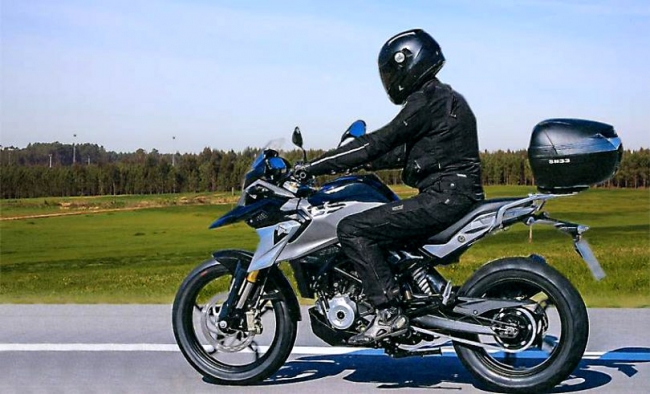 The baby version of the so called BMW GS 310 looks clearer in the image above that makes a few things clearer to us:
*
Upright riding position:
That rider is pretty much upright and his legs aren't swept back, indicating that this isn't a motorcycle for the 'sporty' people (hope you got the drift there). The single seat seems tour-friendly too and it hopefully won't have its riders looking out for Gel or foam inserts.
*
Sturdy bash plate:
The large engine guard/ bash plate seems to be much clear in the image, indicating clearly that this motorcycle would be suited to doing off road adventures as well!
*
Trellis frame:
The chassis looks like it can handle well as it seems to be a trellis frame, meaning that the new BMW GS 310 would also be pretty light in weight
*
Tyre profile:
The tyres are not what somebody would call low profile tyres but they do look like they're suited for the road and for some light off road adventure riding, that's something we desperately need in India.
*
Long suspension travel:
See those long forks in the front? They definitely seem like they could handle a lot of thrashing around on rough surfaces without popping the oil seals off. I'm pretty sure that the front suspension should be able to absorb all those craters our roads throw at us.
*
Tail rack:
The tail rack in action is finally seen in action as it has a tail box mounted on it, which I suspect is made by SHAD. The pillion grab rails seem to exist but I'm not sure if any of that could be used to mount panniers. Let's see what else comes along with the GS310 as 'accessories'.
*
Large fuel tank:
We can finally fathom the size of the fuel tank since we have a human figure to compare it to. I feel this motorcycle would have a fuel bearing capacity of 15 to 19 litres which could be enough to cover 400 kms with a full tank, considering the 310cc engine isn't a high revving one.
*
High ground clearance:
It can now be observed as to how high the junior BMW GS really is. There's quite a lot of ground clearance underneath which is again an amazing feature to have considering the size of Indian speed breakers. The motorcycle might have a provision for a center stand by the looks of it but only time will tell if it would ever get one.
All in all, I'm much more excited about this motorcycle than I was earlier. Let's see what more is to be unveiled at the 2016 EICMA in coming few days. And, I really hope this one makes it to Indian roads with an extremely competitive price tag.
By:
Ssaajan Manoj Jogia