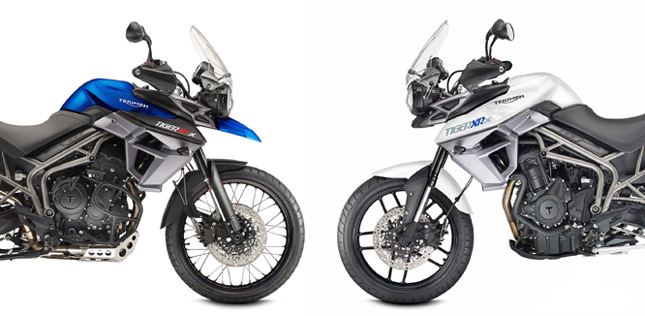 Triumph Motorcycles India has expanded their product portfolio in India by launching two new adventure sportbikes in 800cc class- The all new Triumph Tiger 800 XRx and Tiger 800 XCx. By launching these two new motorbikes in country Triumph intends to consolidate their presence in premium motorcycle class.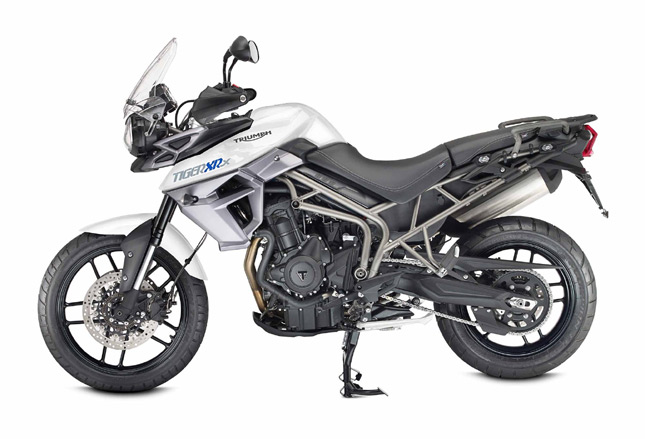 In an extensive price conscious market like ours the Triumph Motorcycles India decided to bring these bikes through CKD route, this means that they will import the bikes in India in parts and not as a unit, and then later they will assemble those parts here in India at their assembly unit. By doing this Triumph will save heavy import duty and will also spared from the process of Homologation and there by the final product will cost them cheaper and consequently they will pass on the cost benefits to the customers.
However, both the bikes share same platform with Power and Drive train but there are many differences between the two as far as their utility and features are concerned. The difference between XRx and XCx is quite evident from their respective price tags. The Tiger XRx is priced at Rs 11.6 Lacs whereas the Tiger XCx has a price tag of Rs 12.7 Lacs both Ex-showroom, Delhi.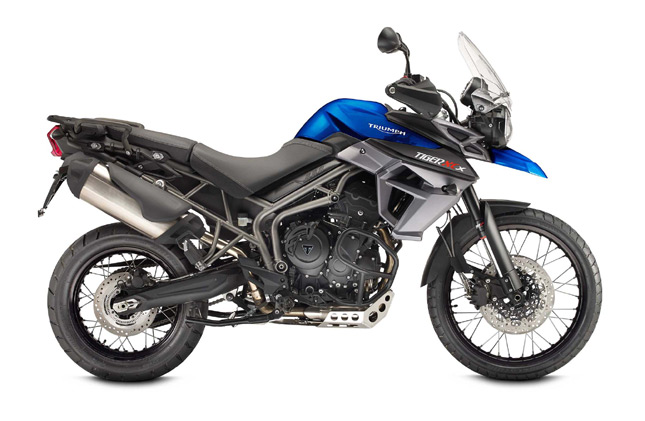 According to Triumph they have made the Tiger 800 XRx more oriented towards road riding whereas the expensive Tiger 800 XCx is been designed and developed by Triumph is more focused on the off-roads. Although, both Tigers are actually adventure bikes and are very well capable of doing off-roading with ease but the Tiger XCx is more equipped for doing the rough riding.
Features Common On Both Tiger XRx & XCx:
800cc Inline-3 engine producing 95 Ps of power
First in class "Cruise Control"
Fully adjustable seat
Adjustable visor with hand guards
Switchable ABS and Traction Control
Nissin Disc brakes (308mm dual disc upfront and 255mm single rear disc brake)
Center Stand
Difference Between Tiger 800 XRx And XCx:
WP suspensions on XCx and Showa suspensions on XRx
Tiger XCx has bigger front tyre dimension- 90/90-21
Tiger XCx has sturdy spoke wheels
There is an steel engine guard on Tiger XCx
Tiger XCx also has metal engine sump
There is a beak given at the front end of the Tiger XCx
Compare Technical Specifications Of Triumph Tiger XRx and XCx
Apart from the above mentioned differences there are variations in the dimensions of both the bikes, with the inclusion of engine guard and sump along with bigger spoke wheels the increase in the kerb weight of Tiger 800 XCx is also evident. For those who want a perfect touring machine (of course not a budget touring bike) the Triumph Tiger 800 XRx would be a dream come true and those who are passionate about off-roading along side the touring, shelling out 1.1 lacs extra for Tiger XCx would not be a bad choice at all.
By:
Farhan Kashif