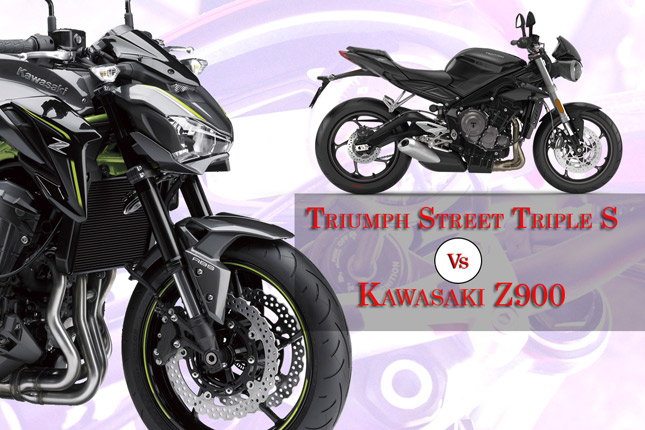 There would always be those two motorcycles from different manufacturers with similar characteristics or similar pricing or similar audience or under similar category. Not very often all these together apply for two different motorcycles, that too for Superbikes in a country like India. This has happened now with the Kawasaki Z900 and Triumph Street Triple S, being the two motorcycles.
Though everything looks similar, there are still loads of differences that can be discussed, which is why we bring you the exclusive head to head comparison. Here we compare the looks and styling, engine and performance, electronic package, brakes and suspension, and finally the pricing to come to a conclusion.
Looks And Styling: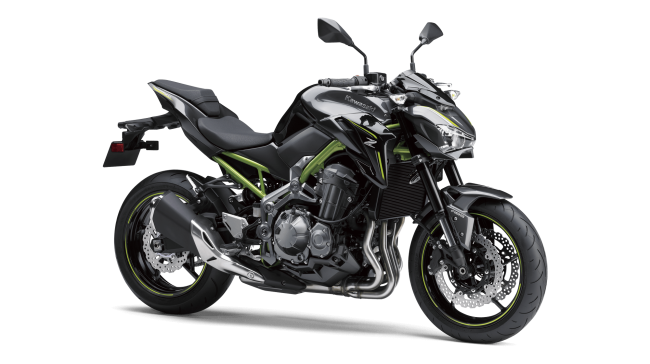 Both the Kawasaki Z900 and the Triumph Street Triple S are aggressive looking naked street fighters, built to take on daily commutes as well as a blast through the highways and canyons. The design of the Z900 is very much raw, following Kawasaki's Sukomi design philosophy. On the other hand the Street Triple S looks subtle, and has a much sophisticated presence.
The Z900 flaunts all those aggressive curves and brawny exhaust canisters to give it an appealing look, whereas the Street Triple S does look compact with smooth curves and lines. The signature dual headlamps get a redesign from the previous generation and look much better in the latest Street Triple.
WINNER - Kawasaki Z900
Engine And Performance: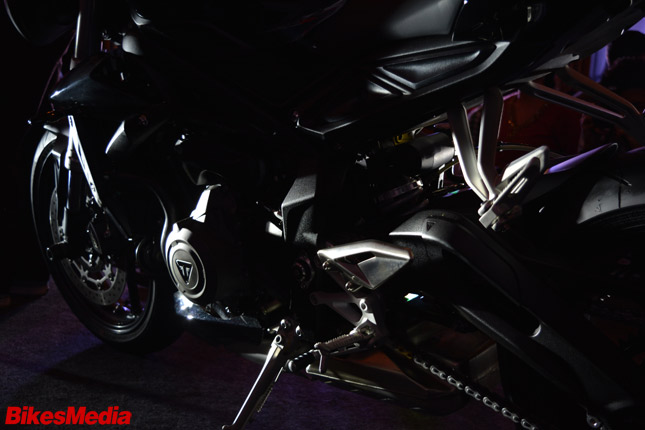 The Kawasaki Z900 has a 948cc liquid cooled inline four motor which produces 125 PS of power at 9,500 rpm and 98.6 Nm of torque at 7,700 rpm respectively. The Triumph Street Triple S has their signature liquid cooled inline three engine with a capacity of 765cc which churns out 113 PS of power at 11,250 rpm and 73 Nm torque at 10,421 rpm. What makes the Street Triple S engine special is the fact that, Triumph has signed as an Official engine supplier for the Moto2 class of racing with Dorna from 2019 and the same Street Triple engine forms the base of their project.
The Kawasaki is just a mere 52cc short of being a liter class naked, while the Triumph is literally a mid weight in terms of engine capacity. Triumph's engine is very advanced and also has a higher compression ratio, having a much higher power to cubic capacity ratio.
WINNER - Triumph Street Triple S
Electronic Package: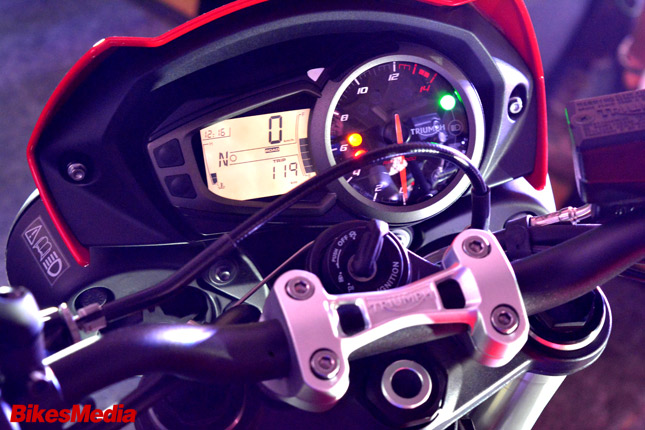 The Street Triple S comes with a host of electronics while the Z900 is devoid of any modern rider aids. The Triumph has multi point sequential FI with electronic throttle control (read ride by wire), 2 different riding modes, switchable traction control system and ABS making it a great package. On the other hand, the Z900 has nothing but an ABS to keep the rider safe during braking. On the electronics department, the Street Triple S is miles ahead in the competition.
WINNER - Triumph Street Triple S
Chassis, Brakes And Suspensions: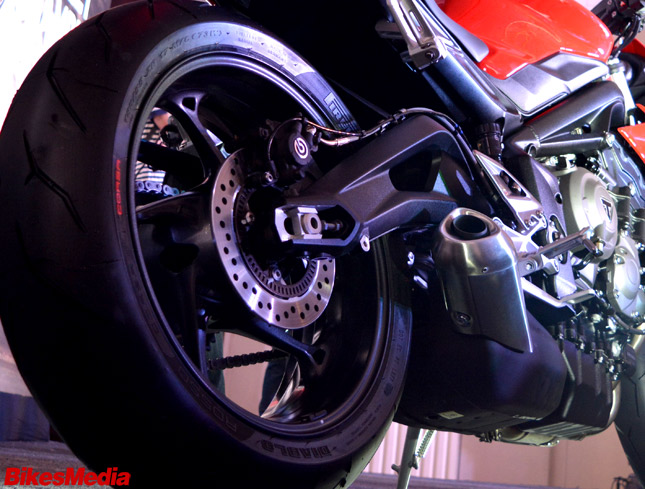 The Kawasaki Z900 now looks like the other new modern Kawasaki's (H2, H2R, Z650 etc.,) with lightweight high tensile steel trellis frame. The Z900 now weighs at 208 kg, a whopping ~20 kg less than its predecessor, the Z800. The Street Triple S has a conventional front Aluminium beam twin spar frame which is a 2 piece high pressure die cast, and weighs 166 kg dry.
The Z900 has 41mm USD forks upfront with rebound damping and spring preload adjustability, and a horizontal back link suspension at the rear with rebound damping and spring preload adjustability. The Street Triple S has 41mm Showa USD separate function forks upfront, and a Showa piggyback reservoir monoshock with preload adjustability at the rear.
Braking duties are carried out by Nissin calipers on both the bikes, though the Z900 has better 4 piston calipers while the Street Triple S has bigger 310mm dual discs on the front end.
WINNER - 50:50, A TIE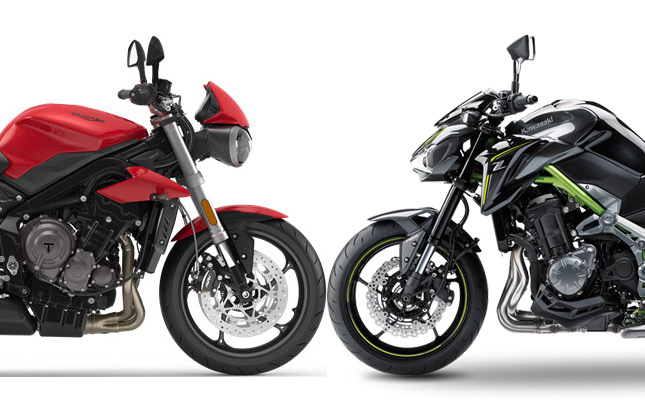 Pricing And Final Verdict:
The Kawasaki Z900 is priced at Rs. 9,00,000 (ex showroom Delhi) whereas the Street Triple S comes at Rs. 8,50,000 as an introductory price. Considering the number of features, equipment and the prices the motorcycles come at, we could easily come to a conclusion that the Triumph Street Triple S is an overall all-rounder. Yet there is something like riding a bike that actually feels like a big bike, adrenaline and affordable maintenance costs which all comes with the Z900. So, as a final verdict both the bikes score in the respective aspects and make a healthy competition for a highly conservative market like India.
By:
Aravind Rb