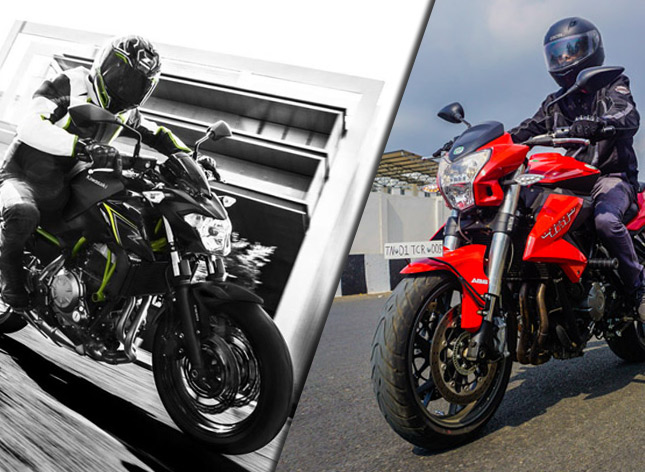 Middleweight is that section in Motorcycling which offers enough usable performance along with great value for money. In India, the middle section is particularly devoid of anything interesting. We either have the entry level 300 cc or the high level 1000 cc bikes which make 200 HP, most of which we don't ever use. In between these two lies the sweet spot of 50 to 90 HP, which is more than enough for 95% of people like me out there. Luckily there is an oasis in the desert which has two very capable 600 cc motorcycles parked beside it. The Kawasaki Z650 and Benelli 600i, let's compare them.
Engine: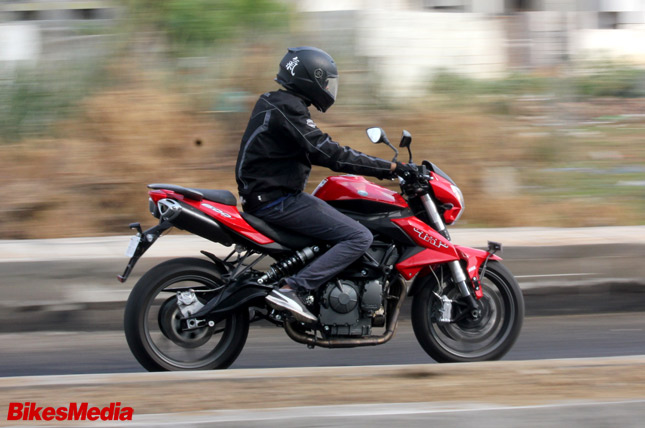 The Kawasaki Z650 uses a 649 cc liquid-cooled parallel twin engine. The engine is ripped straight from a Ninja 650 hence it has its characteristics, mainly of a smooth running motor. The engine is in DOHC setup and uses 4 valves per cylinder. The compression ratio in this motor is kept at 10.8:1 and the fuel is injected through two 36 mm throttle bodies with dual throttle valves. The bore and stroke are 83 mm and 60 mm respectively, making the engine under-square, shape wise.
The Benelli TNT 600i uses an inline-4 liquid cooled engine. It is the most affordable inline 4 engine in India. The engine employs dual overhead cams (DOHC) and 4 Valves per cylinder. All four cylinders have a slightly bigger 38 mm throttle bodies and the compression ratio of the engine is also higher at 11.5:1. The bore and stroke are smaller at 65 mm and 45.2 mm respectively.
Power and torque:
The Kawasaki Z650's engine produces 67.2 BHP @ 8000 RPM and 65.7 Nm of torque @ 6500 RPM. The horsepower climb on this bike is linear but the torque is almost available at as low as 3500 RPM. It gives the bike a good low and mid-range, justifying its naked character.
On the other hand Benelli 600i's inline-4 produces 83.90 BHP @ 11500 RPM and 54.6 Nm of torque @ 10500 RPM. Since the engine is an inline-4 the graph of power delivery is higher but the torque climb is slow and sluggish. It gives the bike a good top end and a mid-range but not a great low-end.
Chassis: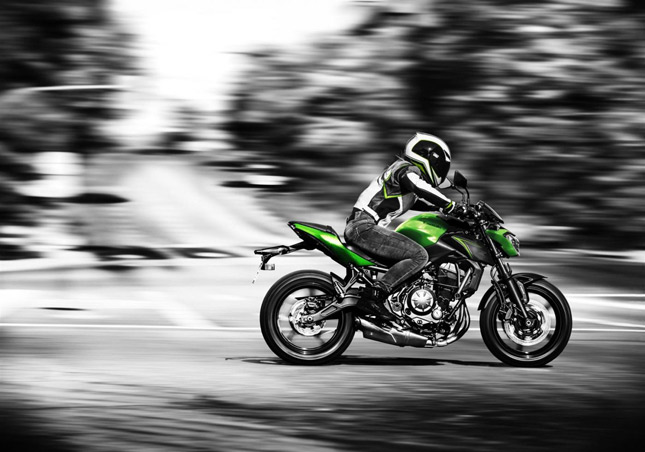 Kawasaki Z650 uses the tried and tested Trellis Frame, which is supported by 41 mm telescopic forks and a pre-load adjustable monoshock. The wheels are 17 inches at both ends and use a 120/70 and 160/60 mm tyre, at the front and rear respectively. Brakes, at the front end, are 300 mm twin discs paired up with dual piston calipers and at the rear end comprise of 220 mm disc with a single piston caliper.
Benelli TNT 600i also uses a Trellis frame with 50 mm upside down forks at the front and a rebound and preload adjustable monoshock spring at the rear. The forks are thickened in order to support the almost 200 kg weight of the bike. Braking duties are taken care by twin 320 mm disc at the front with 4 piston calipers and a 260 mm disc at the rear with dual piston caliper.
Dimensions: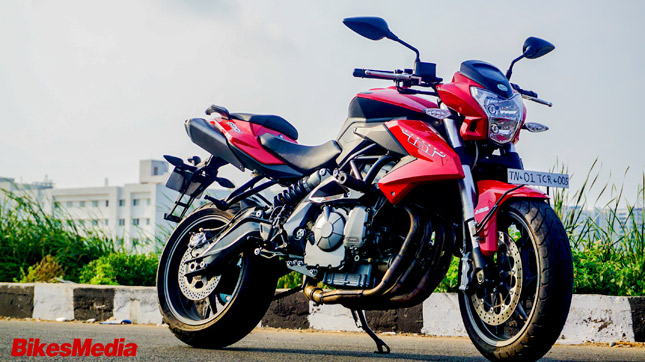 With a wheelbase of 1410 mm, the Kawasaki Z650 is pretty compact for a middleweight roadster. The seat height of the bike is at manageable 790 mm and the ground clearance is 130 mm. The 15-litre fuel tank gives you the confidence to tread anywhere and a weight of 187 kg is kind of passable for a 600 cc bike.
Benelli TNT 600i has a longer wheelbase of 1480 mm and an increased seat height at 800 mm. The ground clearance is a good 150 mm while the weight is a hefty 231 kg. It is quite some kilograms that the bike is packing for a middleweight roadster and it affects its agility. The 15-litre fuel tank is the same as the competition and it lends the bike a pretty decent range.
Electrical: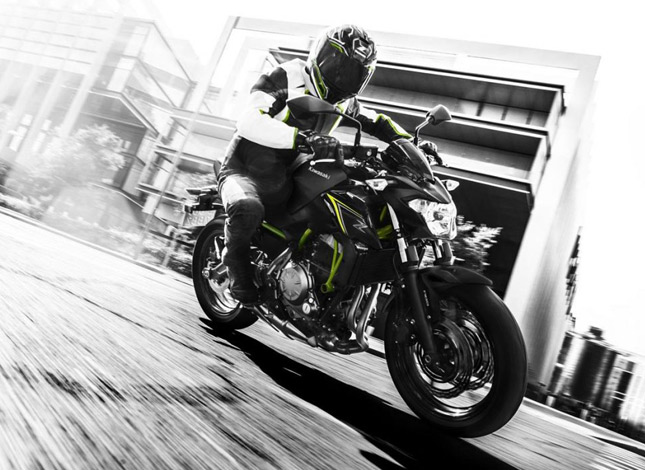 Both bikes get a pretty decent instrument console and both of them are part digital and part analogue. In terms of rider aids, both bikes get dual channel ABS.
The Kawasaki Z650 is a more advanced middleweight roadster with its parallel twin engine and adjustable rear suspension, whereas Benelli TNT 600i on the other hand, offers a more basic option in the 600 cc department. While the Benelli TNT 600i makes more horsepower with its inline 4 cylinder engine, the Z650 makes more torque and in a roadster that is exactly what counts. It matters less if your naked bike can cross 200 km/h than if it has a good punch whenever you need it. The absence of a fairing makes "having a top end" on a naked motorcycle a bit futile, as a result, the torque beast Kawasaki Z650 is the winner.